The 'Dark Knight' That Adds Light
Lobularia 'Dark Knight'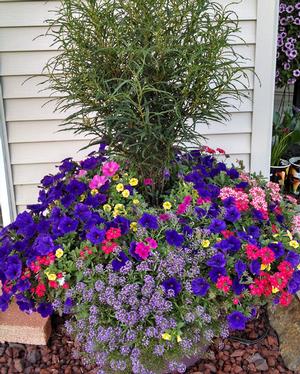 An amazing plant that performs all summer long, Lobularia 'Dark Knight' is a standout new annual for 2015! In several applications such as in garden beds and combination designs, 'Dark Knight' added that superb splash of light I was hoping for.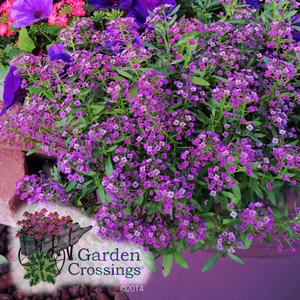 For the past two summers I was able to do plant trials on new Lobularias from Proven Winners. In 2013 I thought that Lobularia 'Blushing Princess' was the greatest new annual for container and ground cover applications. I was so impressed by the light purple blooms that lasted well into late fall, even getting more intense color as the weather cooled off. It was and is a super plant and then Proven Winners introduced an ever more vibrant color in the Lobularia family. In 2014, the new plant I trialed is called 'Dark Knight'! 'Dark Knight' is an even deeper/darker purple than its predecessor 'Blushing Princess'. The loads of tiny deep purple blooms light up the landscape as a mounding ground cover or add a trailing sea of purple over the edge of container and hanging basket combinations. Lobularia can handle a bit of dryness followed by a good watering, you do not need to worry about it losing its blooms and taking weeks to recover like Bacopa which is using in similar applications. The deep purple color coordinates well with just about any flower color. Planted in full sun to part shade, 'Dark Knight' Lobularia will outperform many other annuals and will give you flower color well into the fall. A little goes a long way with Lobularia, we recommend in a 12″ basket that you plant a total of 5- 4.5″/1qt plants, only 1 of them being a Lobularia.
If you are wanting to give something new a try for 2015, I recommend Lobularia 'Dark Knight'!