We Built a Butterfly House!
Here in West Michigan, the "Butterflies are Blooming" event at our local botanical garden is one of the biggest attractions every year in late winter. So, we thought, why not build a butterfly house right here at Garden Crossings? We love watching butterflies and grow many of the nectar and host plants they need, so it was a natural fit. Our goal is to help our guests and our community learn how to garden in harmony with butterflies and to create a place where people can come to observe the circle of life from chrysalis to butterfly.
The construction of a 30 x 70' greenhouse that would become our butterfly house began in Fall 2020 in the field that flanked our main parking lot. If you've been to our retail store here in Zeeland, it is just to the left of our storefront.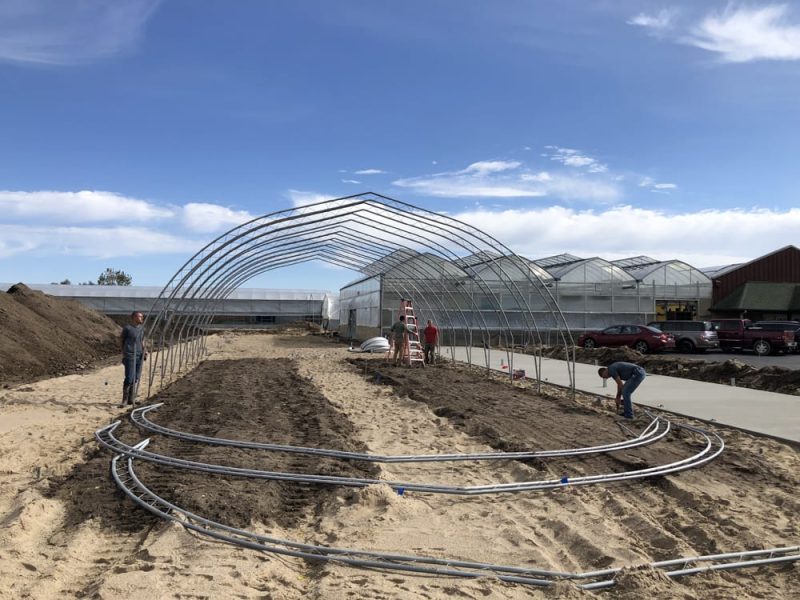 We set out to learn as much as we could about butterflies that are native to Michigan as well as which plants those butterflies need to thrive. This will be a continuous learning process and we look forward to sharing the knowledge we gain with you along this journey.
We knew we would need to plant several species of milkweed to act as host plants, food sources and nectar plants for our butterflies. Over the winter, we grew 8 to 10 kinds of Asclepias tuberosa (butterfly milkweed), Asclepias incarnata (swamp milkweed), and Asclepias curassavica (tropical milkweed) to plant in the butterfly house. Drip irrigation was installed and the garden was planted in March 2021.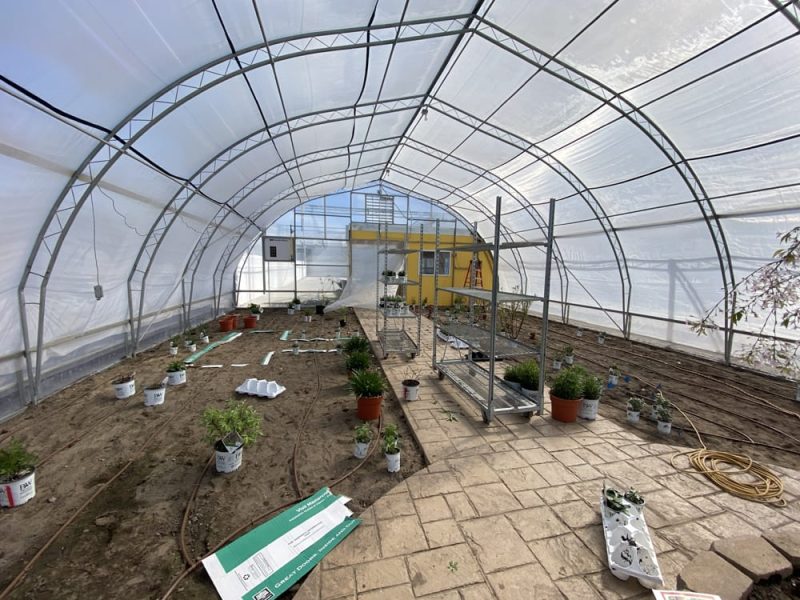 Butterflies need a shallow water source to "puddle" in, so we added a couple of appropriate water features that would help to sustain them. You can find simple fountains at most home improvement stores (if you're the handy type, you can make your own) or a simple bird bath like this will work.
We envision our butterfly house to be a vibrant space teeming with life, from the caterpillars and butterflies to the dozens of different kinds of annuals, perennials and shrubs we've selected to create a parade of blooms all season. Here are just a few of our favorite plants that are thriving in this space. You'll have to visit us to see them all! If you're not local, check out this YouTube video.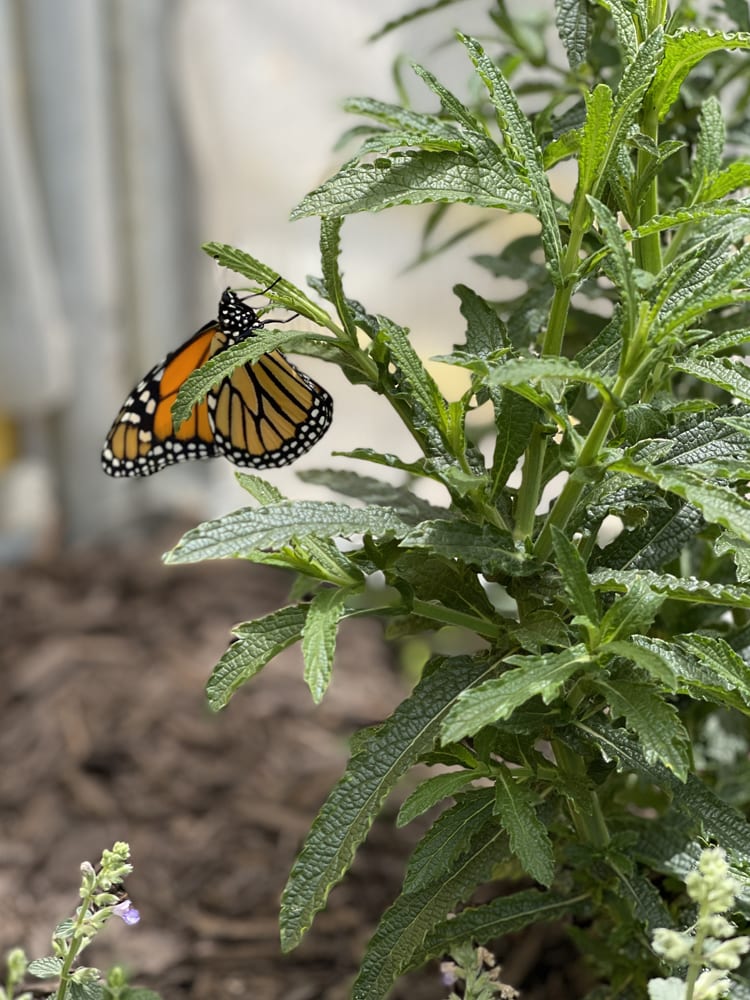 Butterfly House Plants
Milkweed
Dill
Fennel
Butterfly bush
Lilacs
Coneflowers
Anise hyssop
Allium
Catmint
Phlox
Bee balm
Yarrow
Honeysuckle
Sedum
Asters
Goldenrod
Liatris
Salvias – annual and perennial types
Zinnias
Lantana
Tall verbena
Pentas
Gomphrena
Cleome
Sweet alyssum
…and many more!
We are excited to see how well these plants have filled in over the last few months. This garden looks different every week as the perennials and shrubs cycle in and out of bloom. Here is what our butterfly house is looking like this week.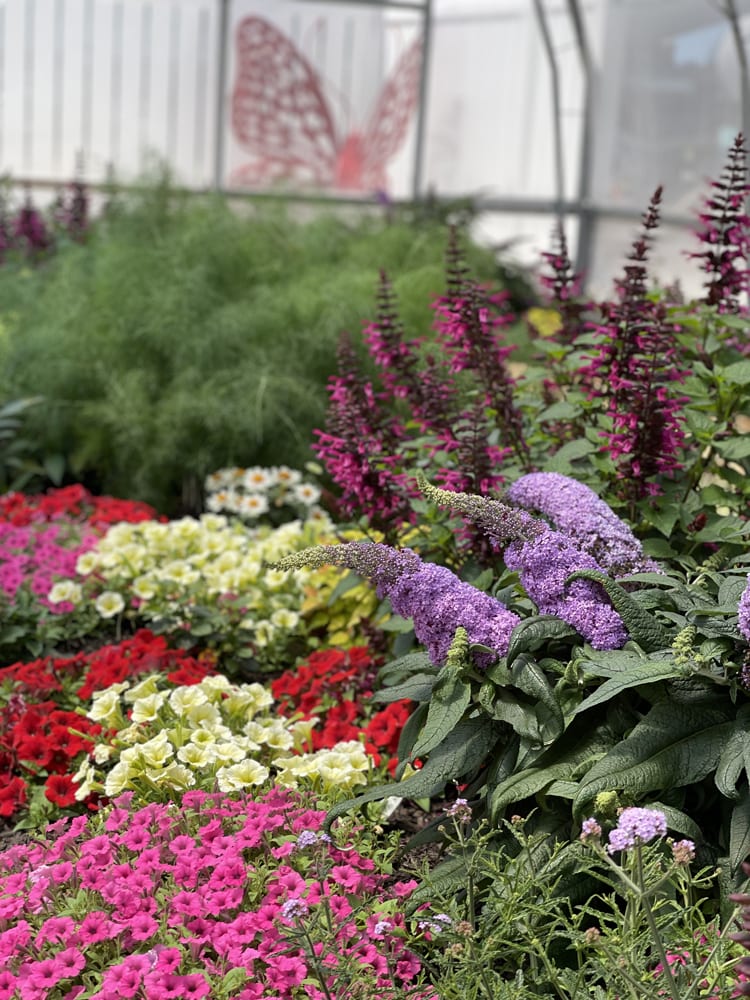 Be sure to follow us on Facebook, Instagram and YouTube for butterfly house updates! For locals, we invite you to come see our new butterfly house in person. Bring your children, bring your camera, and be ready to be delighted! Our store is located at 4902 96th Ave in Zeeland, Michigan.
Want to learn more about gardening for pollinators? Check out this article.