What's So Super About Supertunias
Look no Further Than Supertunia®
You may be asking what is so super about Supertunias®? Why does Garden Crossings make such a big deal out of them? We really do think they are super and we stand behind that statement by planting hundreds of them in our very own landscape, both at the Garden Center/Greenhouse and at our home, every year!
What is a Supertunia®? A Supertunia® is a petunia that has been breed and tested for excellence in performance, flower power, and overall habit by the folks at Proven Winners®. Petunia Supertunia® is marketed by Proven Winners® and has been proven to perform well all over the county. These plants are an excellent choice for use in ground plantings, hanging baskets and in combination planters. Supertunias® have a trailing habit with the exception of the Vista® series, theirs is a mounding habit.
So you ask 'What is the difference between a Wave™ and a Supertunia®'?
Wave™ petunias were introduced in the early 1990's, they were introduced basically for use as a ground cover although the Tidal Wave™ series can get up to 22 inches tall. . They have a large flower, taller plants called the Tidal Wave™, a small flower with bold colors called Shock Wave™, and a spreading variety called Easy Wave™. The Wave™ Petunia come from seed and creates a huge, dense root ball which could be problematic for baskets and containers which is why it is best used as a ground cover. Wave™ Petunias have long stems and come mid to late summer Wave™ petunias may become over grown, have bare stems , slow down on flowering and need to be trimmed back to encourage new growth and flowers.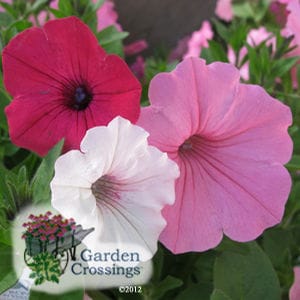 Proven Winners® Supertunias® are a newer breed of petunias that are available in a wide array of colors in both single and double blooms. Petunia Supertunia® are developed from cuttings, not seed. Since Supertunias® do not come from seed that also means that they do not produce seed. The Proven Winners® petunias are more floriferous because all their energy is put into flower production, not seed production. Petunia Supertunia® generally stand around 6- 10 inches tall and can spread/trail up to 24-36 inches, with the exception of Vistas petunias which have a mounding habit and can get 24 inches tall and 24-36 inches wide. In contrast to the Wave™ Petunias, Supertunia® have shorter stems that contain more leaves and flowers and have better heat and humidity tolerance during the heat of the summer. Supertunia® petunias are better suited for container and hanging baskets over Waves™, because they do not create as big and dense of a root ball and will last longer in their container. Also Proven Winners® petunias have a better spilling habit in pots and baskets creating a beautiful flower display.
For best flower performance that lasts well in to the fall, we have a few watering and fertilizing recommendations. As with all annuals and plants potted in a container, we recommend daily watering as needed and also the proper amount of feed. We recommend that in the heat of the summer when you are watering often that you also feed with a water soluble fertilizer weekly. You may find that your plants need a little "haircut" to keep them looking their best all summer. For hanging baskets you may find that trimming them just under the base of the pot is what they need. For combination planters you may find that trimming a few inches off will give them a fresh look. If there is one thing that I cannot say enough, it is to care for your plants like they are living things (which they are!) Like a person, a plant needs to be fed and watered on a regular bases to keep healthy.