10 Best Garden Plants for Holiday Decorating
By growing the right kinds of plants in your landscape, you'll be able to create gorgeous winter arrangements like this one from Laura of @Garden Answer without spending a cent. Here are ten plants you'll want to be growing so you can harvest from them this time of year.
Harvest for Flowers
Unlike the more common spring blooming perennial Lenten roses, 'Snowbells' is a much earlier flowering perennial Christmas rose that often blooms during the winter in more mild climates. Its pure white flowers can be clipped and floated in a shallow glass bowl where they will last about a week. Or, cut a few stems of its durable, dark green foliage to use in a vase paired with other winter greens and flowers in a fresh bouquet.
Here's a perennial flower you'll want to harvest in late summer and preserve for your winter arrangements. Thistle flowers dry beautifully, retaining their spiky globe shape and some of their blue color as they age. Spray the preserved flowers with a bit of glitter or metallic paint to give them some holiday sparkle. Their strong stems make them easy to stick into floral foam or soil when you make your dried winter arrangement. They can even be poked in among the ornaments on your Christmas tree.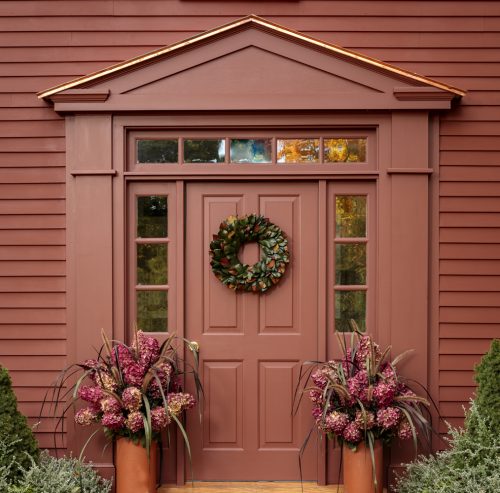 Dried panicle hydrangeas are gorgeous in arrangements from fall through winter and will last for several years. Harvest the flower panicles after all of the florets have opened and begun to dry a bit on the stem for best results. Set the cut stems in a vase with an inch or two of water and leave them be until all the water evaporates. Then, they are ready to use. Varieties like Fire Light® which turn a rich pomegranate red in fall are perfect for holiday bouquets. Some people like to dust them lightly with spray glitter or gold paint and add them to their Christmas tree.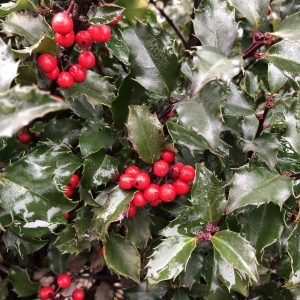 An iconic plant to use in holiday arrangements is the traditional evergreen holly with its fire engine red berries and shiny, pointy leaves. The foliage and berries are long lasting in both fresh and dried arrangements. Castle Spire® grows 8-10' tall and 3-4' wide, so there will be plenty of foliage for harvesting every year without compromising the shape of the plant. This is a female holly, so it will develop berries as long as a male Castle Wall® holly is planted within 50'.
Winterberry holly is different from blue holly in that it is deciduous, meaning it loses its leaves in the fall, and produces an abundance of showy berries. Without any leaves to obscure them, they add a vibrant pop of color to winter arrangements. Expect the berries to remain for at least a few weeks—plenty of time to get you through the holidays. If you use them outdoors, expect the birds to snap up a few of the berries. Both gold and red varieties are available (both shown here). Like blue holly, a male pollinator needs to be planted nearby for the berries to develop.
You'll have plenty of long evergreen branches to harvest from your Gin Fizz® Juniper since this is a vigorous shrub that puts on over a foot of new growth each year. At maturity, it stands 10-18' tall and spreads 7-10' wide. Silvery blue berries are produced abundantly near the ends of the branches, adding even more holiday cheer to your winter window boxes, planters or handmade roping. Its fine texture mixes beautifully in arrangements with blue holly and boxwood.
Bundles of red and yellow twig dogwood can be pricy at the store, so why not grow your own? These low maintenance shrubs are adaptable to a wide range of garden conditions. They tolerate all but the heaviest of shade and prefer moist soil. In the wild, you will find red twig dogwood growing in drainage ditches and alongside bodies of water where they enjoy the extra moisture. These shrubs are most colorful in the winter when their red, coral or gold stems shine against the otherwise dull backdrop of the season. Their stem color is retained when cut for dried arrangements. 
Harvest for Evergreen Foliage
If you trim your boxwood hedges in late fall, save the trimmings in a paper, not plastic, bag. They will keep their color and dry nicely in the breathable bag. Then, when it's time to make your holiday wreath, you'll have what you need. Bundle the short, clipped stems together in small bunches, binding them together at the base with green floral wire. Attach the bundles to a wire wreath frame or add them in to a plain pine wreath to dress it up a bit.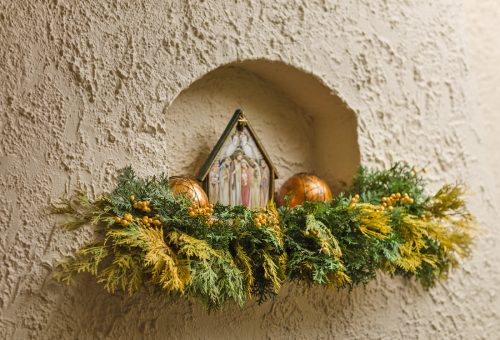 Clipped false cypress branches, shown here and in the winter arrangement at the beginning of this article, add a soft, fluffy look to winter arrangements. Their subtle fragrance adds to their charm and the evergreen foliage is soft to the touch. There are a number of varieties of false cypress you can grow in your landscape and harvest from each season. Some are tall and narrow while others are more broadly conical, and their foliage color ranges from blue to green to gold. This is one of the more deer resistant and shade tolerant evergreens you'll find—a major bonus for those of us who garden in the shade.
Just like boxwood, save your yew clippings when you shear your hedges in late fall to make holiday wreaths. It's also possible to harvest longer branches of yew if you don't mind thinning your shrubs a bit or taking a few branches off the sides. They will fill back in, though it will take some time to do so as these are not fast-growing evergreens. Yew foliage is typically darker green in contrast to most other branches you'll harvest for your winter planters and window boxes, offering a nice complement in colors.