Cool and Collectable Perennials, Vines, and Shrubs
Here are a few of my favorite things…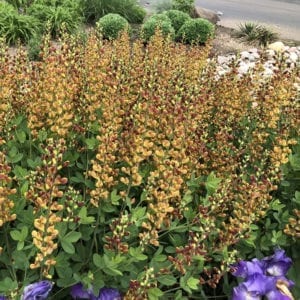 There are so many cool things to tell you about this plant—where do I begin? Let's start with its historical roots. Baptisia is an ancient perennial that was once used to make dyes and was the first-ever subsidized agricultural crop in America. Its actual roots are pretty neat, too. You might have noticed small bumps on them when you planted it. These are smart nodules that harness Nitrogen in the soil, essentially making food to keep the plant's foliage a healthy green color. 
Baptisia is one of the longest-lived perennials you'll find, with a single plant usually lasting 50 years or more. You won't want to transplant it since its four-foot deep tap root makes it nearly impossible to move when mature, but that also makes it very drought tolerant. Choose a permanent spot when planting a new Baptisia.
'Cherries Jubilee' is especially unique because of its shorter height and bicolor maroon and yellow flower spikes. The flowers open a deep reddish brown color then age to gold. The effect is a plant that blooms maroon and then looks like it blooms again in gold. Puffy charcoal seed pods rise above the foliage in fall. 
Full sun, 3' tall and wide, zone 4-9, deer resistant, pollinator-friendly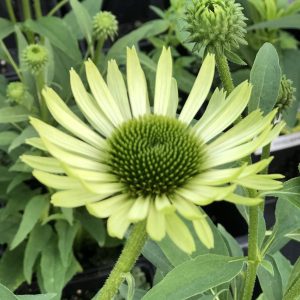 You've likely seen coneflowers in shades of pink, red, orange, yellow or white, but did you know they also come in green? Green flowers are a novelty item, but this coneflower isn't just a fun color—it is a great grower, too. This is a reliably perennial selection that will grace your garden for months with its St. Patty's Day style blooms. 
Plant a few extra 'Green Jewel' so you'll have plenty to use in fresh flower bouquets. Its neutral color helps it pair especially well with plumes of ornamental grasses, white or lavender phlox, and dwarf butterfly bush. 
Full sun to part shade, 1-2' tall and wide, zone 3-8, deer resistant, pollinator and bird-friendly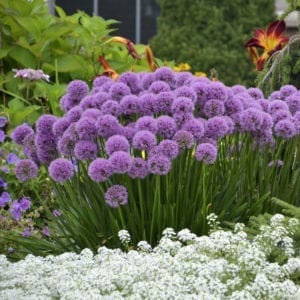 Everyone needs a few Dr. Seuss-like plants in their garden. What's life without a little whimsy? A plethora of bright lavender purple flowers the size and shape of golf balls are perched on strong stems just above the glossy, green grass-like leaves of this perennial in mid to late summer. With each passing year, the clump expands and you'll see even more blooms. 
'Millenium' is an ornamental onion and its aromatic foliage makes deer and rabbits steer clear. Expect that chives-like scent if you use it for cut flowers. You may prefer to just enjoy them in the garden where you'll find bees and butterflies feasting on the blooms daily. The pollinator show is pretty spectacular when this plant is in bloom. 
Full sun to part shade, 15-20" tall x 10-15" wide, zone 5-8, deer and rabbit resistant, pollinator-friendly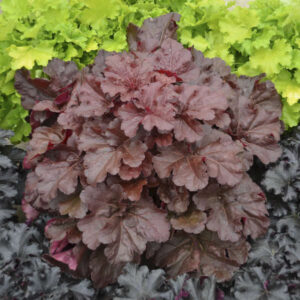 Truth be told, there are many cool and collectable coral bells available today in nearly every color of the rainbow, so it's a little hard to pick just one. But let me tell you about this "monster" of a Heuchera. You might not notice if your plant is young how it got the name 'Mahogany Monster', but just grow it a few months and then you will see.
This variety of coral bells has massive-sized leaves compared to most others, each reaching up to 6" across. They are a glossy mahogany red color with lightly ruffled edges and turn coppery with age. You'll see it has the best coloration if you grow it in part shade. Plant it with something silver, white or chartreuse to enhance the contrast and make this plant really pop in the landscape. Its midsummer blooms are massive too, with blush pink flowers hung from pencil-thick stems. 
Part shade to shade, 12-16" tall x 22-28" wide, zone 4-9, deer resistant, pollinator-friendly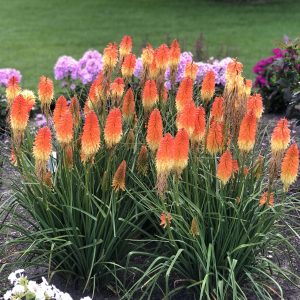 Every year when these are in bloom in the garden, people ask what they are. Red hot pokers aren't very common, but there are so many reasons they should be. These are very cool plants! They are drought tolerant, long blooming, deer resistant, great for pollinators, and make a gorgeous cut flower. The Pyromania series is especially good in the garden because they rebloom for months and come in a broad array of colors. 
Red hot pokers are native to South Africa, but modern breeding has made them hardy enough to withstand zone 5b winters. They thrive in hot weather when most of us would rather be inside enjoying the air conditioning. Luckily, these showy perennials are easy to spot through the window! 
Full sun, 48-54" tall x 30-36" wide, zone 5b-9, deer and rabbit resistant, pollinator-friendly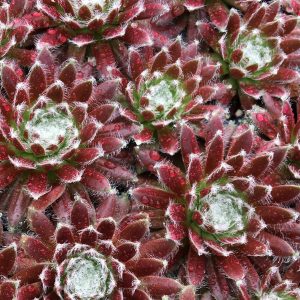 The first plant Chris Hansen ever started collecting was hens & chicks, beginning around the age of six. They were his gateway into what would become a very successful career in plant breeding. When deciding which kinds of plants he would focus his breeding efforts on first, Sempervivum was a natural choice. He wanted to create a line of collectable plants kids would love, and he's done just that with his Chick Charms.
This entire collection of hens & chicks has brilliant coloration, unique patterns and strong vigor. Cosmic Candy forms rich red rosettes accented with super fine, white cobweb-like hairs concentrated near the center and at the tips of the leaves. This is one cool plant you'll want to appreciate up close in a trough on your patio table or in a rock garden. See more collectable Chick Charms varieties here. 
Full sun to light shade, 2-3" tall x 12" wide, zone 4-9, deer and rabbit resistant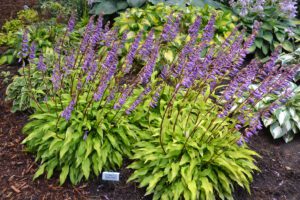 Do hostas qualify as cool and collectable? Absolutely! There are nearly 8,000 varieries of registered hostas in the U.S. That's a whole lot to add to your collection. If you garden in shade, you've likely already learned the value of hostas. They are easy to grow, require litle maintenance, and add a variety of colors and textures to your landscape.
'Time in a Botle' was named for its incredibly unique flowers, which is surprising since hostas are rarely grown for their blooms. This variety bears a profusion of botle-shaped, royal purple flowers on tall, dark red stems. They glow against the backdrop of bright chartreuse, narrow, wavy leaves when they appear in late summer. It's quite a show in the shade!
Part shade to full shade, 12" tall x 36" wide, zone 3-9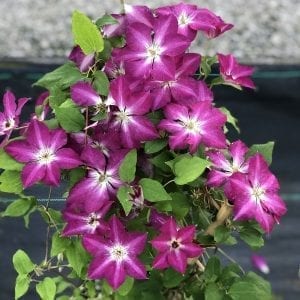 One of the world's most renowned clematis breeders, Szczepan Marczyński of Poland, has been working on developing outstanding new clematis cultivars since 1992. His introductions are known for their robust nature, superior flowering performance and disease resistance. He was proud to introduce 'Viva Polonia', which translates to "Long Live Poland", which he named after his beloved home country. 
We love 'Viva Polonia' for its prolific magenta red flowers with a starry white center that bloom both on old and new wood. You'll see flowers from early summer through midsummer and then again from late summer into fall. Its relatively short 4-6' height makes it the perfect size for growing up a decorative trellis. 
Full sun to light shade, 4-6' tall and wide, zone 5-9, deer and rabbit resistant, pollinator-friendly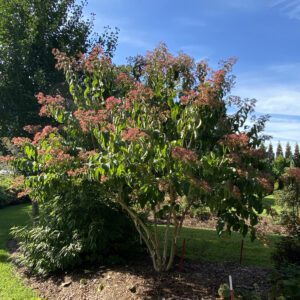 If you have a litle patience and like to watch plants grow over time, try this seven-son flower. Its name is a litle deceiving since this plant is actually a large shrub or can be trained into a small, multi-trunked tree. The name is a translation from the native Chinese word for flowers which appear in clusters of seven.
Heptacodium blooms with small, fragrant, white flowers that are highly atractive to pollinators in mid to late summer. But it's what follows them that presents the real attraction for this plant. After the petals drop, they are quickly followed by bright cherry red bracts which are so showy, they are often mistaken for the flowers. They keep their intense color right on through the fall. In winter, the exfoliating bark of a mature Heptacodium holds some interest similar to a river birch's bark.
Full sun to part shade, 6-10' tall x 6-10' wide, zone 5-9, rabbit resistant, pollinator-friendly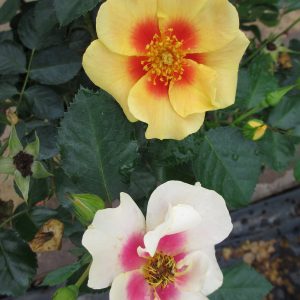 Sure, you could plant a solid red colored rose and it would be gorgeous, but if you're going for something a little more funky, Ringo is the rose for you. In fact, it would be a gorgeous complement to your red roses. 
This multi-colored rose is a carnival of color! Its ruffled petaled flowers open yellow with a burgundy eye and then transition to white with a hot pink center. No two flowers will be exactly alike; expect a beautiful mix of colors from early summer to fall on this unique rose. You will also love its excellent disease resistance. We are excited to be able to offer this six-time international award-winning rose!
Full sun, 3-4' tall and wide, zone 4-8, pollinator-friendly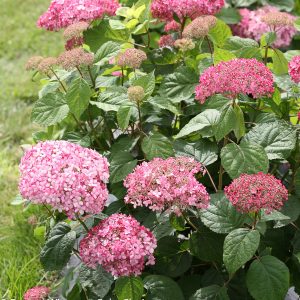 Once you've had success growing hydrangeas, you'll find them to be highly collectable. And since new varieties are introduced every year, there's always something fun to discover. Invincibelle Spirit II is a beautiful plant to give as a gift to someone just starting their own collection. When you purchase one, you're helping to support breast cancer research–$1.00 from each plant sold by the grower is donated to the Breast Cancer Research Foundation. To date, over $1 million has been donated through the sale of this plant.
Full sun to part shade, 3-4' tall and wide, zone 3-9, pollinator-friendly
.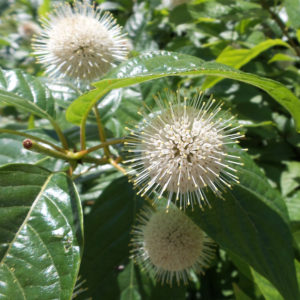 Buttonbush's sweetly scented, sugary white, globe-shaped flowers will be unlike anything else in your garden. They appear in midsummer and are followed by red fall fruits to complement the burgundy fall foliage. Sugar Shack grows about half the size of native buttonbush which can be found growing along shorelines and in wet areas across the eastern half of North America. It's perfect for planting in a low spot in your landscape or using for erosion control.
In addition to its interesting flowers, buttonbush is exceptionally cool because of its value to wildlife. Butterflies, bees and hummingbirds all feed on its nectar, and bees use it to produce honey. Waterfowl and shorebirds eat its seeds and wood ducks use it to build their nests. Deer will browse its foliage, so keep that in mind if they are an issue for you.
Full sun to part shade, 3-4' tall and wide, zone 5-10, pollinator-friendly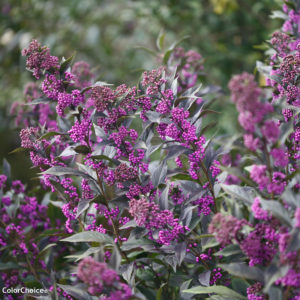 Aside from its super cool name (any Pearl Jam fans out there?), this shrub wows every year in fall. It's guaranteed to stop you in your tracks when it is in its full berried glory. Tiny white flowers turn into hundreds of violet purple berries that encrust the branches from tip to base in fall. 
Pearl Glam has the added bonus of purple-tinged foliage when grown in full sun. It needs the sun's UV light to develop that purple color, so you can expect your greenhouse-grown plant to flush purple once you plant it out in the sun.
Full sun, 4-5' tall and wide, zone 5-8, deer resistant, attracts songbirds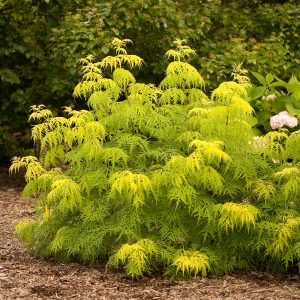 From the earliest spring days, Lemony Lace will capture your attention with its quirky looking, plump purple buds that pop out near the tips of the stout branches. Lacy, purplish red leaves emerge from the buds and within a week or so transition to bright gold. The more sun this plant sees, the brighter yellow it gets and since it is resistant to sunburn, it will tolerate full sun in the North. 
Lemony Lace is also gorgeous planted in shade as a bright backdrop for flowering perennials and hydrangeas. It is a faster growing, hardier alternative to Japanese maples and has a similar appearance and use in the landscape.  
Full sun to part shade, 3-5' tall and wide, zone 3-7, deer resistant, pollinator-friendly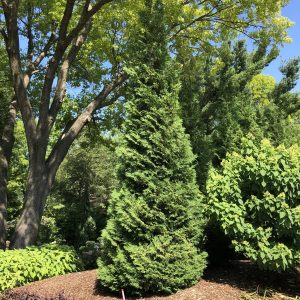 A plant that has its own website has to be cool, right? This is no ordinary arborvitae! It's a super-fast grower, adding about three feet per year to its height while remaining narrow at the base. That means you won't need to give up much of your yard space to grow a privacy hedge. Just eight plants will form a 20' screen. Without any pruning needed, this shrub reaches 20-30' tall and 3-4' wide. See time lapse pictures and videos of it below. Even better—deer aren't as interested in cultivars of Western arborvitae like this as they are in their more commonly grown Eastern cousins.
Full sun to part shade, 20-30' tall x 3-4' wide, zone 3-8, deer resistant