Designing Four Season Porch Pots
One easy yet impactful thing you can do to boost your home's curb appeal is add matching porch pots to flank your front door. Take a drive through a nice neighborhood this weekend and see how others are doing it near you. There's something about having beautiful flowers on the porch that makes a home exude a sense of dignity and pride of place. Designing and caring for a set of porch planters is easier than you might think. We'll show you how to choose your plants and other supplies you'll need here.
What You Will Need to Start:
• 2 matching porch pots at least 20" in diameter
• 2-3 large bags of potting soil
• Slow release plant food like Espoma's Plant-tone or Proven Winners Continuous Release Plant
Food mixed into the soil at planting time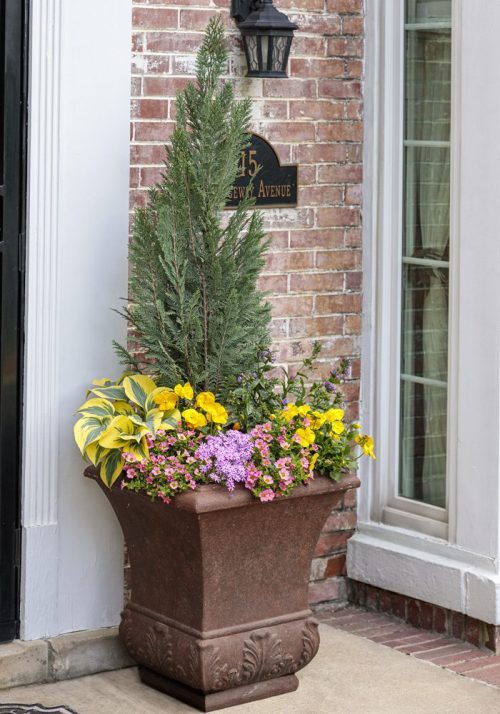 Selecting an Anchor Plant
An anchor plant is the largest, most prominent plant in the center of the container that will remain there for all four seasons. To get the look we're showing you here, you will need two matching evergreen shrubs with a tall, slender silhouette. Pictured is Pinpoint® Blue false cypress, though any variety in the Pinpoint series would work just as well. It's important to choose a variety of shrub that has a small enough diameter at the base to allow for companion plants around it. Start with a large enough specimen that it will be taller than the other plants you pair it with.
Other tall, slender evergreens that could fill a similar role include: North Pole® arborvitae, Patti O Box® or Sky Box® Japanese holly, Gin Fizz® juniper or Stonehenge Skinny® yew.
If you plan to overwinter your evergreen anchor plant in the container, choose one that is at least two zones hardier than your zone. For instance, if you live in zone 7, choose one that is hardy at least to zone 5. This will help to ensure successful overwintering. If you plan to plant your evergreen in the ground at the end of the season, you won't need to worry about this detail.
Also consider how much sun your porch pots will receive. Choose an evergreen anchor plant that will thrive in the amount of sun that spot receives year-round. Next, we'll choose companions that also prefer that same amount of sun.
Four season porch pots traditionally have at least some of their contents switched out four times per year—spring, summer, fall and winter. In the example above, the evergreen anchor plant stays in the pot year-round, but the fillers around it change. Choose companions that enjoy the same growing
conditions—for instance, full sun and average moisture—and won't grow so tall that they shade out the evergreen anchor plant.
Here are some ideas to keep your porch pots full and vibrant in every season.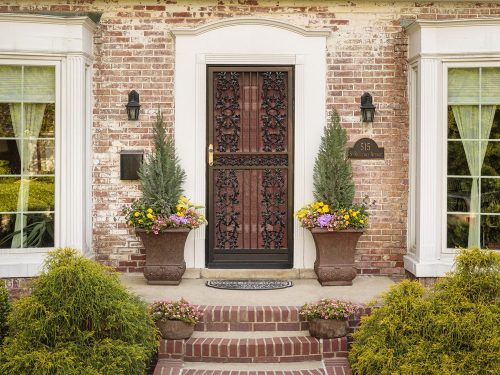 • Pinpoint® Blue false cypress (Chamaecyparis)
• Shadowland® 'Autumn Frost' hosta
• 'Spot On' lungwort (Pulmonaria)
• Superbells® Honeyberry™ calibrachoa
• Spring Bling™ 'Pink Sparkles' spring phlox
• Yellow pansies
Colorful spring perennials are spotlighted in these front porch pots early in the season, then transplanted out into the landscape for the summertime. Bright yellows, pinks and purples are the focus—traditional colors for spring. Since there won't be much time for these plants to mature before they are switched out for summer, they are planted close together to create a full pot.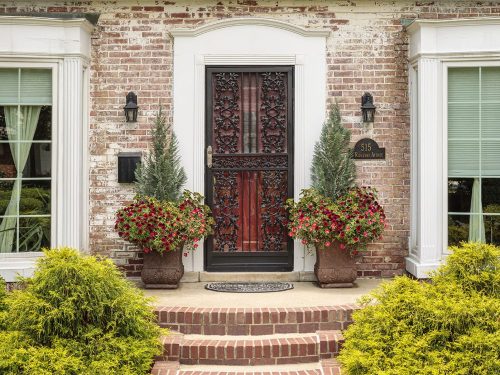 • Pinpoint® Blue false cypress (Chamaecyparis)
• Supertunia® Black Cherry® petunia
• Mojave® Red moss rose (Portulaca)
• ColorBlaze® Strawberry Drop coleus
Choose your favorite color scheme for summer! The combination pictured here is focused on warm red tones to complement the brick, but you can easily exchange these petunias and moss roses for a different color of your choosing. The plants you choose should have a filler/spiller habit so they don't cast too much shade on the lower branches of the anchor evergreen and cause them to turn brown. To save root space around the edges of the pot, use fewer plants but choose varieties that individually fill up a lot of space like Supertunias.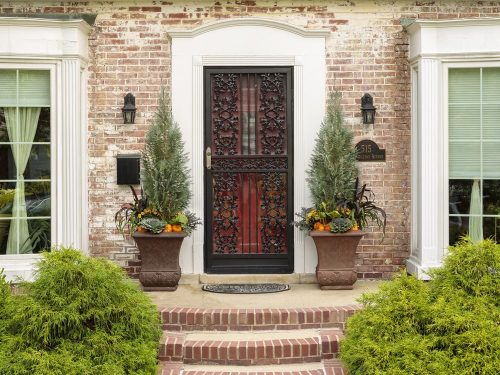 • Pinpoint® Blue false cypress (Chamaecyparis)
• Gold garden mums
• Ornamental cabbage
• Bright Lights Swiss chard
• Purple millet
• Small gourds and pumpkins
When the cooler days of fall begin to arrive, it's time to change out your summer fillers for something more seasonally appropriate. As in the spring, you'll need to plant them closer together to make a full pot this time of year. Cool weather plants like garden mums, ornamental cabbage and kale are traditional, but you might also enjoy some of these cool season plants:
• Sweet alyssum
• Osteospermum daisies
• Fall colored petunias like Supertunia® Honey™
• Heuchera and Heucherella in fall colors like 'Mahogany Monster', 'Peachberry Ice', 'Red Rover' or 'Toffee Tart'
• 'Toffee Twist' copper sedge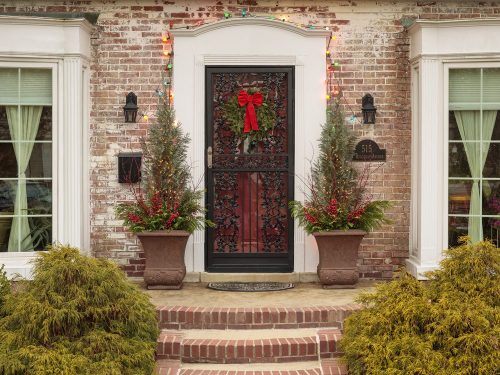 • Pinpoint® Blue false cypress (Chamaecyparis) strung with holiday lights
• Winterberry holly stems (Ilex verticillata)
• Arctic Fire® Red dogwood stems (Cornus)
• Cut evergreen boughs
It's time to dress up your porch pots for the holidays! To prep your pot, cut all of the filler plants down at the base, leaving their rootballs intact so you won't disturb the anchor evergreen's roots. If you used perennials that won't overwinter well in your container and need to transplant them into the landscape, carefully extract them from the pot. Fill those spots in with fresh soil so the roots of the anchor evergreen are insulated from the winter cold. Stick cut evergreen boughs, winterberry and redtwig dogwood stems into the soil, filling in around the base of the anchor evergreen. Add a string of lights to
each pot and you're ready to celebrate.
Notice one final detail in these spring through fall images: the height of the anchor evergreen. Changing out the filler plants around it didn't hurt the shrub one bit. In fact, it grew nearly nine inches!
Four season porch pots can be started in any season—you don't have to wait until spring to begin. Just pick up these instructions in whatever season you are currently in and create your new masterpiece. Start your plant shopping here.