Five Ways to Use Supertunia Vista® Petunias in Your Landscape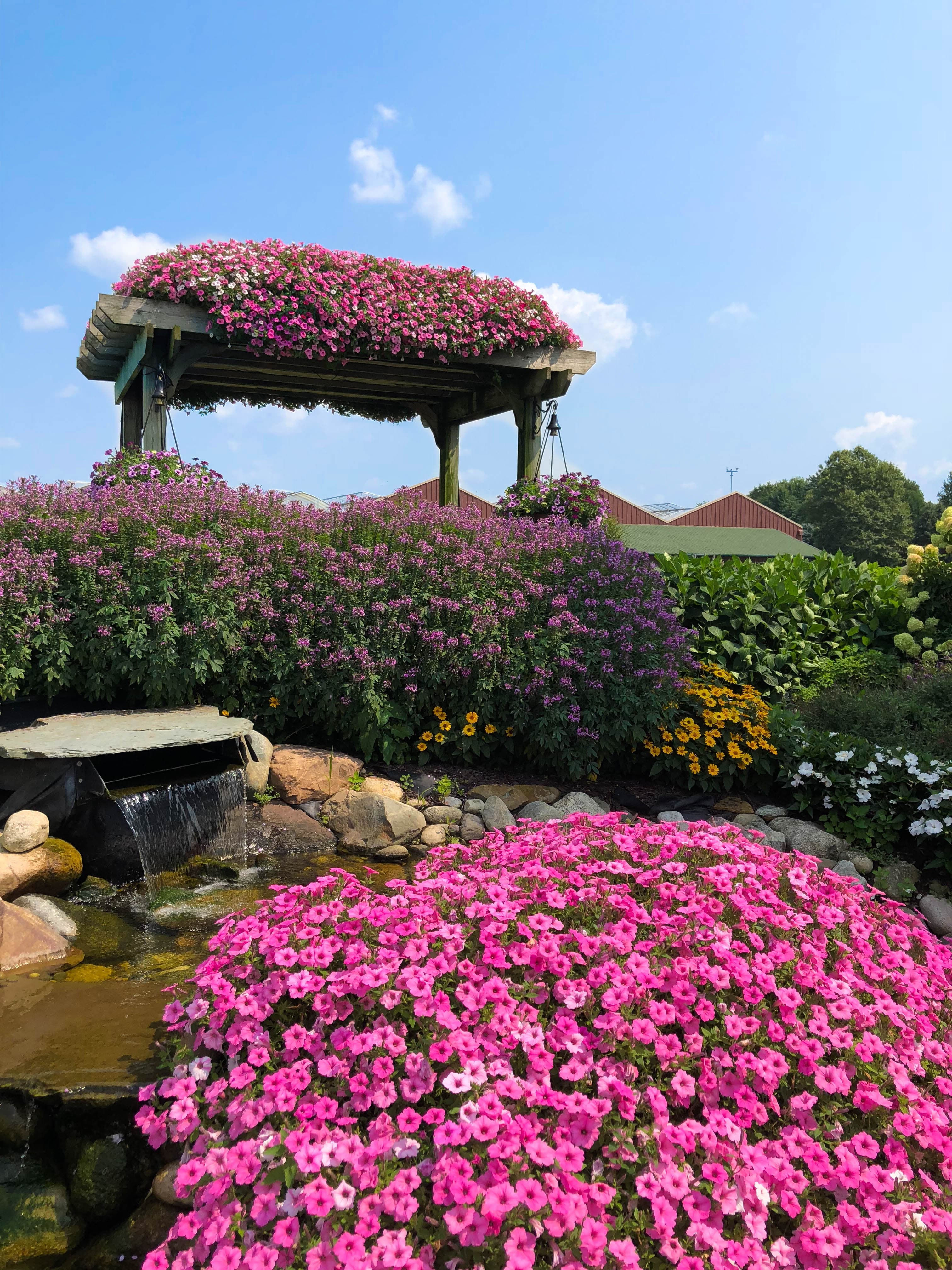 #1 – Showstopping Color
Have you ever heard someone say, "That's a 55mph plant"? That means it's a real head turner, even when you're speeding down the highway. If you've ever visited our garden center in Zeeland, Michigan, you've no doubt seen our entrance garden that's filled with glowing Supertunia Vista® petunias. Planted en masse in the landscape, they create huge swathes of vivid color that can't be missed. So, if you're really looking to glam up your garden this season, you can't go wrong with these extra vigorous petunias.
Choose from four colors in the Supertunia Vista series including Bubblegum®, Fuchsia, Paradise (new this year!) and Silverberry.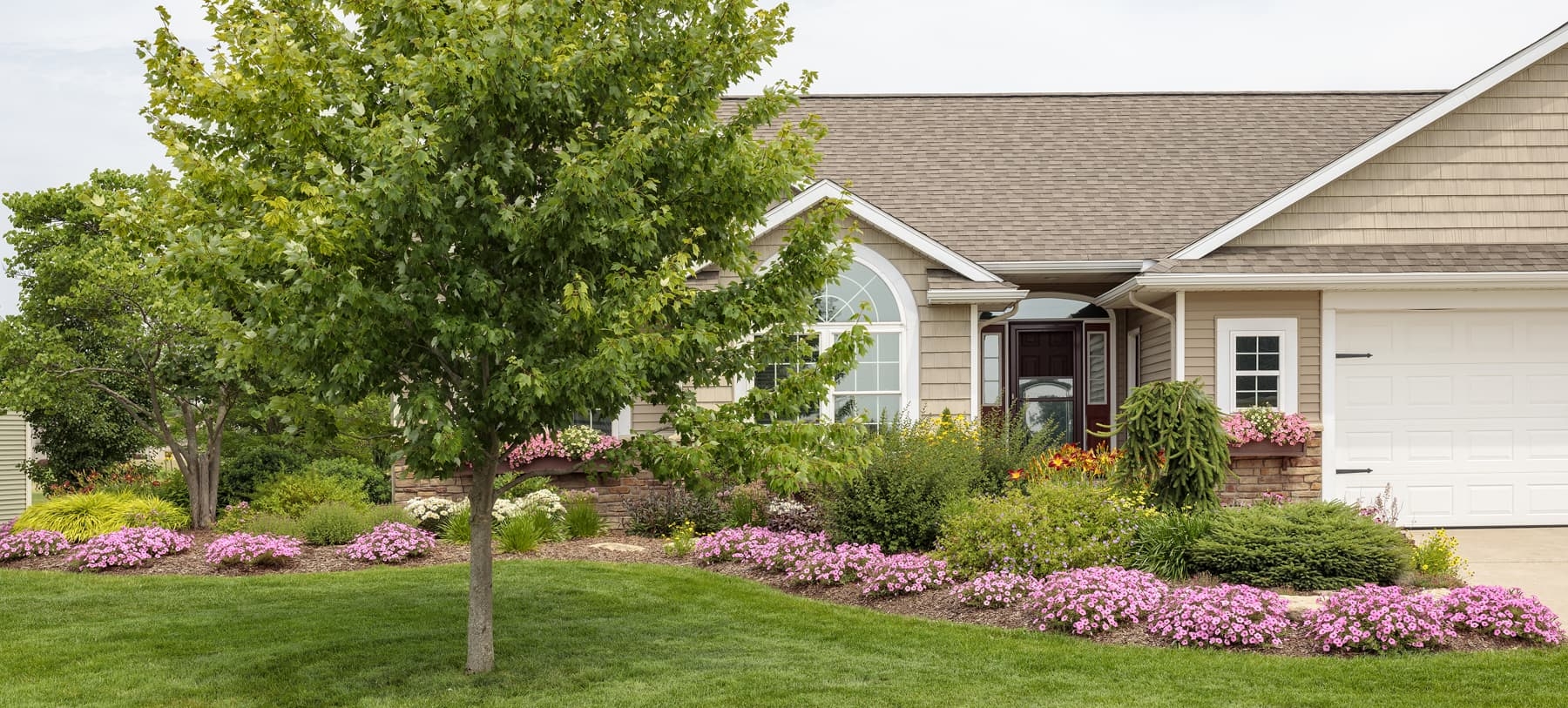 #2 – Traditional Flower Border
One of the simplest ways to add color to your landscape is to plant a border of colorful flowers like Supertunia Vista Bubblegum petunias. Their low mounding, wide spreading shape helps them fill in quickly to form a solid mass of color.
Each Supertunia Vista Bubblegum plant can spread 3-4 feet across, so if you'd like them to grow together into a solid line, space them about 2 ½ feet apart. If you prefer the look you see here with some separation between plants, space them a little further apart. Our handy Plant Calculator will help you decide how many plants you'll need to fill your border.
If your space is too narrow to grow Supertunia Vista petunias, consider using Supertunia Charm petunias instead. Nicknamed "Mini Vistas", they are strong growers like Supertunia Vista petunias but are about half the size.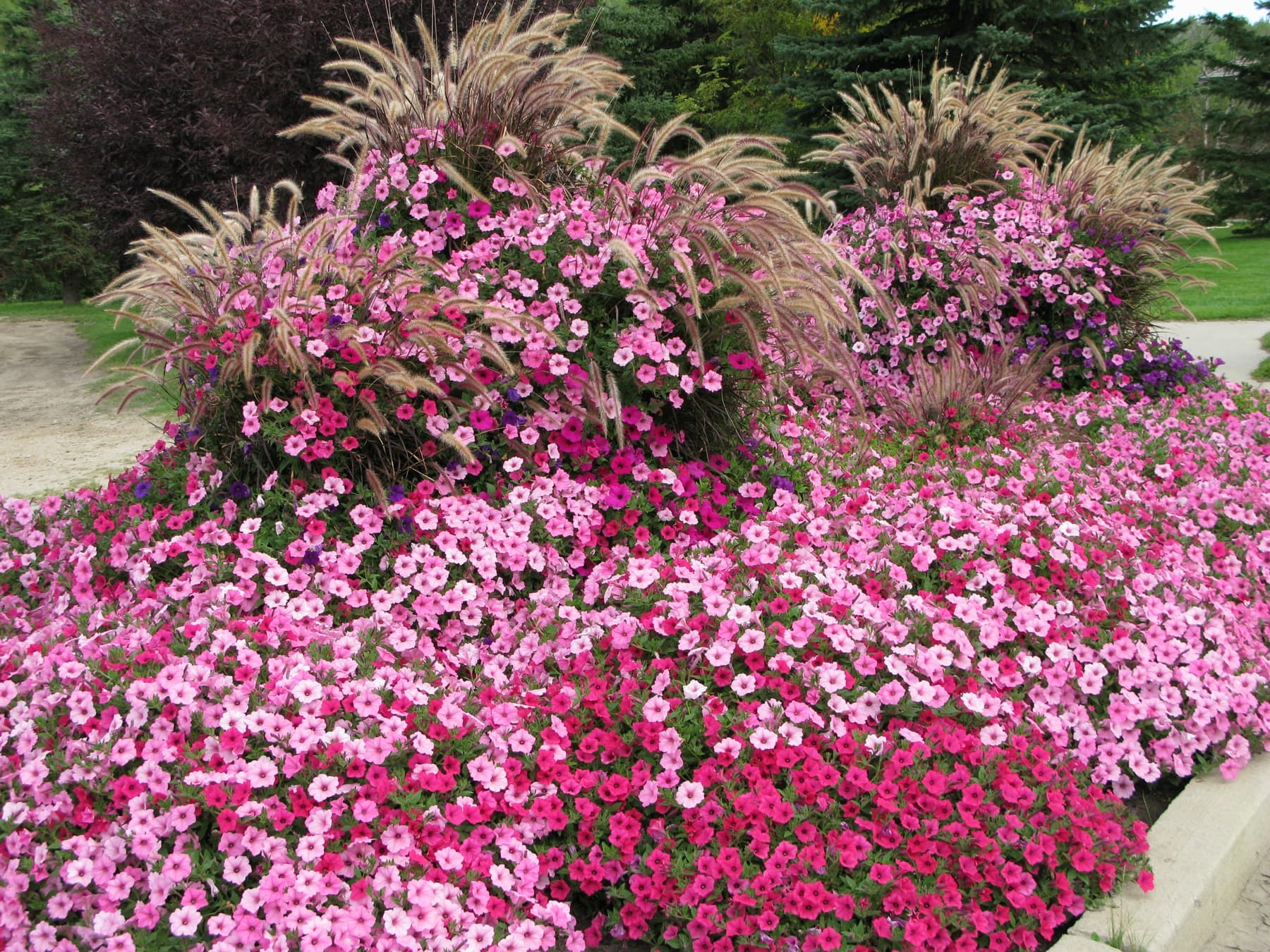 #3 – Flowering Groundcover
"Vista" means "a broad expanse", and that's exactly what Supertunia Vista petunias will cover in no time flat. We often get asked for a groundcover that will bloom all season, and this is one of the best options you'll find. You won't need many to fill a large space since a single plant can spread up to four feet across.
To get the look you see here, plant Supertunia Vista Bubblegum and Supertunia Vista Fuchsia petunias in equal amounts together. Make sure you choose a sunny spot where the sprinklers or your hose reaches. Mix some continuous release plant food into the soil when you plant, then feed every third time you water with water soluble plant food to keep them blooming strong all season. There's no need to remove the spent flowers of Supertunias—they are self-cleaning (thank goodness)!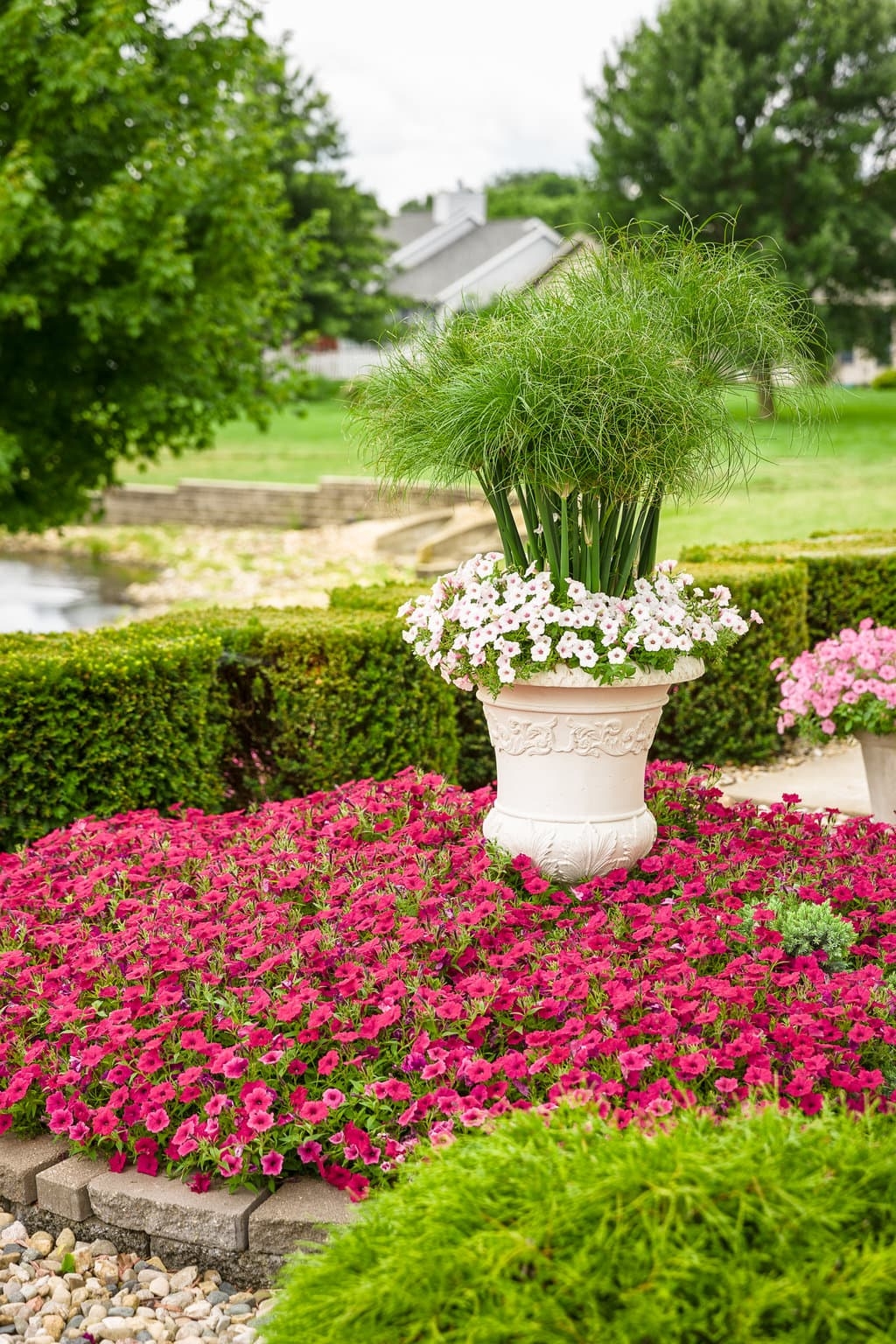 #4 – Living Mulch
You could lug heavy bags of shredded hardwood or stone mulch through the garden to fill your open spaces, but if you want something truly extraordinary, grow Supertunia Vista petunias as a living mulch instead.
Spreading plants like these perform many of the same functions as wood or stone mulch—suppressing weeds, keeping the soil cool and moist, and preventing erosion. But they also add a striking splash of color that non-living mulch just can't match. Plus, Supertunias attract hummingbirds and butterflies, too. What other mulch does that?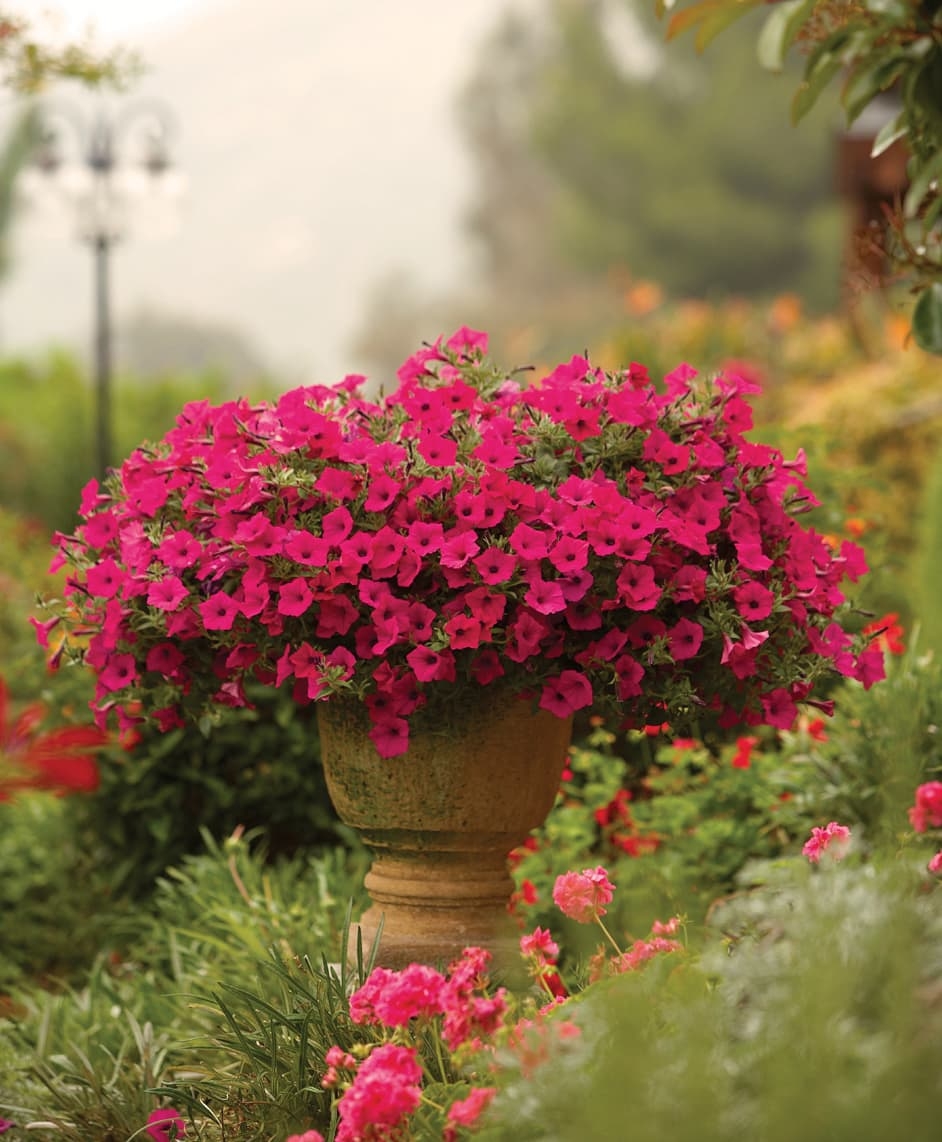 #5 –Robust Container Plantings
Supertunia Vista petunias are spectacular in landscapes, but you can also grow them in large, stately containers like the one you see here. Since they are much larger than many other annuals, sometimes they are easiest to manage when they are planted by themselves or with other Vistas in containers. A few other very vigorous annuals that can keep up with these petunias are Snow Princess® sweet alyssum, Diamond Mountain™ euphorbia and ColorBlaze® Strawberry Drop coleus.
You'll find all kinds of tips for growing annuals in containers in this article including the proper way to plant in containers, what type of soil to use, how many plants you'll need, and how to feed and maintain them.
Want to see more Supertunia petunias? Here's a link to our full line.