Heidi and Rod's Top 10 New Plants for 2022
With so many fun new plants to try each year, how do you choose? Start by taking a look at Heidi and Rod's list of top ten favorites. They know a good plant when they see one and since they have the advantage of growing many of the new varieties before they are introduced, you'll get to benefit from their experience. Let's see who made the list for 2022.
We always get excited when a new member of this series is introduced because it's virtually guaranteed to be amazing. Proven Winners puts their petunias through extensive trials before they are introduced and the standards are even higher for Supertunia Vista varieties. It's tough to create something that's as legendary as Supertunia Vista® Bubblegum®.
The new Supertunia Vista Jazzberry is a glowing magenta purple that really stands out in the series. It's a cool shade of purple that pairs really well with blue, chartreuse and white. One plant covers a lot of ground in the landscape and you won't need many to fill a large container. Be sure to pair this petunia with other very vigorous plants that can keep up with it in combinations.
Full sun to light shade, grows 1-2' tall x 2-3' wide (at least), suitable for landscapes and large containers
We are big fans of Suncredible® Yellow sunflowers and grow them every year in the gardens in front of our store and at home. They bloom non-stop from the time we plant them until the first frost hits. Every plant grows into a huge, bushy mound covered in flowers, so there are always extra to use for cut flowers.
This year, the new bicolor Suncredible Saturn performs just like Suncredible Yellow but with the addition of a russet orange ring around the eye of each golden yellow flower. We think it's just as great as the original with a little extra flair. If you're looking for an easy way to draw pollinators and birds into your sunny garden, this one will be perfect.
Full sun, grows 2-3' tall x 20-32" wide, suitable for landscapes and large containers
This new salvia has really put on a show for us in our trial gardens and is working great in container combinations, too. It's one of the most prolifically blooming salvias of this type that we've grown— literally covered in large spikes of fuchsia pink blooms all season.
The flowers are a huge draw for hummingbirds, so if you want to draw them in closer to your patio, try growing Unplugged Pink in a pot. This variety has an upright mounding habit. Its flower spikes will grow both upwards and angled outwards, making it both a thriller and filler in container combinations.
Full sun to light shade, 14-30" tall x 12-20" wide, suitable for landscapes and containers
We've grown other multicolored coleus varieties before, but this new variety impressed us more than we expected. It grew into a nice full, tall clump without needing us to pinch its stems and it went all season without flowering. We noticed that its color pattern shifts a bit whether you grow it in the sun or shade, but is always a mix of deep red, coral red and yellow.
This is a large variety of coleus that really shines in the landscape where it can grow to its full potential. It also works in medium to large containers, but you'll need to pair it with other very vigorous plants, especially trailing ones like sweet potato vine that don't take up any vertical space in the pot.
Sun or shade, 24-40" tall x 18-36" wide, suitable for landscapes and containers
We're positioning this new series of Inca Alstroemeria here between the annuals and perennials on our list because for those of you in zones 6 and colder, it will be an annual and in zones 7 and warmer, it will return each year as a perennial. You might recognize the name Alstroemeria as a common cut flower you see at florists and grocery stores. This new series is related but are considered to be "micro" varieties that stay under a foot tall.
Inca Alstroemerias make great little pot plants that bloom non-stop in a rainbow of colors all summer long. Since they have a mounding habit, they work as fillers in combination containers. There are plenty of flowers to spare for cutting for long-lasting bouquets. If your soil is well-drained, they'll also work well at the front of a flower bed.
Full sun to part shade, 8-12" tall x 14-16" wide, perennial in zones 7-10, suitable for containers and landscapes (if soil is well-drained)
All of the Summerific hibiscus are crowd favorites here at Garden Crossings, and this new variety is no exception. It's the most compact variety with the darkest foliage of the series, which makes it extra ornamental and easier to fit into existing garden beds.
Nearly jet black leaves form a very dense mound that stands just about 3' tall—about the size of a mature clump of daylilies. The foliage alone draws your attention, but when its bright pink flowers pop out in midsummer (even earlier in warmer climates) it is even more eye-catching. It keeps right on blooming all the way through early fall. If you are just starting to collect Summerific hibiscus, start with 'Edge of Night'. You won't be disappointed!
Full sun to part shade (full sun is best), 3-3 1⁄2' tall x 4-4 1⁄2' wide, perennial in zones 4-9, grows best in the landscape
Typically, when we see a colorful fountain grass like this, we assume it will not be cold hardy. But this new bright chartreuse cultivar was hybridized near the Wisconsin border and has proven for several years in trials to be hardy at least to zone 5. That makes it one of the most exciting new introductions this year!
This is a medium-sized fountain grass that needs full sun to grow well. Don't worry about its light colored foliage—it won't burn in the sun. Give it average amounts of moisture and it will be one of the showiest, most low maintenance plants in your landscape. Right around the time when the Summerific hibiscus begin to bloom, you'll see showy plumes on this grass too, and they'll both bloom together into the fall.
Full sun, 3-3 1⁄2' tall x 4-4 1⁄2' wide, perennial in zones 5-9, grows best in the landscape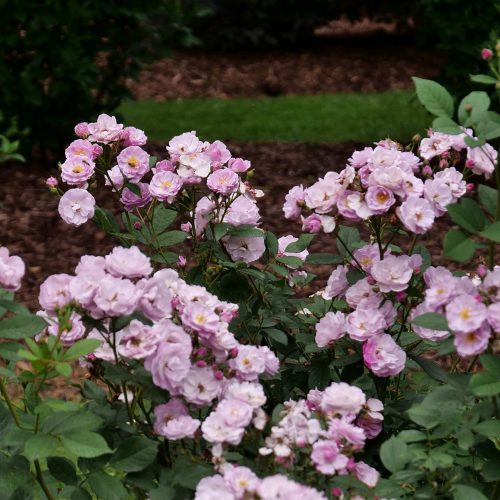 New this year, we have climbing roses—and they are fragrant! This traditional type of rose has been rising in popularity over the last few years and we are excited to have three new varieties to offer from the Proven Winners ColorChoice Shrub line. That means we know they have been thoroughly trialed and we can count on them to be amazing performers in the landscape. All have demonstrated superb resistance to black spot.
There are three new colors in the series: Rise Up Lilac DaysTM (pictured here), Rise Up AmbernessTM and Rise UpTM Ringo®.
Rise Up Lilac Days is the tallest in the series, bearing large clusters of fragrant, lilac flowers on 5-8' tall, nearly thornless canes. Rise Up Amberness is a mini-climber at 3-5' tall, bearing fragrant, amber yellow flowers with a classic rose shape. Rise Up Ringo is also a mini-climber at 3-5' tall, bearing fragrant, double, golden yellow flowers with a red eye.
Full sun, see above for individual sizing, hardy in zones 4-8, grows best in the landscape
Anyone who likes to collect unique plants is going to need this new ultra-slender arborvitae. When mature, it stands 15 to 20' tall but stays only 1 to 2' wide without any pruning needed to keep its shape.
This is the ultimate exclamation point for your landscape—use it wherever you want to draw the eye over or up. Or stack several together in a tall, narrow space to create living evergreen fence posts. There are so many creative ways to use the new Sting arborvitae!
Full sun to part shade, 15-20' tall x 1-2' wide, hardy in zones 3-8, grows best in the landscape