Look Up, Not Down…Taking Garden Color to New Heights
Clematis Flowering Vines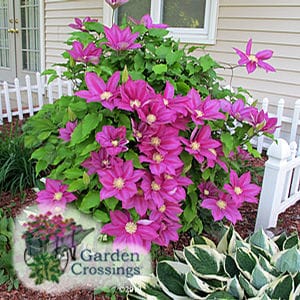 Do you ever find yourself saying "I love my garden, but I feel like I could do so much more? All the color is at the ground level, I need more height. But, I don't want a big shrub or something that will take up so much room…" I know I have areas in my garden where this is my thought exactly, I want height but not width. Well let me introduce to you Clematis, Flowering vines. Clematis is an upright growing vine that can reach anywhere from 3 foot upwards to 20 plus foot and like to climb fences, trellis, ladders, and arbors. Give Clematis a fence and it may spread to around 5 foot, give it a trellis or arbor and the spread will be just as wide as you accent.
Clematis, the Queen of the Vines are one of my favorite plants to add vertical height to my garden. Available in a wide array of colors…purple, pinks, whites, yellow, and red, there is a Clematis Vine color to fit every color scheme. When looking for a clematis vine you will have some flower shape options. The traditional bloom is a single row of petals that on average is 3 to 8 inches across (Silmakivi – Venosa Violacea – Candida – to name a few). You may also find a double flowering bloom that has a 'puff' of petals in the center edged in individual petals, creating a unique looking flower(Empress™ – Crystal Fountain™ – Blue Light®– to name a few). Then there are the true double flowering Vines, those are varieties that have 2 full rows of petals creating a double, fluffy looking flower. (Vyvyan Pennell – Franziska Maria™– to name a few)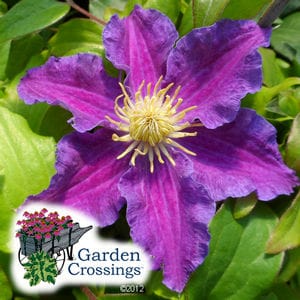 Like the idea of Clematis but not so sure you are wanting large blooms?… Clematis Vines also come in varieties that offer smaller 1 to 2 inch, trumpet (Duchess of Albany, Princess Diana) or bell (Roguchi)shaped blooms. You will generally find that the varieties with the smaller flowers are more floriferous and can be more aggressive in growth. There also is a teeny, tiny white flowering variety called 'Sweet Autumn' Terniflora. Terniflora is a great wall/fence covering Clematis variety. It can be aggressive so you will want to find the right home for it. In the late summer-beginning of fall this plant just explodes with tiny 1 inch flowers that have a sweet scent to them. A really nice fragrance to add to your garden on a beautiful autumn eve. And newly introduced is 'Sweet Summer Love', a new Clematis variety that is very similar to 'Sweet Autumn'. The same small sized flowers but in the color red and blue. 'Sweet Summer Love' also is a touch different in that it starts to bloom midsummer and lasts into the fall. The red blooms fade to blue as they age. Enjoy the sweet cherry vanilla scent that 'Sweet Summer Love' brings to your late summer garden.
When shopping for Clematis you want to be familiar with what prune group it is part of. Knowing the prune group will help you care for your clematis. Clematis care and pruning instructions go like this…
Prune Group 1-Clematis cultivars in this group flower on the previous season's growth. Generally, they can be left unpruned. If pruning is necessary, wait until the flowering is completed and remove only the weak or dead stems.
Prune Group 2– These cultivars produce early season bloom on the previous season's growth and late season flowers on new growth. Generally, these cultivars are only pruned to shape. In the early spring (February or March), prune them lightly above the first pair of new swollen leaf buds, removing about 12 inches from each shoot. Also remove any dead or weak stems at this time.
Prune Group 3- Varieties within this group flower on the new season's growth; they are often the most vigorous cultivars. Prune all of the main stems back to about 3 feet above the ground in February or March, leaving at least one pair of strong looking buds on each stem. Also remove any dead or weak stems at this time.
When you want to look up to your garden not down, You need to consider vertical height, let Clematis, the Queen of the vines take your garden to new heights!