Who says winter is a time of rest for gardeners? We are hard at work behind the scenes during these cold and snowy months to create the best possible experience for our customers in 2020. 
Greenhouse Expansion
About a year ago, we told you about the new 13,000 square feet of growing, staging and shipping space we were adding here at Garden Crossings. This year, 28,500 more square feet of greenhouse space is in the works to accommodate the increased demand for our mail order annuals, perennials and shrubs. The new space will be used for growing quart-sized shrubs, new varieties, and staging orders for shipment. Check out our progress in the pictures below. 
We are grateful to have the land available to expand our greenhouse space to accommodate the increased demand for our Garden Crossings grown annuals, perennials and shrubs, including nearly 150 new varieties just this year. 
You know that feeling of being exhausted, yet totally fulfilled, once you've finished a task in the garden? That's exactly how Rod and Heidi feel when they complete each stage of greenhouse construction.
Ahh…the smell of freshly poured concrete in the morning! We are looking forward to the day when these 28,500 square feet of new greenhouses will be ready for new plants. Our newest team member, Ben, will be Rod's right-hand man working in production and running the greenhouse. 
New Plants
Plant enthusiasts like us get super geeked about new varieties every year, and we're betting you are excited to see what's new, too. We have been observing and trialing these plants for years in some cases and are thrilled to be able to offer them to you this spring. Look for approximately 150 new annuals, perennials and shrubs on our website. 
Not sure where to start? Heidi and Rod have released their annual list of top new plants in this blog post. There's one they both agree is outstanding: Supertunia Vista® Snowdrift, a welcome new variety in this ever-popular petunia series.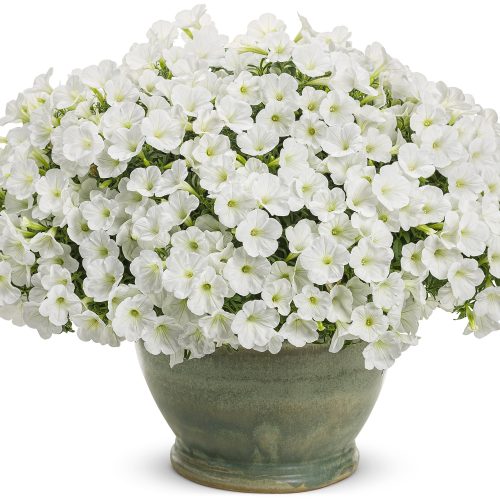 New Staff and Employment Opportunities
Meet Ben Fiolek, Rod's new right hand man when it comes to greenhouse plant production, greenhouse management and order fulfillment. We are thrilled to welcome Ben to our Garden Crossings team this season. He will be helping us fill all of that new greenhouse space with plants for our growing mail order business. Ben comes to us from Barnwell Landscape and Gardens of Mackinac Island, Michigan. He's an outdoorsy kind of guy who enjoys camping, mountain biking and fishing. Please help us welcome Ben to our team!
Are you looking for a fun and rewarding new role?
We are seeking several dedicated, positive, reliable people to fill roles in production, inventory, shipping, customer service and retail sales. Learn more about our employment opportunities here.