Heidi and Rod's Picks: Best New Plants for 2020
HEIDI'S TOP 5 NEW PLANTS FOR 2020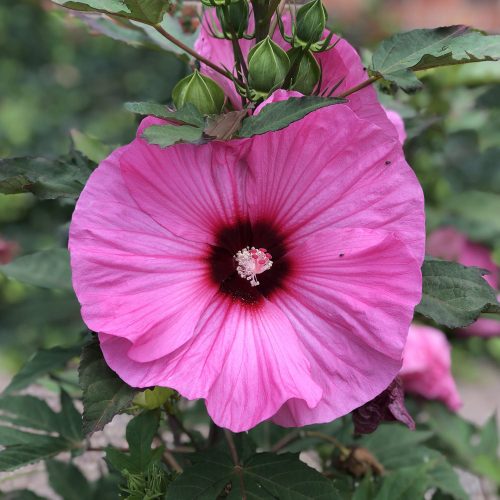 While you are spending your time indoors playing Candy Crush Saga this winter, be sure to check out our new 'Candy Crush' rose mallow. We guarantee it is way more fun than swapping candy squares on a game board! We've been waiting for a really good, solid pink Hibiscus to come available and we've finally found it in this new variety. In trials, we observed that this plant looked great every time we saw it in the garden throughout the season. It has a neatly rounded shape and bears loads of huge 8" bubblegum pink flowers from midsummer into fall. 
Stats: Hardy in zones 4-9, 4-4 ½' tall, 4-4 ½' spread, full sun to light shade, attracts bees and hummingbirds, deer resistant, native cultivar
What happens when a brilliant Target Corporation executive makes a mid-life career change and becomes a northern daylily breeder? Magic happens! 'Sound of My Heart' combines the "fancy face" characteristics of southern daylilies with the bone cold hardiness of northern varieties. Bred in Minnesota and selected for its amazing floral display, this fragrant, pastel pink daylily is heavily accented with a deep burgundy eye and matching picotee, ruffled edge. We love that it's a rebloomer, too. A real standout in the garden! 
Stats: Hardy in zones 3-9, 28" tall, 18-24" spread, full sun to part shade, attracts bees, butterflies and hummingbirds, rabbit resistant
Paraplu is a new kind of rose of Sharon we haven't seen quite the likes of before. It was selected for its incredibly large flowers in comparison to typical hardy varieties, and we can't get over the amazing eyelash-like magenta color pattern on these amazing blooms. Once it is mature, you'll see that this shrub becomes covered from top to bottom in flowers for much of the summer. Dark green, leathery foliage keeps it in tip top shape from spring through fall.
Stats: Hardy in zones 5-9, 5-8' tall, 4' spread, full sun, attracts hummingbirds, deer resistant
We have been so impressed in our grower trials by the new Heart to Heart caladium series coming from world-renowned caladium breeder Classic Caladiums of Florida. With 20 varieties in the series, you'll find both fancy leaf and strap leaf forms, and varieties that grow in sun and shade. After seeing how the stock plants are grown in full sun in Florida, we're convinced that caladiums are no longer relegated to the shadiest parts of our gardens. Though they are all beautiful, 'Chinook', 'White Wonder' and 'Rose Glow' are three of our favorites. 
Stats: Annual bulbs, size varies by variety, generally 1-2' tall, full sun to full shade depending on variety; please see individual plant records for specific stats
We have grown sunflowers that produce a single stalk with one enormous flower at the top for years, but we've found Suncredible Yellow to be an entirely different and revolutionary kind of sunflower. This is a much shorter, fuller plant that forms a shrub-like, billowy mound covered in flowers. The 4" flowers are smaller than tall sunflowers, but you get tons of them and they keep on coming from summer into fall. Pollinators love them, too. This is one plant that delivers amazing bang for the buck! 
Stats: Annual, 24-42" tall, 20-32" spread, full sun, attracts bees and butterflies, deer resistant
ROD'S TOP 5 NEW PLANTS FOR 2020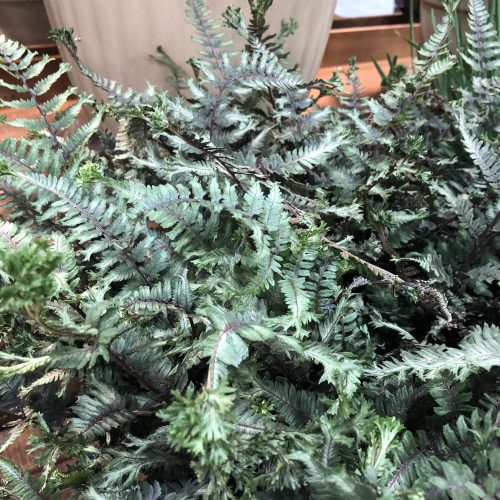 It's not very often that a new hardy fern becomes available, and this one was worth the wait. It has style in spades! If you love painted ferns, you'll find this one grows in similar shaded conditions, but has a lot more flair because of its ruffled leaf tips. (Technically, they are "double crested", which translates to forked and frilly.) We love its texture paired with smooth-leaf blue hostas like 'Touch of Class' and 'Humpback Whale'. 
Stats: Hardy in zones 3-8, 20-22" tall, 28-30" spread, part shade to full shade, rabbit resistant
Coneflowers are always some of our most popular perennials, especially ones with awesome names like this new variety from Proven Winners. As a grower, we like how it bulks up nicely in the container and has a compact, well-branched shape. That translates to a more beautiful presence in the garden, too, as the full plants grow and bloom prolifically all summer. Its flowers are a juicy tangerine orange color with a faint reddish halo around the dark copper cone.  
Stats: Hardy in zones 4-8, 18-22" tall, 16-20" spread, full sun to part shade, attracts bees, butterflies and songbirds, deer resistant, native cultivar
Lo & Behold Ruby Chip™ butterfly bush Buddleia
We're impressed with the vivid, saturated magenta pink flower color of this new dwarf butterfly bush. It is the brightest in the Lo & Behold series to date. While not everyone can fit a full-sized butterfly bush in their garden, everyone can grow this more dwarf, 2 ½' tall plant. We like its nicely rounded, compact shape and know it will be very popular with our customers this season since is similar in color to the top-selling 'Miss Ruby' which grows twice as large. Expect a butterfly parade every year when this plant is in bloom from midsummer to fall. 
Stats: Hardy in zones 5-9, 2 ½' tall and wide, full sun, attracts bees, butterflies and hummingbirds, deer resistant
Double florets and a large flower size are what immediately stood out to us when we saw this elegant new hydrangea in trials. This is a true reblooming hydrangea—a major bonus for us here in the north since that guarantees it will bloom reliably every year. The first round of flowers in early to midsummer are full mophead style, while the second round in late summer are more of a lacecap. The plant is full of flowers too, with color at the end of every branch. In alkaline soils, the flowers are bubblegum pink; in acidic ones, expect them to be light periwinkle blue. 
Stats: Hardy in zones 4-9, 3-4' tall, 3' spread, full sun to part shade
Some plants are just COOL! This is one of the most memorable plants of the new year for a few reasons, not the least of which is its wicked good name. Beyond that, just look at that amazing blackish purple foliage with glowing, serrated green edges. It is incredibly unique, and we love that it is a large, vigorous plant, too. It will easily fill your container or landscape with its bushy, uniquely colored foliage. Like all of the ColorBlaze coleus, it is very late to flower, which helps it keep its form all season. 
Stats: Annual, 24-40" tall, 18-36" spread, sun to shade, deer resistant
AND ONE MORE THAT RISES TO THE TOP OF BOTH HEIDI AND ROD'S LISTS…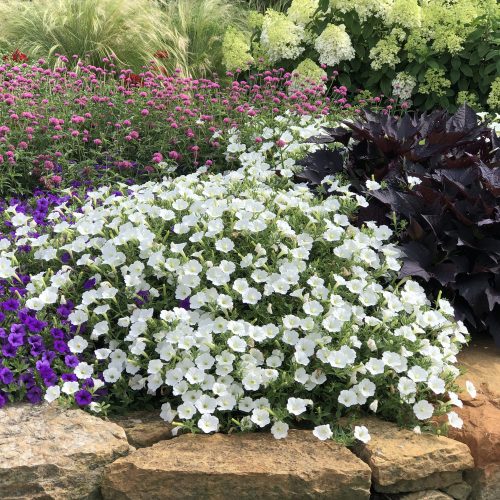 Our most popular petunia series has a new member! Supertunia Vista Snowdrift is a pure white variety that forms a solid blanket of snow white flowers that just keep going, and going, and going. Like its famous sister, Supertunia Vista Bubblegum, it does not need to be deadheaded to bloom continuously all season. One plant covers a lot of space, growing up to three feet across. We like how its neutral white color complements every other color in our gardens and containers. Snowdrift is bound to become one of our most popular plants. 
Stats: Annual, 12-24" tall, 24-36" spread, full sun, attracts butterflies and hummingbirds
*As with all new plants, demand is high. We recommend placing your order early for best selection.