Why Innovative Plant Breeding Makes Such a Difference
Plant breeders work every day to refine the plants we love to grow in our gardens. They are passionate about developing new varieties that offer desirable traits like greater disease resistance, a longer bloom time, and that are easier to grow. If you gave up planting something years ago because it had an undesirable trait, it's possible that plant breeders have worked to develop a better one by now. Let me tell you about nine innovative varieties and how modern breeding has made these plants more desirable than ever before.
If you really want to grow bigleaf hydrangeas but have trouble getting them to bloom, this is the one for you! Innovations in hydrangea breeding have led to this cross between bigleaf hydrangea (H. macrophylla) and mountain hydrangea (H. serrata). The result is this amazing reblooming variety that bears big mophead flowers like bigleaf hydrangea that emerge from extra-cold hardy buds and stems like mountain hydrangea. It blooms first in early summer on last year's stems and a few weeks later, it begins to bloom on the new growth. You'll have a full plant loaded with flowers from early summer to frost.
The beauty of having a hydrangea that reblooms so reliably is even if you prune it at the wrong time or have a bad winter you will still have flowers. We do not recommend pruning this hydrangea at all except to remove any branches that are completely dead. Since it only grows 2-3' tall and wide, it will not require pruning to keep its compact shape.
2-3' tall x 2-3' spread, full sun to part shade, zones 4-9
Fine Line buckthorn has been extremely popular since it was introduced a number of years ago, but this year the breeders have released an improved version. It is everything you loved about the original, with some cosmetic improvements. 
This is a tall, columnar, deciduous shrub that you might mistake for an evergreen like arborvitae from a distance. Up close, you'll appreciate its interesting finely textured foliage and the way its stems cling tightly together reaching for the sky. It's dense enough that you can't see through it during the growing season when it has leaves but is also tightly branched so it offers some privacy in the winter. This improved variety retains its foliage all the way down to the ground, whereas the original version showed its trunk near the bottom. It retains its non-invasive characteristics, which is important for buckthorn. 
5-7' tall x 2' spread, full sun to part shade, zones 2-7
If you live in zones 9-12, you know this plant as a shrub that's often used in foundation plantings. You would also know that this species has a reputation for spreading where it isn't wanted. This new cultivar eliminates all of that worry. It does not spread by runners underground or by seed. It also has a shorter, fuller habit that doesn't flop open. Overall, it is a tremendous improvement in Mexican petunias. 
If you live where this plant isn't hardy, you can grow it as an annual in your landscape or containers. Keep in mind that this is a heat and humidity loving plant that blooms later in the season and enjoys warm nighttime temperatures. For those reasons, it is recommended primarily for warm climates. 
18-32" tall (taller where it is hardy) x 10-18" spread, full sun, zones 9-12 (annual in colder zones)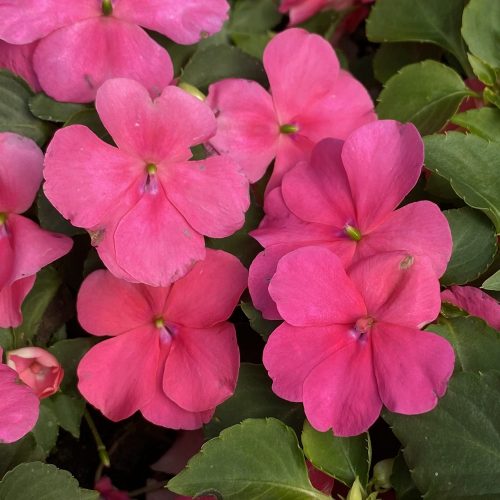 Remember the bedding impatiens you knew and loved a decade ago? People bought them in huge numbers to line the entire front of their house with these colorful shade-loving annuals. That is, until downy mildew entered the picture. This destructive disease wiped out bedding impatiens from gardens in a matter of weeks, and they disappeared from production greenhouses too, both in the U.S and around the world.
Plant pathologists in the U.S. and The Netherlands worked for a decade to develop new varieties of bedding impatiens that wouldn't be susceptible to the disease and we have them—the new Beacon series of impatiens. We are thrilled to offer a nice selection of colors new this year. All have the look of the well-known and loved bedding impatiens that we once treasured, with the added bonus of high resistance to downy mildew. You can finally grow worry-free impatiens again, thanks to the extensive efforts of these amazing scientists!
14-18" tall x 12-14" spread, part shade to full shade, grown as an annual
Let's talk about coleus. Decades ago, all coleus was grown from seed and sold in small 6-packs. Those plants were not very robust, they flowered in midsummer, and they had thinner leaves than today's coleus. They needed to be planted in the shade or their foliage would burn, and their early bloom time meant an early demise for the plants. Those days are behind us and, thanks to modern breeding from the University of Florida, today's coleus is magnificent. 
New breeding has given us the ColorBlaze coleus series. These plants thrive in full sun to full shade, have thicker leaves and stems, are robust growers, and come in a wide range of vibrant colors. A key distinction from older cultivars is that they are selected by breeders to bloom very late in the season or not at all. That's important because flowering indicates the end of the life cycle for a coleus plant. After it blooms, the plant dies. Delaying that process until the end of the season means you'll get to enjoy your beautiful coleus plants non-stop from spring through fall. 
Height and spread varies by variety, full sun to full shade, grown as an annual
All baby's breath plants are beautiful in the springtime when they come into bloom. Unfortunately, some traditional cultivars tend to turn brown and begin to look weedy by midsummer. Festival Star baby's breath is different because it continues to grow and bloom over the entire season. It blooms in late spring along with all the others, but then continues to flower all the way until fall without going summer dormant. Its foliage is neatly mounded and won't take up much room in your garden. Like all baby's breath, it is an indispensable cut flower. 
This perennial is easy to grow in any sunny landscape where the soil is well-drained. It won't mind alkaline soils and is drought tolerant once established. Deer typically leave it alone, but butterflies may stop by for a visit on a sunny afternoon.
1-2' tall x 1-2' spread, full sun, zones 3-9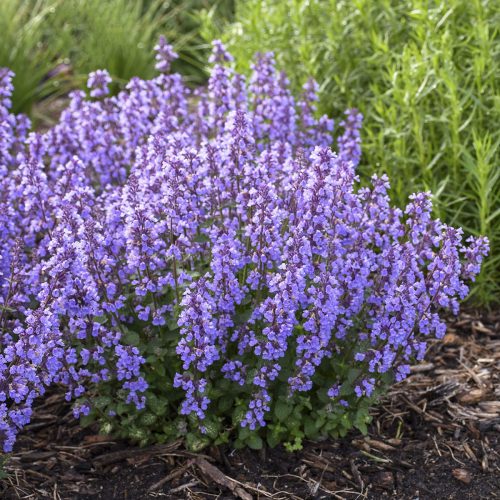 One of the most common questions we see from gardeners about catmint is how to prevent it from flopping open and becoming bare in the center. The answer lies in the breeding. Most large catmint varieties do grow tall and become top heavy once the flowers bloom, and that causes them to split open. By breeding for plants with shorter, more proportional stems, you end up with varieties like 'Cat's Pajamas' and 'Cat's Meow' that keep their tidy mounded shape all season without flopping. These two varieties vary mostly in their size, listed below.
'Cat's Pajamas' – 12-14" tall x 18-20" spread, full sun, zones 3-8'Cat's Meow' – 17-20" tall x 24-36" spread, full sun, zones 3-8
If you garden in the shade, heartleaf brunnera is one perennial you shouldn't be without. Its heart-shaped, silver leaves brighten up even the shadiest spaces and their baby blue flowers are a delight in early spring. They pair beautifully with ferns, coral bells, foamflowers and other shade loving plants. 
The one flaw older varieties of brunnera have is that by early fall, their leaves succumb to a leaf spot disease. It doesn't hurt the health of the plant, but it makes the foliage unsightly. If you live in the North where your gardening season typically ends by September, you may never see this disease. But if you garden in a warmer climate and want your brunnera to last longer into fall, choose a newer variety like 'Queen of Hearts' or 'Jack of Diamonds'. Both are very resistant to leaf spot and keep their beautiful foliage until you cut it back in late fall. You will be impressed with their vigorous growth, too. 
16-18" tall x 28-36" spread, part shade to full shade, zones 3-8