Looking for something unique to spice up your shade garden? As an avid shade gardener myself, I've grown well over a thousand different kinds of plants. In today's blog, I'm sharing five of my favorite perennials and shrubs you might not have tried yet. Maybe they will become some of your favorites, too!
Where sunlight is sparse in the shade garden, plants with silver foliage like heartleaf brunnera shine extra bright. Its broad, heart-shaped leaves pair beautifully with plants that have smaller or finer textured foliage like ferns, miniature hostas, sedges and golden hakone grass. I sprinkle brunneras all around my shade garden, anywhere I need to lighten things up a bit.
Most of the year, you'll grow it for its amazing foliage. As an added bonus, sprays of tiny, beautiful baby blue, forget-me-not-like flowers appear abundantly in spring right around the time the tulips bloom. Expect it to form a full mound of foliage about 12" tall, with flowers on taller stems above the leaves.
Many plants with silver leaves are more accustomed to hot, dry climates, but not brunnera. It prefers partial to full shade conditions and rich, moist soil that drains well. Constantly soggy soil can lead to disease. It is hardy in zones 3-8 and is deer resistant. Other than removing the spent flower stems when they are done blooming, it doesn't require any further maintenance all season.
Fair warning: once you start growing Lenten roses, you're going to want more every year. This amazing perennial has so much going for it! It's an absolute essential in my shade garden and might become one in yours, too.
Lenten roses are one of the first plants to bloom in spring, right around the time when the spring flowering trees and bulbs are in their prime. They send up a bouquet of flowers from the center of the plant before the new leaves emerge, so there's nothing to obstruct your view or that of the bumblebees that pollinate the flowers.
After 6-8 weeks once the flowers are spent, new leaves will fill in to make a full 12-18" tall mound. It creates a beautiful, deep green backdrop for later blooming perennials. The leaves are very thick and leathery, persisting through winter in most climates. In spring, just before or as the flowers emerge, trim off any of last year's leaves that are tattered.
Lenten roses grow best in partial to full shade and prefer rich, moist soil in zones 4-9. Once they are established, they will tolerate slightly drier soils. They are deer and rabbit resistant.
Don't let this perennial's funny name fool you—it is a beautifully elegant plant! Its flowers remind me of little orchids. They are a welcome sight in late summer and early fall, a time when many other plants in my shade garden are finished blooming for the season. Several cultivars are available, though most have white, purple, or speckled flowers. Some, like 'Autumn Glow', have showy variegated foliage that you'll love as much as the flowers.
Toad lilies are taller perennials that typically stand at about 2-3 feet. Their narrower footprint makes them easy to tuck in and amongst hostas, ferns, heartleaf brunnera and hydrangeas in woodland gardens and shade borders.
Plant them in rich, moist soil that drains well in partial to full shade conditions in zones 4-8 (zones vary slightly by cultivar). This is not the first plant a deer will go for in your garden, but they have been known to sample it if there's nothing better on the menu.
Purple Beautyberry (Callicarpa)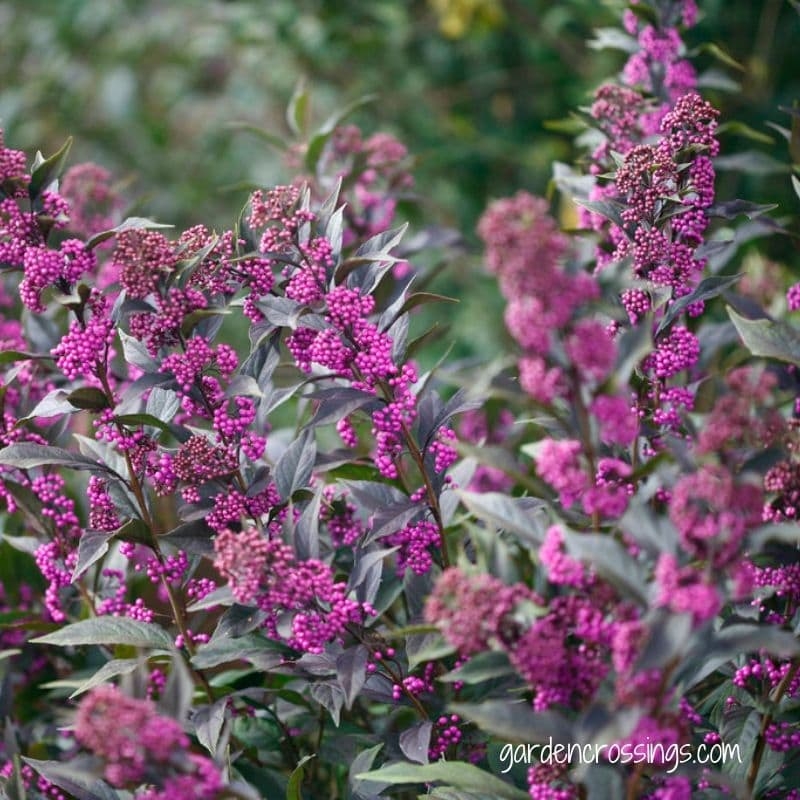 Every fall when this shrub is in its glory, with purple pearl-like berries lining its stems from top to bottom, people are absolutely amazed. Though some species of beautyberry are native and fairly common in open woods and fields across the U.S., it isn't planted in gardens nearly enough.
Purple beautyberry is a 4-5ft tall, upright shrub with arching stems; its shape is best when left unpruned. Purple Pearls® has a slight purple tint to its foliage which complements the pink flowers that appear in mid to late summer. Bright purple berries form in place of the flowers and persist into fall, or until birds snap them all up. Its berried branches are beautiful in fresh bouquets.
Grow this plant in part shade to full sun in zones 5-8. It isn't too fussy about soil moisture and can survive most conditions once it is established. It is a fast grower and is generally considered to be deer resistant.
Summersweet is the perfect complement to purple beautyberry in the landscape, as it shares similar cultural preferences and blooms around the same time. Summersweet has very fragrant, white, bottlebrush-shaped blossoms that attract bees, butterflies and hummingbirds in mid to late summer. Though pollinators love this plant, deer and rabbits do not.
Its white flowers and deep green, glossy foliage would look fabulous underplanted with silver leafed heartleaf brunnera and Endless™ browallia in part shade and moist soil. This combination would be especially good in your garden if you have deer, since all three plants are deer resistant.
This is a native shrub with an upright form that varies in height from 2-6ft, so be sure to check the label before you buy to find the particular cultivar that will fit your space. Its dense, upright shape makes it perfect for foundation plantings or short hedges in full sun to part shade. Its hardiness ranges a bit by cultivar, from zone 4 to 5.
Want to explore more plants for shade? Use our Advanced Search tool to find annuals, perennials and shrubs that will thrive in your shade garden.