10 Best New Shrubs This Year
We love shrubs! We love growing them in our greenhouses, we love offering unique varieties to our customers, and we love them in our own home landscape. We get as excited as you to see what's new, and this year's batch of new shrubs from Proven Winners® ColorChoice® contains some truly
extraordinary plants. Here are ten you won't want to miss.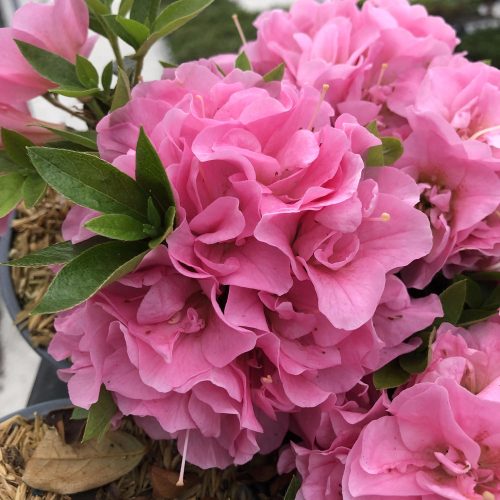 Reblooming azaleas are becoming ubiquitous across the South where they grow in a surprising amount of sun compared to traditional spring blooming types. The Perfecto Mundo series represents the very best in their class. You'll enjoy a fantastic spring show followed by additional rounds of blooms from summer to fall. This Double Pink cultivar bears fully double, bubblegum pink blossoms. If you prefer something darker, try Perfecto Mundo® Double Purple. Use these graceful evergreen shrubs as an underplanting for tall trees or showcased among spring blooming bulbs in the landscape.
2-3' tall x 2-3' spread, full sun to part shade, zones 6b-9
There are so many reasons to grow this amazing new shrub! When you pass by and catch the intense fruity scent of Simply Scentsational, it draws you in for a closer look. You'll notice its velvety textured, deep red blossoms are similar in shape to magnolia blooms but appear all up and down the stems from late spring into summer. Clip a few to enjoy indoors as a natural air freshener. Another reason to love sweetshrub is that it is super easy to grow and deer resistant. It thrives in any well-drained soil and is perfect for mixing in among other small trees and shrubs in the landscape. 6' tall x 4-5' spread, full sun to part shade, zones 4-9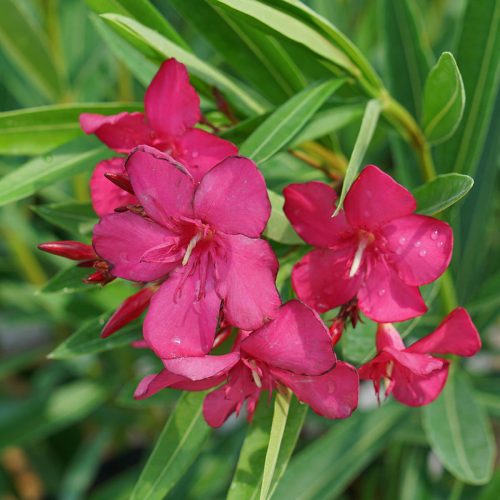 Expanding our palette of heat and humidity tolerant plants, we are excited to be growing this brand new variety of oleander this year. It was discovered growing in Austin, Texas and selected for its superior disease resistance and denser, rounded shape. If you live where this shrub is hardy, you could grow it as a privacy hedge or a colorful specimen plant that is always in bloom. In the North, this floriferous tropical makes a fun thriller in container recipes. No matter what you throw at it—heat, drought, salt, alkaline soil, air pollution or even armadillos—this shrub is a survivor!
4-6' tall x 2' spread, full sun, zones 8-11
Is there a place in your landscape where you could use a bright punch of gold color? This new pyramidal evergreen is just the thing! It forms a strong, narrow column with no pruning needed to keep its shape and is easy to grow. Use it for hedging, creating a privacy screen, or as a bold accent. Chamaecyparis is one of few evergreens that deer tend to pass right on by, and it tolerates some shade, too. There are so many things to love about this new shrub! Grow it in all three colors: Gold, Blue, and Blue & Gold.
15-20' tall x 4-6' spread, full sun to part shade, zones 5-7
When you have lots of space to fill and want lots of color, consider planting rose of Sharon shrubs. They are easy to grow in any average garden soil and prefer plenty of sunshine, even all-day sun. Deer tend to leave them alone, but you'll often find hummingbirds and butterflies enjoying their pretty blossoms from midsummer to fall. This new cultivar blooms with bright lavender purple, double flowers and, like all in the Chiffon® series, it sets little to no seed.
8-12' tall x 6-10' spread, full sun, zones 5-9
You have truly never seen a hydrangea quite like this! It's a revolutionary new form of trailing hydrangea with cascading stems lined with lacy white blossoms in spring, reblooming throughout the summer. This new shape for hydrangeas creates new opportunities for uses like spilling down a slope, draping over a rock wall, filling garden beds, or even growing in large hanging baskets. Now there truly is a hydrangea for every purpose! This beauty was honored as the Plant of the Year at the world-famous Chelsea Flower Show in 2018. 4' tall x 4' spread, full sun to part shade, zones 7-9
Hydrangeas get better and better with every generation of breeding, and this new cultivar is incredibly impressive. It is one of the most prolific and fast-growing varieties we've seen. It blooms first on old wood in early summer and then reblooms quickly on new wood from midsummer to fall. Its flower buds and stems are also hardier than standard bigleaf hydrangeas thanks to its mountain hydrangea (H. serrata) parentage. Rich pink or purple, full mophead flowers are produced abundantly, leaving plenty to clip and enjoy in a vase indoors. Grow a whole hedge of this colorful hydrangea or try a single specimen in a container. 2-3' tall x 2-3' spread, full sun to part shade, zones 4-9
Here's a fun new shrub for our more northern customers. Hardy all the way to zone 2 (-40 to -50°F below zero!), this is a durable plant that tolerates tough growing conditions including clay and alkaline soils. It is deer resistant, too. You'll want to grow it mostly for its cheerful spring foliage color which is a kaleidoscope of yellows, reds, oranges, pinks and greens. By midsummer, the foliage turns bright green and white flower panicles draw butterflies and other pollinators in. This is a spreading shrub that will naturalize if you allow it to. If you'd prefer it not to spread, you can keep it in a small clump by removing the suckering stems in spring. 2-3' tall x 3-4' spread, full sun to part shade, zones 2-7
For years, people have grown 'Summer Snowflake' viburnum because it is one of the only cultivars available that blooms throughout the summer. Now, modern breeding work has improved on that classic with this new cultivar that delivers an even stronger flower show in the summertime on a more refined looking plant. Lacy white blossoms march double file up the horizontally held stems first in spring and then again in midsummer. This new cultivar is smaller than the species, making it an easy fit for most low maintenance landscapes. 4-5' tall x 4-5' spread, full sun to part shade, zones 5-8
Dark purple is the perfect accent color for the landscape. It goes with everything and creates beautiful contrast with any other color you plant nearby. For most of the season, it's the dramatic dark purple foliage of this shrub that you will enjoy. It forms a relatively short, full mound that works near the front of landscape beds, planted around small trees, or as a small hedge. As a bonus, hot pink flowers appear prolifically in the springtime, even more so because its stems are more cold hardy and less prone to dieback in the winter. Hummingbirds will be frequent visitors when this plant is in bloom, but deer don't
seem too interested. 2-2.5' tall x 2-2.5' spread, full sun to light shade, zones 4-8
Want to explore more shrubs for your landscape? Here's where to look.