Ready for some porch and patio inspiration? The ten styling ideas you'll see here will get your creative wheels turning. There's a little something for everyone and every time of the year. Dressing up your patio can be as fun as decorating your living room when you consider the uses for the space and the atmosphere you are cultivating.
Bring on the Color!
Idea: Don't be afraid of color! You might use neutral décor in your home, but when it comes to outdoor decorating, don't be afraid to go bold with your color choices. Colors appear lighter in the sun outside, and pastels can look washed out. Instead, choose flower, fabric and paint colors in brighter shades so they retain their brilliance on your sunny patio.
Annuals provide the most vibrant punch of color, and they bloom all season. Complement them with patterned pillows and painted furniture to liven up your outdoor entertaining spaces.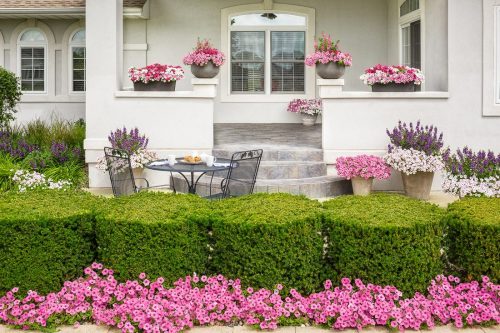 Choose a Color Palette
Idea: If that first idea was a little too bold for your liking, you might prefer to use a selective color palette for your patio décor. In the scene above, pink, purple and white comprise the palette for this elegant home. A border of Supertunia Vista® Bubblegum® petunias and boxwood surround the outdoor seating area. A trio of Supertunia® colors plus Angelface® Angelonia fill the coordinating containers and are repeated in the beds surrounding the patio. If pink isn't to your liking, substitute any other color you like and repeat it throughout your plantings to achieve a cohesive look.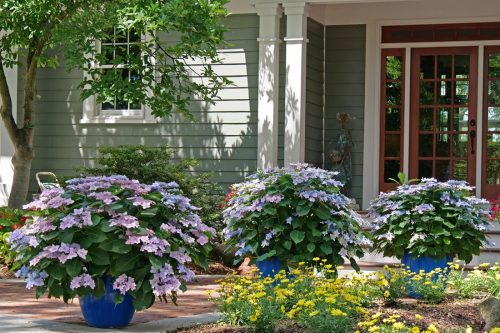 Line the Path to the Front Door with Flowers
Idea: Create an inviting entrance by lining the path to your front door with pretty flowers. You might have tried planting annuals in the ground there before but consider the new idea you see pictured here. Instead of annuals, this homeowner lined her path with bright blue pots planted with Tuff Stuff Ah-Ha® mountain hydrangeas. They return bigger and more beautiful each year, blooming at hip level so you don't even need to bend down to enjoy them.
Bring Fragrance to Your Doorstep
Idea: Wouldn't it be lovely if a fresh rose scent came wafting in each time you opened your door? It's easy to stop and smell the roses when you grow them right on your front porch! Here, an antique white Reminiscent® Crema rose with that old-fashioned rose scent everyone loves is growing in a 14" container on a sunny porch. It will bloom abundantly there on 18-36" tall stems, continually reblooming throughout the season without deadheading. It provides plenty to clip for fresh bouquets to enjoy indoors.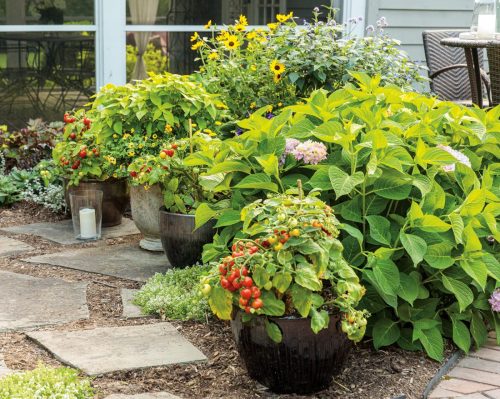 Keep Fresh Fruits, Vegetables and Herbs on Hand
Idea: Grow dwarf varieties of fruits, vegetables and herbs in containers on your patio so they are always close at hand for harvesting. Even if it's pouring rain outside, it's easy to pluck a few ripe tomatoes from the vine when they are growing just a few steps from the door. The Kitchen MinisTM collection of petite tomato and pepper varieties are perfect for growing in containers. Also try herbs like mint for your cocktails and rosemary for grilled meats and potatoes.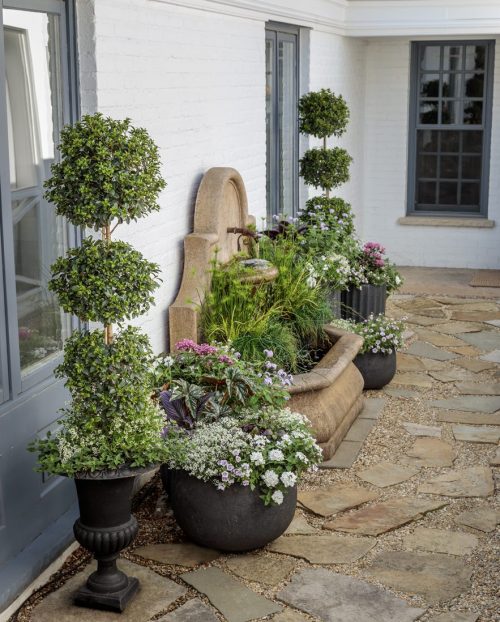 Add a Water Element
Idea: Bringing the element of water up onto your patio serves many purposes. The sound of a fountain creates calming ambient noise and masks sounds coming from the neighbors or street. The feeling of water brings a coolness that is most welcome on warm summer days and evenings.
Water is a lifegiving force for you and the creatures who call your garden home. You might spot a robin coming by for a drink or quick rinse. On this patio, a fountain and the surrounding plantings bring interest to a blank white wall, making good use of the space.
Shop our water-loving plants: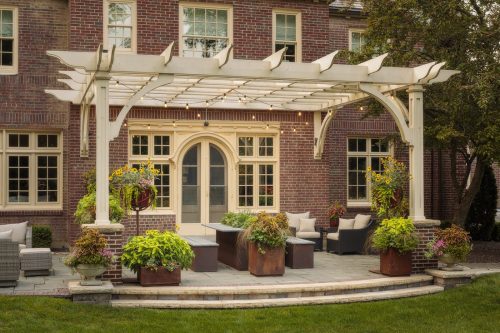 Use Structure to Organize Your Outdoor Room
Idea: If your outdoor living area is wide open and lacks a sense of organization, consider adding a structure like a pergola or gazebo to make the space more functional. When pathways and seating areas are clearly defined, it can help your guests settle in more comfortably. Large square and rectangular Corten steel planter boxes also create order on this expansive patio.
This home's style called for a more formal looking structure, but not all structures are formal. Canvas gazebo kits available from hardware stores can accomplish the same goal in a more casual way. An awning that extends from the back of your home could work too.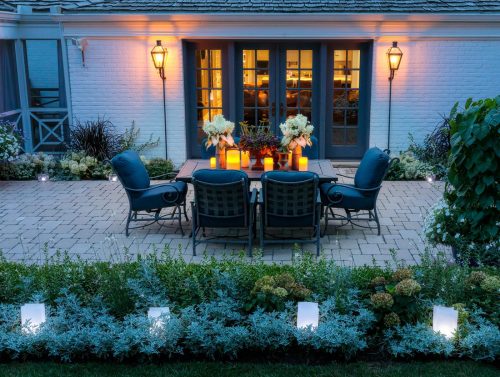 Add Mood Lighting
Idea: Proper landscape lighting can really transform and enhance your outdoor living spaces. When it is done well, it can highlight the best elements of your landscape like a tree with terrific structure or cast just enough light on the patio in the evening. Notice in this photo how the soft light from candles and lanterns creates a relaxing, romantic mood. Silver and white plants surround the patio, seeming to glow in the moonlight.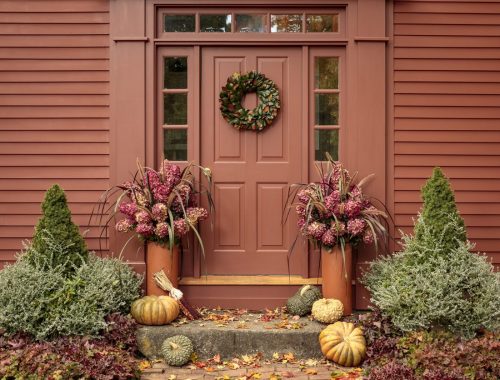 Use Cut and Dried Flowers on Your Porch
Idea: In the fall after the annuals in your containers are finished, consider replacing them with bouquets of fresh or dried hydrangea blooms and ornamental grasses. It won't hurt your panicle hydrangeas to cut their branches in the fall since they bloom on new wood. Cut them when they are at the color you'd like them to stay and they will dry that way.
In the scene pictured here, Fire Light® hydrangea flowers were cut when they were at their deepest red color. Blades and plumes of Vertigo® fountain grass were added for some contrasting texture and movement. They will last through the holidays and can be replaced with winter greens for Christmas.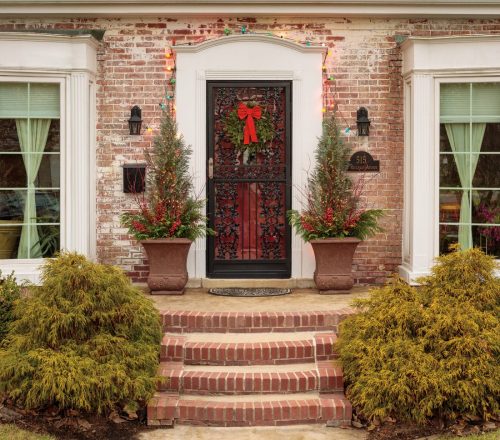 Plan Ahead for Winter Interest
Idea: If you plan to leave your porch pots out year round, consider growing an evergreen shrub like false cypress (pictured), arborvitae, boxwood, inkberry holly, Japanese holly or Pyracomeles in them. Choose one that is at least two zones hardier than your zone to ensure overwintering success. If the shrub grows too large for the pot in a few years, simply transplant it into your landscape.
While it is still young and there is space at its feet, plant flowers around the base for color in the summertime. Swap them out for gourds or pansies in the fall. Pictured here, mixed greens, berry branches and string lights were added for holiday and winter interest.
Explore more plants for holiday decorating.
All photos in this article are courtesy of Proven Winners.