10 New Perennials for Your Sunny Landscape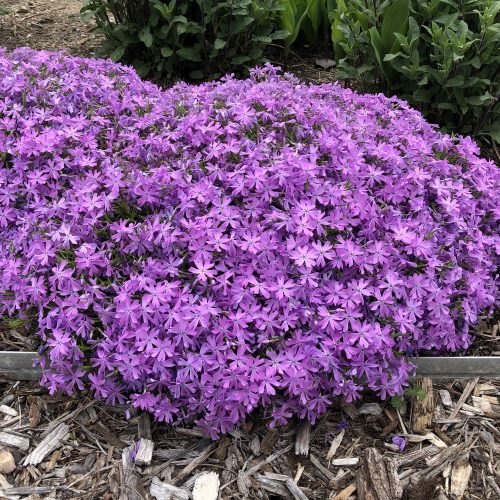 Ring in the spring season with these early blooming groundcover phlox! If you've ever grown creeping phlox, then you know how much joy they bring to the landscape after a long winter. They form a carpet of vibrant blooms that welcome back pollinating bees and butterflies into the garden.
This new series of Spring Bling phlox are more refined than traditional creeping phlox, maintaining their attractive foliage through the season better due to greater heat tolerance, and have much larger flowers too. They look beautiful planted as a flowering carpet under spring bulbs which bloom around the same time. Try them also as an edging along a garden path or spilling over the edge of a rock wall.
4-8" tall x 24-28" spread (after a few years), full sun, zones 4-8
Plants with ferny textured foliage are useful in landscape designs because they complement many other perennials and shrubs with broader leaves. This special new variety of Jacob's ladder is unique in two ways. It is heavily flushed with deep purple in early spring as the foliage emerges—a shade that beautifully complements spring blooming daffodils and hyacinths planted nearby. Once summer arrives, it turns olive green.
As you might guess, 'Heaven Scent' is also distinguished by its pleasantly fragrant, blue flowers which are larger than many other varieties, appearing in late spring. In warmer zones, it prefers some afternoon shade but in cooler zones, it will grow well in full sun as long as ample moisture is available.
18-24" tall x 15-18" spread, full sun to part shade, zones 3-7, deer resistant
Some types of pinks like the Fruit Punch® series are grown for their large, carnation-like blossoms. Paint the Town pinks are grown as a carpet of color in the early summer landscape with a repeat show in early fall. Though their flowers are much smaller than Fruit Punch varieties, there are far more of them and you'll easily spot this plant in bloom from far away. The effect is not unlike that of creeping phlox, except the bloom time is significantly later. Paint the Town varieties are also more heat tolerant than many Dianthus.
Four colors round out the series with the newest being 'Paint the Town Fancy' introduced this year. It bears bright pink flowers with a magenta red eye and has mounded, glaucous blue foliage.
8-10" tall x 16-18" spread, full sun to part shade (blooms best in sun), zones 4-9, deer resistant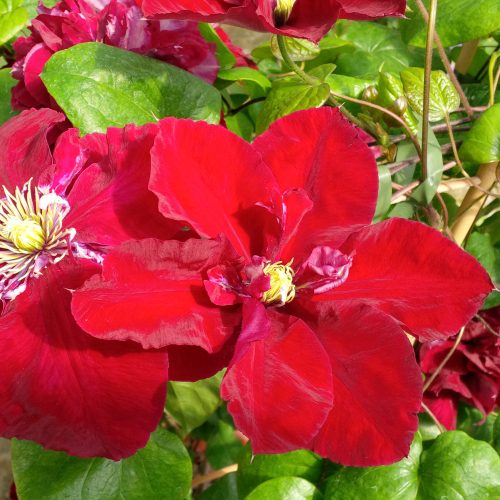 What would a new year be without some new Clematis? This year, we are adding several new varieties including this outstanding brilliant crimson red cultivar. There is always something interesting to see when this plant is in bloom since its flowers can be single, semi-double or fully double. They open over a period of several months from early summer through late summer. We love its true red color that really pops in the landscape. For a patriotic design, plant indigo blue Sweet Romance® lavender and white 'Whoops-a-Daisy' shasta daisies at its feet.
6-8' tall x 1-2' spread, full sun to part shade, zones 4-9, deer and rabbit resistant
No sunny garden would be complete without daisies! We love this new cultivar for several reasons. First, its flowers are huge—up to 4 ½" across. They bloom right on top of the deep green, mounded foliage and are so prolific that you won't even see its leaves when this plant is in bloom. Second, it forms a super dense, short mound that doesn't split open. Last but not least, remember that daisies make long lasting cut flowers. Since this variety reblooms, you'll have plenty to cut for enjoying in bouquets. Did we mention that pollinating bees and butterflies like it too? This new daisy is a must-have.
16-18" tall x 28-32" spread, full sun, zones 5-9
This new perennial is as dramatically colored as it is durable in the landscape. It forms a tall clump of near-black foliage and bears clusters of white flowers on dark stems in early to midsummer. Pollinating bees and hummingbirds enjoy their sweet nectar. This plant is very hardy, easily handling tough garden conditions due to its native prairie roots. Extreme cold, heat, drought and windy conditions won't hurt it a bit. Penstemon is an "end of the hose" plant, meaning it won't need constant watering or care to thrive. Plant a few together to create a dramatic focal point in any sunny garden bed. 
42" tall x 38-42" spread, full sun, zones 3-8
Some daylily flowers are fancier than others, and this new variety ranks as extra-fancy in our books. Its petals bear complex markings that you'll want to observe up close, so plan on growing it alongside your patio or near your front door. Large 6", thick textured petals are bright rosy red with an incredibly ruffled, creamy yellow picotee edge, pale peachy pink watermark and citron throat. You'll get to enjoy this rebloomer twice per season beginning in midsummer. 
As long as plentiful sunshine is available, daylilies are easy and rewarding to grow. They increase in size each year which means within a few years, you'll be able to divide them and spread them around your garden. Though 'Born to Run' is officially registered as growing 28" tall, we've found that it usually tops out a bit shorter.
20-22" tall x 18-24" spread, full sun to light shade, zones 3-9, rabbit resistant
When the folks at Proven Winners Perennials told us this was one of their favorite new introductions in years, we took notice. Indeed, this is a gorgeous new tall phlox! It produces large clusters of the softest baby pink blossoms, each dotted in the center with a bright pink eye. These sweetly fragrant flowers are beautiful in fresh bouquets, and pollinators enjoy them too. This is a taller perennial that would make a showy filler for the middle of the border especially if you planted them in a grouping of 3-5 plants. No need to worry about powdery mildew with this phlox—it was selected for strong resistance. 
30-32" tall x 24-28" spread, full sun to part shade, zones 3-8
Who knew oregano could be so pretty? Though this new perennial is related to the kind of oregano you eat, this cultivar is far more ornamental. It grows quickly into a broad clump of chartreuse yellow foliage that, though technically edible, isn't as intensely flavored as the standard herb. From midsummer until frost, deep purple calyxes that are easily mistaken for flowers appear at the tips of each stem. If you look closely, you'll find tiny pink flowers clustered among the purple parts. Bees and butterflies know exactly where to find them, and you'll enjoy the show for months on end. We think you will be pleasantly surprised what a head turner this new ornamental oregano is! 
24" tall x 36" spread, full sun, zones 4-9, deer resistant
Perennial hibiscus just keep getting better! Every year we have a new favorite and this year's crown jewel is 'Spinderella'. An improved habit is what sets this variety apart from others with similar flowers. It forms a well-rounded, dense clump of dark green foliage that will grow to be about the size of a medium-sized shrub in your landscape. From midsummer into early fall, huge 8" round, pink and white pinwheel-patterned flowers adorn this plant on all sides. It's an absolute showstopper when in bloom. Give this perennial plenty of space to show off in your landscape, even if you start with a small plant. You will be amazed how fast it grows!
4-4.5' tall x 4.5-5' spread, full sun to light shade, zones 4-9, deer resistant
Want to explore more perennials for your landscape? Here's where to look.