10 Recommended Perennials and Shrubs for Clay Soil
Clay soil can be both a blessing and a curse. Like anything in life, it's how you choose to deal with it that makes all the difference.
Clay soil is excellent at binding together nutritious minerals that many plants need to thrive. It's also good at holding in moisture as it percolates slowly down to the roots. The issue comes when it holds too much moisture in. Some plants detest having wet roots for an extended period, especially when they are not actively growing in winter. Winter wetness tends to kill more plants than cold temperatures, though we are often quick to blame the cold.
Many types of plants tolerate or even prefer growing in clay soil. Let's take a closer look at ten of our favorites.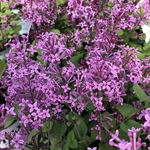 1. Lilacs – A quintessential shrub for spring, there's nothing quite like the scent of a lilac. Their heady fragrance is intoxicating! You might think this elegant shrub takes a lot of work to grow, but the opposite is actually true. It thrives on neglect. Plant your lilac in a sunny spot, water it the first season to establish its roots, then sit back and enjoy it for decades to come. Choose from reblooming types like Bloomerang® or Scent and Sensibility™ or double-flowered cultivars like Scentara™.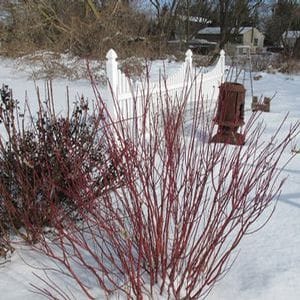 2. Dogwood Shrubs – Dogwood shrubs are extremely versatile plants that can handle clay soils with ease and grow in sun and part shade. Though they do produce white flowers in spring that attract pollinators, these shrubs are more often grown for their colorful stems that glow red or gold in winter. If you have a spot in your landscape that tends to be a little soggy after it rains, that would be the perfect place to plant a dogwood shrub.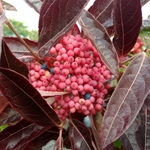 3. Viburnums – Viburnum shrubs are workhorses in the garden; no landscape should be without at least one! This is an incredibly diverse genus of plants that includes selections with fragrant flowers, showy berries and rich fall color. Many are native to North America and their degree of cold hardiness varies by species. Dwarf varieties stay as small as 1-2 feet while standard viburnums can reach up to 8 feet tall. They are incredibly adaptable shrubs that tolerate any soil type and grow in both sun and part shade. Consider adding viburnums to your foundation plantings or plant a row of them as a hedge or living screen.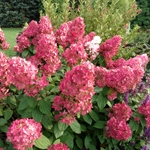 4. Smooth and Panicle Hydrangeas – Some of the easiest hydrangeas to grow include smooth hydrangeas (H. arborescens) and panicle hydrangeas (H. paniculata). Unlike their bigleaf cousins, they are not so fussy about soil and grow easily in well-drained clay soils (those that aren't continually waterlogged.) Both types bloom reliably every year because they form their buds on "new wood", meaning this year's branches. Dwarf, average and tall varieties are available to suit any space in your landscape.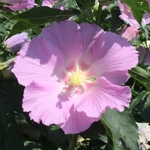 5. Rose of Sharon – For midsummer to fall color and deer resistance in sunny landscapes, choose rose of Sharon. After all the spring flowering shrubs have finished, rose of Sharon is gearing up to start its show. These are beautiful yet tough shrubs that require little to no pruning to form an upright column of dark green foliage and colorful blossoms that attract butterflies and hummingbirds. If reseeding is an issue in your climate, choose our Chiffon®, Satin®, Sugar Tip® or Pollypetite® varieties that have very low to no seed set.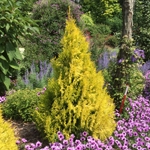 6. Arborvitae – Arborvitae shrubs are classic elegant evergreens often used in foundation plantings, to build privacy screens, or define a patio space. Some are tall and conical while others are small and round. If you have a sunny spot where you could use something, there's a good chance we have an arborvitae that would fit your space. Some of our favorites include the bright gold, dwarf Anna's Magic Ball® and the giant 20 foot tall Spring Grove® Western arborvitae.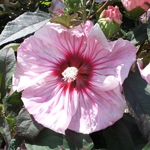 7. Rose Mallow – Perennial varieties of Hibiscus, commonly known as rose mallow, grow as big as shrubs but die back to the ground every year like perennials. You may have heard them called "dinnerplate Hibiscus" for their enormous 7-10" wide flowers. They are absolute showstoppers in the garden when in bloom from midsummer to fall. Rose mallow needs moist soil to thrive and since clay soil is great at retaining water, it's a match made in heaven. Choose from pink, red, white, or bicolor varieties.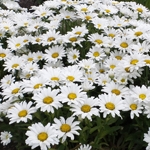 8. Shasta Daisies – No sunny garden is complete without at least one patch of shasta daisies. You'll find this hardy perennial growing across the U.S. in all kinds of soils, from well-drained clay to sandy loam. Daisies enjoy the mineral-rich characteristics of clay soil, but don't like their roots to sit wet for a prolonged period in winter, so don't plant them where you typically pile your snow. Daisies bloom for many weeks in late spring to midsummer. Daisy May® is a very special reblooming selection that produces as many as three rounds of blooms per season, depending on your climate.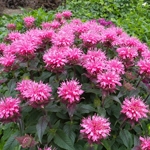 9. Bee Balm – Bee balm or Monarda is a favorite of pollinating bees, butterflies and hummingbirds, but its minty scented foliage is good at keeping deer away. Vivid red, purple, pink or lilac colored blossoms are produced prolifically from early summer through late summer, depending on the variety you choose. Growing bee balm in clay soil helps to keep its growth in check which is good because this is a spreading perennial. It spreads faster in loose, sandy loam soils. Plant it in a spot where it's easy to water since it dislikes dry conditions.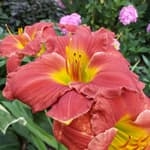 10. Daylilies – Daylilies are staple perennials for low maintenance landscapes. They are extremely easy to grow, cold hardy all the way to zone 3, tolerate any soil type, and multiply from year to year. As they begin to spread, you can divide and transplant them around to fill your garden with brilliant summer color. Some daylilies are rebloomers, while others make one huge splash over a single period. Choose from red, pink, purple, orange, peach, gold, yellow and white selections.