12 Small Space Garden Ideas
Whether you garden exclusively on a balcony or around a small patio, you can surround yourself with plants you'll love. We'll show you how using a dozen different examples and explain what makes each space work for the homeowner. Handy plant lists will help you achieve a similar look in your own landscape. Let's get started!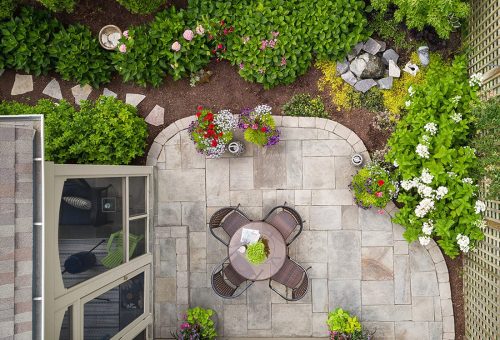 The Total Package
Takeaway Tip: Make the most of your space using size-appropriate elements.
Every inch of space was considered when designing this outdoor living area and landscape. Here are a few things that make this design work well:
Large pavers used to build the patio make it feel more expansive than if it had been built with small blocks. Its shape naturally conforms to the space available while still allowing room for plants to surround it.
A 48" patio table for four leaves room on the patio for containers, standing space for guests, and a spot to pull out a chaise lounge on occasion.
Stepping stones that coordinate with the patio material create cohesiveness and beckon visitors to explore the garden further.
A small water feature in the corner creates ambient noise to bring the focus back to the garden.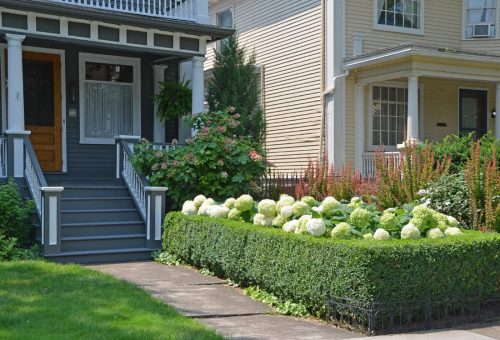 Reimagined Front Yard
Takeaway Tip: Don't be afraid to completely reimagine how you are using the limited space you have.
This homeowner decided that lawn wasn't really necessary on both sides of his front walkway. He preferred to arrive home each day to flowers instead, so he made better use of the space by replacing the lawn with a bed of Incrediball® hydrangeas. A neatly clipped boxwood hedge surround prevents them from arching over into the walkway.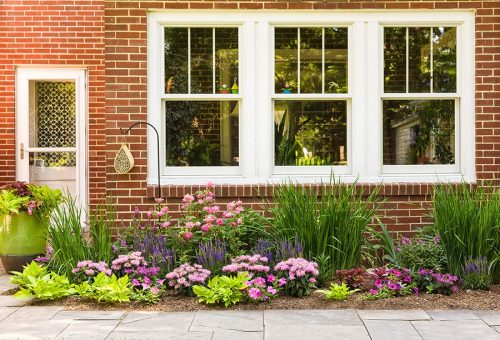 Small Scale Bed for Pollinators
Takeaway Tip: Even if you only have a small space to plant, your garden can still benefit pollinators.
When room to plant is limited, select what you want to grow carefully to make sure you are maximizing the use of the space. In this instance, the homeowner is growing several plants that pollinating bees and butterflies enjoy including bee balm (Monarda), spike speedwell (Veronica), petunias, butterfly bush (Buddleia), roses and Siberian iris. By choosing dwarf varieties, they are able to fit numerous types of plants in a small border.
Shop our plants for bees and butterflies.
Espalier Fruit Tree Border
Takeaway Tip: Make use of the sunny side of your garage by planting espalier fruit trees underplanted with flowers that will draw in the pollinators.
Learn the art of espalier—the practice of training a tree or shrub to grow flat against a wall—to maximize the yield in your small garden. Here, young pear trees were espaliered against a wooded structure made by the homeowner. Rockin'® Playin' the Blues® salvia and Luscious® Marmalade lantana draw in pollinating bees, while Lemon Coral® sedum creates a continuous edge along the front. A coordinating wooden arbor at the end of the border holds Clematis vines. Altogether, these plants make this a beautiful and productive space.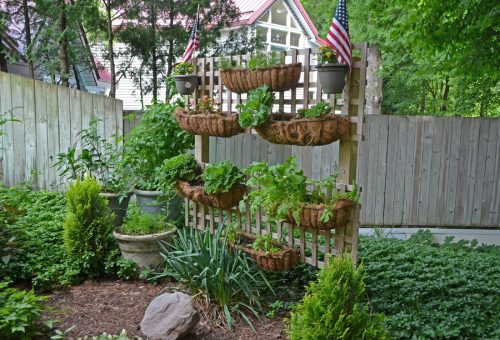 Herb and Vegetable Hayracks
Takeaway Tip: When space is limited, grow up!
This backyard space was dominated by large, mature maple trees and groundcover, which left little opportunity to grow sun loving herbs and vegetables. The homeowners got creative and found a way to take advantage of one spot that received strong afternoon sun. There, they constructed a vertical system with mounted hayracks which they filled with leafy greens, herbs and a few flowers. Adding WaterWise® drip irrigation would make this system even easier to maintain.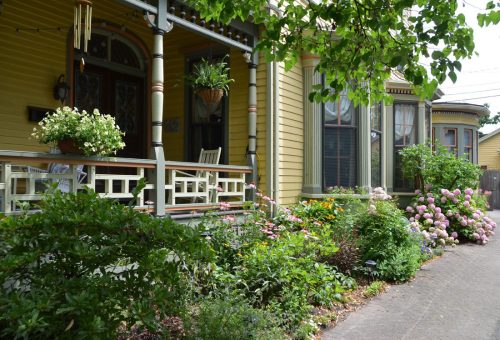 Line the Driveway with Lush Plantings
Takeaway Tip: Beautify the strip of land that borders your driveway for the benefit of you and your neighbors.
This beautifully maintained Victorian home in Buffalo, New York sits on a small, wooded lot dominated by large trees. The neighbor's house sits just a few feet to the right of the driveway. Since the strip along the drive is both sunny and relatively free of tree roots, it presented the perfect opportunity to grow a mixed border of flowering perennials and shrubs. Look around your landscape and consider how you could spruce up an underutilized spot this season.
Shop our perennials and shrubs.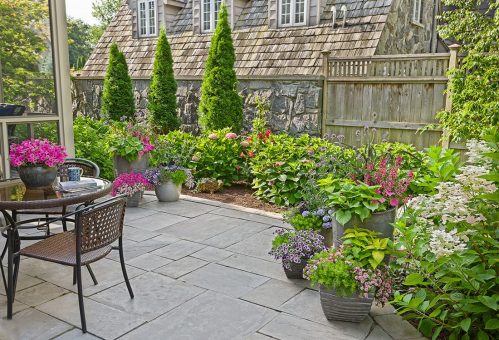 Grow a Little Bit of Everything in a Small Space
Takeaway Tip: By choosing smaller scale varieties, you can pack a whole lot of fun into a small space. 
Here is how this homeowner fits all of her favorite things into this small patio and surrounding border: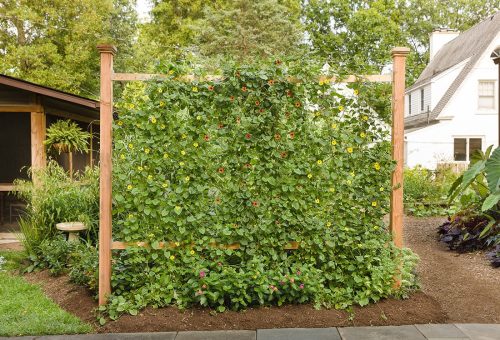 Create a Privacy Screen in a Narrow Footprint
Takeaway Tip: Construct a living wall or screen to give your backyard some privacy.
In this urban backyard, there wasn't much room to plant shrubbery as a living screen and a solid fence was not an option. Yet, the homeowners wanted to do something to screen the view of their back patio from their neighbors. The solution to construct this narrow living wall made out of dimensional lumber and chicken wire. Fast-growing annual black-eyed Susan vines were planted at its base in spring and provided full coverage by midsummer. For a more permanent solution, plant perennial vines like clematis, honeysuckle or false hydrangea vine.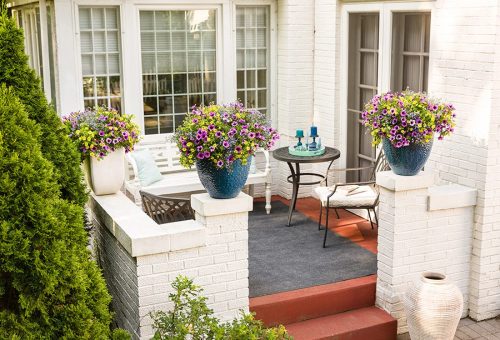 Raise Up Your Containers
Takeaway Tip: Anything on the ground takes up precious space on a small patio. Raise up anything you can, including your containers.
When your footprint is limited, limit what's under foot. Notice how these containers are set on top of the wall instead of on the patio floor. If they had been set on the ground, this space would have felt much more crowded. The plants themselves would likely have been damaged occasionally from people running into them, and may not have been able to grow to their full potential. By raising them up, they have plenty of space and sunlight to flourish. Notice also that a bench was used on one side of the table instead of a single chair. This allows for more people to gather without cluttering the space with additional seating.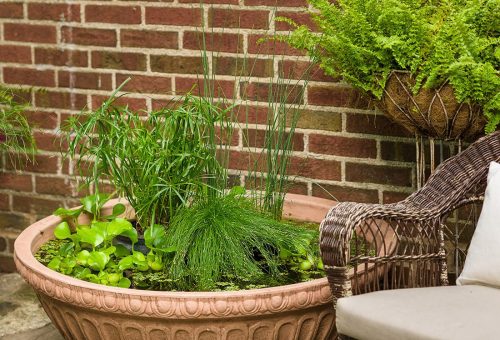 Miniature Water Garden
Takeaway Tip: Water gardens don't have to be large or complex. You can create a miniature version for your patio.
If you have a container that holds water, you can make a water garden. You'll find kits to make them online. Or make your own using a pot without a hole, a small pump (found at pet stores for aquariums), and a few water-loving plants. Water gardens add ambiance, soft background noise, and the lifegiving element of water. If you get creative, you can create one on a budget for your small space. 
Shop our water-loving plants: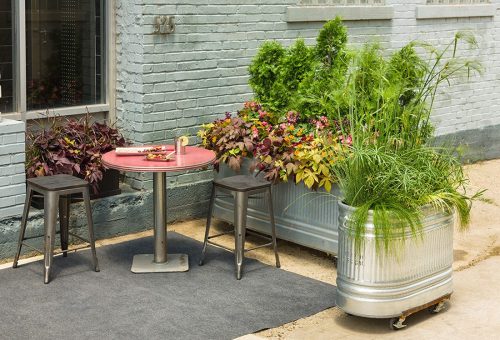 Portable Container Gardens
Takeaway Tip: Using planters on wheels allows for easy rearranging of your small space.
Full planters are heavy and cumbersome to move, but if they have wheels, new opportunities open up. You could set your container on a wheeled plant caddy or add casters of your own. For the project pictured here, casters were bolted to the bottom of these horse troughs to make them portable for the renter who lived here. Since they are movable, they can be arranged to accommodate more seating or provide greater privacy. 
Evergreen arborvitaes and King Tut® papyrus give these plantings some height and act as living screens. By using mainly plants with interesting foliage rather than flowers, it limits the need to sweep spent flowers off the ground.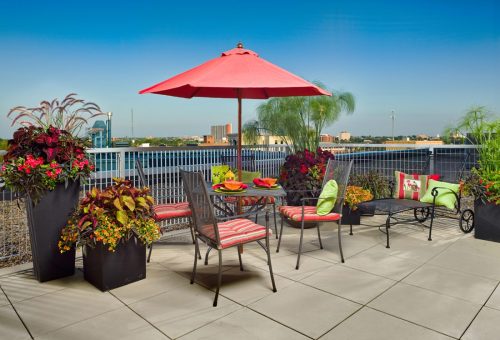 Container Style for Condo Living
Takeaway Tip: Use fewer but larger containers in small spaces.
If your garden space is limited to a rooftop or balcony, you can still grow gorgeous plants in containers. Make the space feel less cluttered by opting for fewer but larger containers. In this example, a set of large, black containers was used to bring a modern vibe to the space. Plants in shades of hot reds, oranges and golds pop against the dark backdrop. Instead of choosing compact varieties like in the example of the small patio that contained a little bit of everything, the opposite was done here. Large scale annuals fill these containers fully, creating a lush look in a space with a lot of hard concrete and metal surfaces.