25 Gardening Tips for Seniors and Busy Homeowners
Lots of people who like to garden also like to collect plants. We find irresistible plants everywhere we go and one by one, our gardens grow. And grow. And grow! While it's perfectly OK (and fun!) to collect lots of different kinds of plants, we need to get smarter about which ones we allow into our gardens. We don't want the maintenance of it all to become overwhelming as our lives become busier and our bodies aren't quite as forgiving after a day of working in the yard.
Below, we're sharing 25 tips for how to simplify your garden to make it more manageable as well as ways to make gardening easier as you get older. There are things to keep in mind while shopping for new plants and gardening tools, plus ideas to help you reevaluate the way you garden. Tackle as many or as few as you'd like and keep this list for a few years down the road when it may be time to make some changes.
25 Tips for Seniors and Busy Gardeners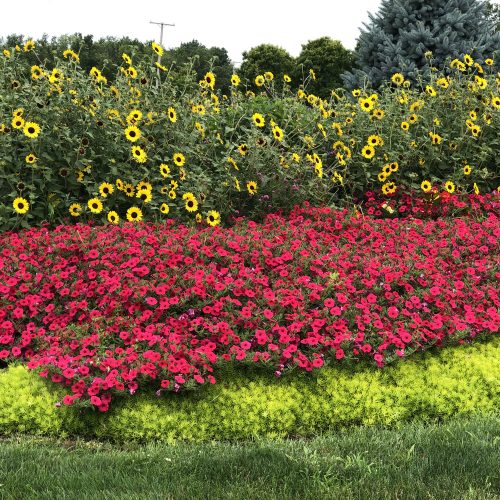 1. Choose varieties of plants that have self-cleaning flowers and don't need to be deadheaded to stay in bloom. Pruning and pinching spent flowers requires dexterity and a strong back—both of which can become limited as we get older. Supertunia® petunias, Superbells® calibrachoa, impatiens and begonias are all great examples of easy annuals that don't need to be primped and pruned constantly to keep on blooming all season. Many other Proven Winners annuals share that same trait.
2. Choose shrubs that don't need pruning to keep their shape. Or, better yet, decide to embrace the natural shape shrubs take on when they are not pruned. Shrubs like arborvitae, false cypress, Loropetalum, sweetshrub and Virginia sweetspire all have beautiful natural forms. Formal gardens with tightly clipped hedges and bushes are labor intensive for any age gardener but can become unmanageable for seniors. It may be time to embrace the imperfect and choose a more laid back style for your landscape.
3. Replace plants that are chronically plagued by powdery mildew, slugs and other pests, as well as those that require staking. It's time to oust the highest maintenance plants in your yard and replace them with easier, improved varieties that won't require as much work. Not sure which new plants to try? Stop in to our retail garden center or give us a call and we will be happy to help you find what you need.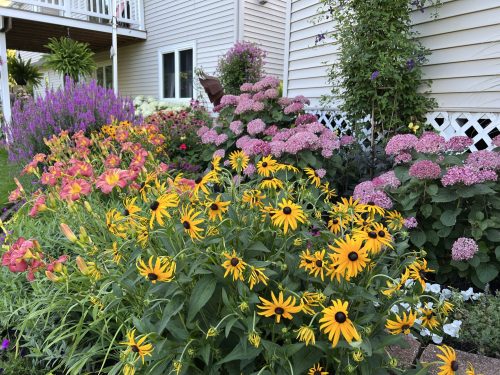 4. Plant larger sweeps of single varieties of plants instead of one of everything. When your garden becomes a smorgasbord of many different kinds of plants which have all sorts of maintenance requirements, it is more complex to maintain. Choosing to simplify your garden by planting a narrower selection of plants, as well as planting them in larger groups, makes a garden easier to tend but no less beautiful.
5. Replace or choose new evergreen trees instead of large, deciduous shade trees. As your towering maple, beech and oak trees decline and need to be removed, consider replacing them with evergreens. Raking leaves in the fall is a lengthy process that requires excellent arm and back strength as well as endurance. While the exercise is certainly good for you, it can become too much if your yard has many deciduous trees in it as you get older or busier. Research which types of evergreen trees are best suited to your climate and growing conditions before you buy so they are sure to thrive.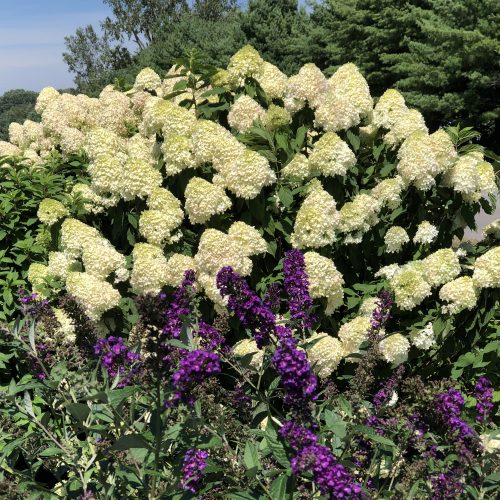 6. Transition perennial gardens over to include more flowering shrubs and dwarf conifers. In general, shrubs and conifers tend to require less maintenance than perennials. They typically only need to be pruned and fed once per season (if at all), have broader root systems that can make them more drought tolerant, and never need to be divided. Plus, you'll need fewer of them to fill a garden bed. Since most shrubs and conifers are quite long-lived, you won't need to replace them as often as annuals and some perennials.
7. Grow the bulk of your vegetables in containers rather than in the ground. Growing and tending a large vegetable plot was fun when you were young, full of energy, and there were more mouths to feed at the dinner table. As you get older and all of those things are in less supply, you don't have to stop growing your own food—you just need to get smarter about how you grow it. Many kinds of vegetable plants, and even some fruits, come in smaller sizes that are perfect for growing in containers on your sunny deck or patio. You may only need a few pots to satisfy your appetite for growing veggies and herbs.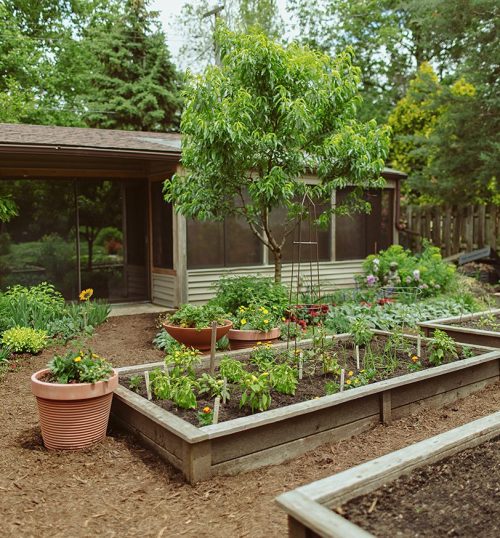 8. Speaking of containers, try switching to raised beds. There are many styles to choose from including those that are just a few inches off the ground to those built on legs that stand a few feet tall. Build your own or order them in kits that require minimal assembly. Long, narrow raised beds are best for making it easy to access everything without too much stretching or bending. Try attaching a trellis to one end of your raised bed for climbing plants like pole beans, peas and Malabar spinach.
9. Use fewer, but larger, containers that can stay put all year. Instead of planting in numerous small containers that you'll need to lug out of storage every spring, consider planting in more permanent containers that can handle winter weather outdoors or can be covered and left in place for winter. Large containers can accommodate many types of plants so you can still grow what you've always loved, just in a more convenient location.
10. Instead of planting a border of colorful annuals each year, plant colorful perennials and shrubs instead. Or, plant your annuals in select pockets of your landscape. Planting flat after flat of annuals every year gets expensive and is hard on your joints. By switching to perennials and shrubs, you'll only need to plant once and enjoy for years to come. A few colorful plants to try are coral bells, lavender, catmint, spirea, dwarf butterfly bush and dwarf forms of weigela.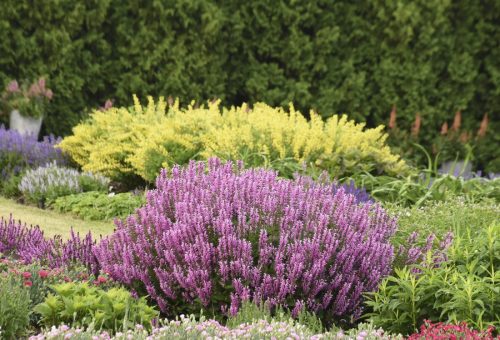 11. Grow perennials that don't need to be divided often. Dividing plants takes quite a bit of leg and arm strength and requires manual dexterity, so if the majority of the perennials you choose for your garden don't require division, your garden will be easier to maintain.
Perennials with tap roots like Baptisia, Asclepias and Gypsophila (baby's breath) shouldn't be divided. Perennials that are also classified as "subshrubs" because they develop a woody base also don't take well to dividing. A few of those include lavender, rose mallow, Caryopteris (bluebeard), butterfly bush, tree and intersectional peonies, penstemon and Russian sage.
Perennials that can grow for a long time without being divided include coral bells, foamy bells, foamflower, garden peonies, red hot poker, goatsbeard, amsonia, brunnera, coneflowers, dianthus, ligularia, salvia and speedwell.
12. Switch out your tools for more ergonomic models. Consider replacing your heavy wood-handled tools for lighter weight aluminum or fiberglass models with brightly colored handles that are easy to spot in the garden. Replace your trowel with an auger. Look at using ratchet pruners instead of bypass pruners which require more hand strength. Consider purchasing tools with stainless steel blades that won't rust or need to be scrubbed often to stay in proper working order.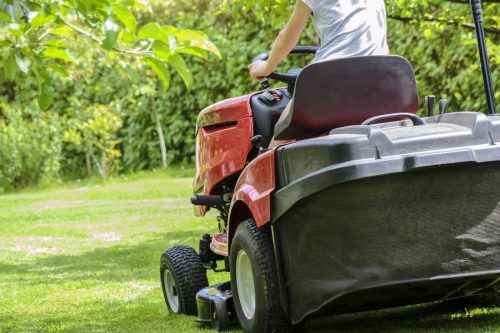 13. Swap your push mower for a riding lawn mower. You've always wanted one, and now's the time! Mowing the lawn can be a more relaxing, safe experience when you're perched atop a padded seat versus pushing a heavy mower. At the end of the season, take it to a local shop to have it winterized instead of getting down on your hands and knees to do it yourself.
14. Exchange your one-wheeled wheelbarrow for a yard cart. I've relied on this one from Rubbermaid for the last 20 years in my garden and I don't know what I'd do without it. It never tips over like wheelbarrows often do and is easy enough to lift with one hand even when it is full. You will find endless uses for your yard cart. It is worth every penny!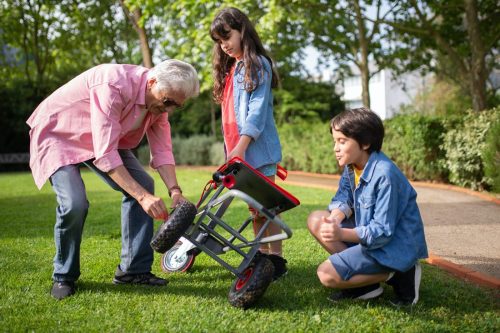 15. Invest in a garden scooter. When it's time to pull weeds, plant annuals in the border, or perform other tasks that are low to the ground, a garden scooter like this one makes the task easier and safer. It allows you to do the work from a low seated position so there's little risk of falling, and it's easier to get back up once you've finished.
16. Wear knee pads or using a kneeling pad when you garden. If you want to be able to continue to garden into your golden years, take steps now to protect your joints. Kneeling is hard on your knees, hips and lower back, but cushioning them with knee pads or a kneeling pad will help lessen the impact. Over time, this small precaution can make a huge difference.
17. Wear gloves when you work outside. Yes, even if you never used to use garden gloves. Long sleeves and pants are also a good idea, as is sunscreen. As you age, your skin becomes thinner and more prone to cuts, scrapes and bruises, especially if you are on blood thinners (as many older people are.) Wearing skin protection will help keep you safe and heathy so you can keep on gardening and not be sidelined by injury.
18. Don't overdo it. You may have been able to perform marathon gardening sessions that lasted all weekend in your 20s and 30s, but you'll find this becomes harder as you get older even if you are in great physical condition. After the age of 50, your muscle mass naturally decreases, and gardening becomes harder on your joints. Tackling your gardening tasks in phases and stop to take breaks throughout the day. It may take you a little longer, but you'll get the work done. Be sure to alternate your activities to avoid repetitive tasks that can stress your muscles and joints.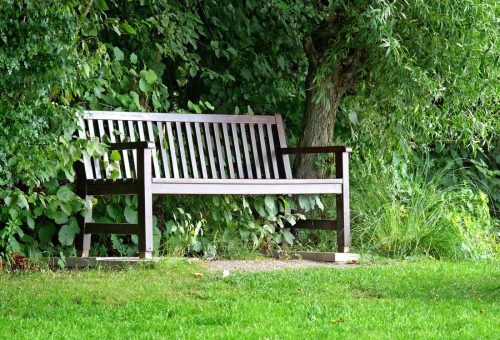 19. Add seating throughout your garden. When it's time to take a short break, a conveniently placed bench or chair within the garden will be ready to accommodate you and your aching back. Sit down and rest for a moment, rehydrate with the water you've brought out to the garden with you (You remembered it, right?), and think about which task you'll tackle next.
20. If watering becomes too big of a chore, make accommodations. Are you used to watering your garden by hand? Try an oscillating sprinkler instead. Do your containers need daily watering? Hook them up to a drip irrigation system set to a timer or use self-watering pots so they'll take care of themselves. Is your rubber hose too heavy? Swap it out for a lightweight aluminum model or invest in a retractable hose reel. Facing watering restrictions? Replace your thirstiest plants with ones that are more drought tolerant.
21. Looking to add a water feature? Make it a decorative water feature or birdbath. Both options will be far less maintenance than an actual pond. Or, if your existing pond starts to leak and become more hassle than it is worth, consider filling it in and installing a pondless water feature instead. Check with your local garden center for supplies and recommended contractors to help with installation and maintenance.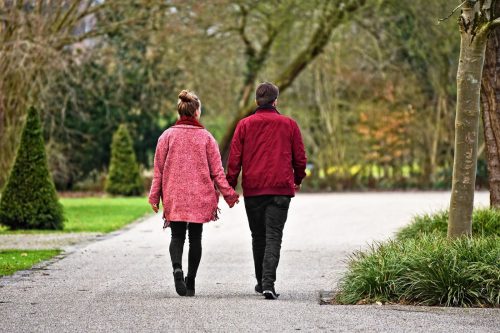 22. Consider what's under foot. Do the materials lining your pathways allow for stable footing? Would they accommodate a wheel chair or walker if necessary? Concrete paths, those made with interlocking pavers or fine gravel are great options for any garden paths that see higher traffic or accommodate seniors. Also, take a look around and note if any steps in the garden could be changed into gentle slopes (no greater than a 5% grade.)
23. Ask for help. Don't be afraid to ask a younger family member or friend to help with activities that require a strong back like spreading mulch and compost, edging beds, pulling weeds, and planting large shrubs or trees. Hire out more extensive projects like installing a new retaining wall, reworking your irrigation system or laying a new patio.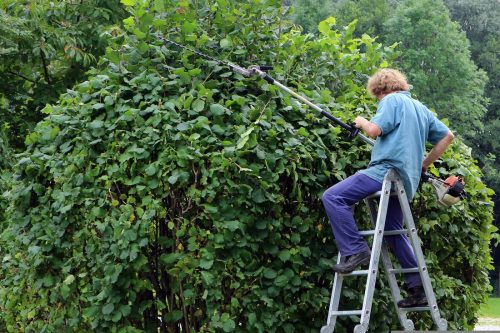 24. Hire someone else to do the risky tasks. If the job requires you to be on top of an 8-foot ladder, operate a chain saw, or haul a large amount of garden debris, consider hiring someone else to do it for you. The last thing you need on a fun work day out in the garden is an unexpected trip to an urgent care facility for an injury that could have been avoided. That would sure spoil all the fun!
25. Don't stop—adapt! There's no need to stop gardening as you get older or busier. It's all about working smarter and adapting to your "new normal", not giving up the things you love to do. Focus on your abilities, not on what you no longer can do. With a few accommodations, you'll be gardening well into your golden years.