A Trio of New Perennials for Shade
New options for shade? Yes, please! Let me tell you about three new varieties of my favorite shade perennials that are available for the first time this year. Even gardeners who struggle with deer and rabbits can enjoy these beauties.
For most of the growing season, mature red oaks and sugar maples cast a glimmering shadow over my garden. But in the earliest days of spring before the trees adorn their leafy coats, when the birds are triumphantly singing of spring's return, bright sunshine blankets my garden in warmth. Just a few sunny days are all that's needed to coax the Lenten roses back into bloom and to wake the crocuses up from their long winter's nap.
I make the time on those first sunny spring days to walk my garden's paths and say, "Good morning!" and "Welcome back, I've missed you!" to my favorite early risers like primroses, fritillarias and brunneras. I gently lift the fallen leaves off of the crowns of my Lenten roses to reveal their curled up flower buds waiting to unfurl. I stop to notice the wire-thin new stems of the barrenwort re-emerging in the shade of my hemlock trees. The tips of the hyacinth flowers pushing through the soil make me marvel at the might of a simple bulb.
Three perennials I wouldn't be without in my shade garden are Lenten roses (Helleborus), heartleaf brunnera (Brunnera) and barrenwort (Epimedium). They all thrive in partial to full shade, average to slightly drier soils, and are not bothered by deer. The voracious rabbits in my garden don't seem to like them either. I've collected many varieties of each and am always excited when new ones become available. Let me tell you about three new varieties Garden Crossings is offering this year.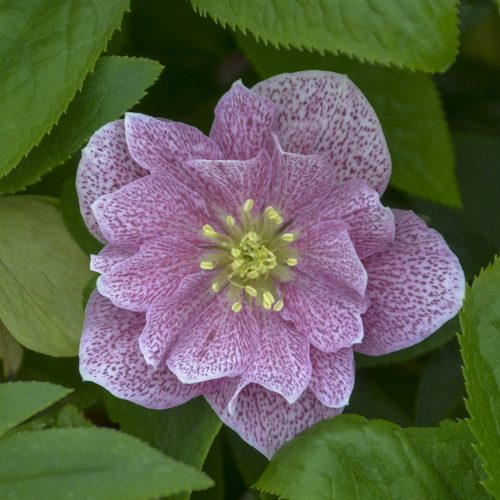 Just after the snowdrops bloom, as the tulips begin to arise, Lenten roses take the main stage. They lay their umbrella-shaped, leathery, evergreen leaves down on the ground to make room for a bouquet of blooms which emerges from the center of the plant. This is smart thinking on the plant's part. By moving the old foliage out of the way, the plant is ensuring that the bees which pollinate its flowers will have an unobstructed view. It needs bees to be able to set seed and proliferate.
Trim away any of last year's tattered foliage in late winter or early spring so you'll enjoy the gorgeous flowers of your Lenten roses. 'Wedding Crasher' is a new double-flowered variety with frilly pink petals coated in a fine dark pink mist. Pick a few to float in a bowl on your kitchen table so you can admire their intricate beauty up close.
If you're like me, once you start growing Lenten roses you'll want to collect more. They offer so much for so little effort! Find more Lenten roses here.
'Wedding Crasher' Helleborus: Hardy in zones 4-9, part shade to full shade, 18-24" tall x 24" spread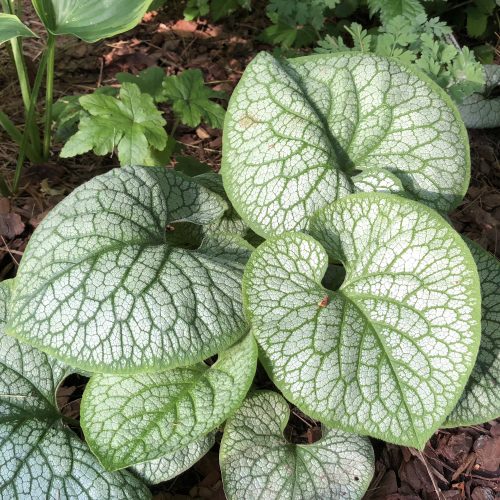 Of all the new plants I've had the privilege of trialing in my own garden, the new 'Jack of Diamonds' and 'Queen of Hearts' are two perennials I recommend most highly. They look similar when they are young plants, but you'll notice that 'Jack of Diamonds' grows broader leaves that are more heavily marked with green veining as the plant matures. Both have a greatly improved garden performance over older varieties and a much stronger resistance to the leaf spot disease that tends to make brunnera's foliage go dormant in early fall.
I liberally sprinkle brunneras throughout my shade garden to add broad texture from its large, heart-shaped leaves. It beautifully accents more finely textured plants like ferns, astilbe and sedges. Its metallic coloring is unlike any other perennial I know, reflecting every bit of sunshine that comes its way, bringing light to shady spaces.
Sprays of dainty, true-blue, forget-me-not-like flowers appear in spring before the entire plant has emerged. I trim the entire spent flower stalks down to the ground, leaving a beautiful mound of silver foliage. It requires no other maintenance until I cut the whole plant down in late fall.
'Jack of Diamonds' Brunnera: Hardy in zones 3-8, part shade to full shade, 14-16" tall x 28-32" spread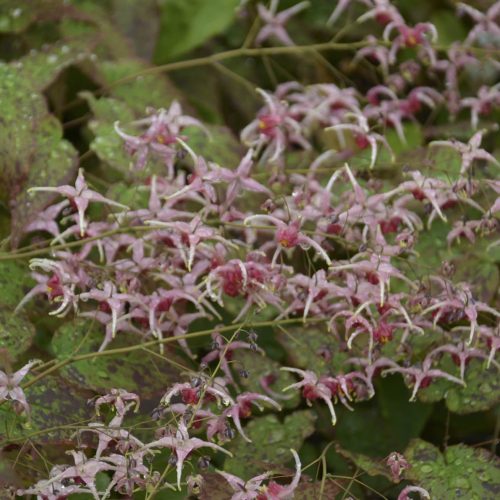 The poster child for dry shade groundcovers is Epimedium, commonly named barrenwort (such a sordid name for such a pretty plant!) This durable perennial thrives in the shade of evergreen and deciduous trees, on hillsides and in non-irrigated landscapes. It is one of few perennials that will survive in the shallow soil beneath my hemlock trees. It spreads very slowly to form a broad patch.
Epimedium collectors will agree, 'Pink Champagne' is a dynamite new selection. It has relatively large, serrated, dark green leaves heavily mottled with burgundy spots, and grows almost twice as tall as old standbys like Epimedium rubrum or Epimedium sulphureum. Tall sprays of light and dark pink bitone flowers float like butterflies on wiry stems above the foliage in mid to late spring. I love how they flutter with the slightest spring breeze.
Barrenwort is evergreen in warmer climates but in my zone 6a garden, the foliage remains standing and turns brown for winter. I give it a quick shearing very early in spring before the new leaves emerge. It requires no other maintenance all season. Few perennials are easier to care for than barrenwort.
'Pink Champagne' Epimedium: Hardy in zones 5-8, part shade to full shade, 18-24" tall x 24-36" spread
Want to explore more plants for shade gardens? See all our plants for shade here.