Go Inside Garden Crossings
Running a garden center is challenging but definitely has its benefits. In this blog, we're going inside Garden Crossings to see how this family business works on the daily, which plants members of the staff enjoy the most, and looking at this season's ups and downs. I interviewed owner Heidi Grasman and a few members of the Garden Crossings team to get the inside scoop. Here's what I discovered.
It seems like many people were into brightly colored flowers this year. Which were your three most popular plants for the 2022 season?
From Heidi:
Yes, we noticed that too! Though nothing seems to be able to knock Supertunia Vista® Bubblegum® petunia off of its #1 spot, the new Supertunia Vista® Jazzberry® gave it a run for its money this year. Its electric magenta purple flowers absolutely glow in the landscape and large containers. It's a color that goes with just about everything and the plant is extra-vigorous, so it's easy to grow. Our third most popular plant was perennial lavender Sweet Romance®. People tend to buy it in multiples to plant low hedges or to line their vegetable garden. It blooms all summer, so there are always flowers on it to enjoy.
Proven Winners Water Soluble Fertilizer was our top selling product this season. It goes hand in hand with those Supertunia Vistas—petunias love to be fed regularly. This fertilizer truly does make a huge impact on the performance of your flowering annuals. Customer Shelly says, "This by far the best fertilizer out there! You will get big flowers, green foliage and healthy plants!"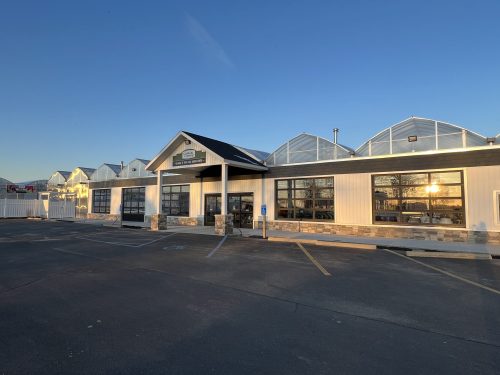 What was something new you tried this year that worked out really well?
From Heidi:
A few things are outstanding in my mind this year. First, we spent last fall and winter tearing down and rebuilding the front façade of our garden center. It was time for an update, and our new style is more of the modern farmhouse look. New glass rollup doors let more light and air circulation into the garden center, which makes it a more enjoyable shopping experience—plus our plants love it, too. We've had a great response to our new look from our garden center customers.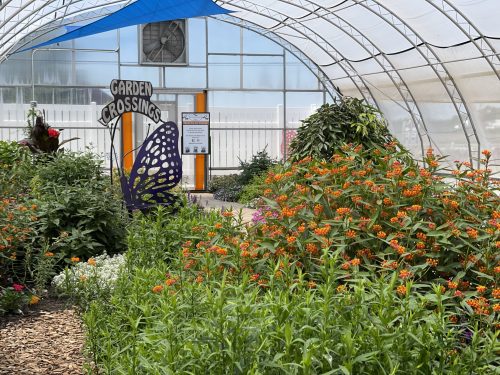 This was the second full year for our butterfly house. We built a new 30' x 70' greenhouse in Fall 2020 with a goal of goal helping our guests and community learn how to garden in harmony with butterflies. The idea was to create a place where people can come to observe the circle of life from chrysalis to butterfly. The garden in our butterfly house is planted with host and nectar plants that support butterflies through their entire life cycle. We've enjoyed watching local families visit to see the caterpillars and butterflies all season.
On the growing side of the business, the new planting machine we purchased this year has saved us a ton of time and labor. We can now get three weeks' worth of planting done in just four days, plus it makes the job more fun for the staff. It's pretty neat how the machine works. Check out this video to see it in action. 
What was one of your biggest challenges this year and how did you overcome it?
From Heidi:
Like most years, finding enough people to fill all the diverse positions we have at our nursery was one of our biggest challenges. We know we aren't alone—many of our colleagues say they face the same issue. We all need more people who have a passion for working at our retail garden center and on the growing end of our operation. It is labor intensive work, and we are constantly working to improve efficiencies and use machinery to make the job easier. We are very thankful to have the wonderful team we do. If you or someone you know is interested in working at Garden Crossings, we want to talk to you! Here is a link to our employment opportunities.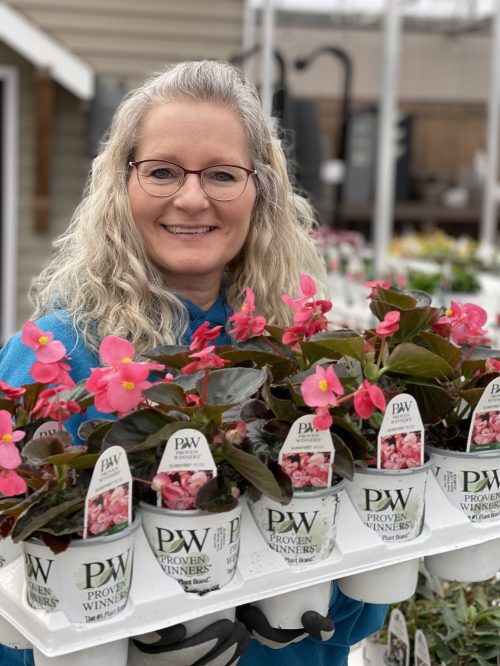 Our garden center manager, Dawn, loves helping people pick out just the right plants for their containers and landscapes
Tell me about something a customer said to you this year that really made your day.
From Dawn in the garden center:
We receive so many wonderful comments each season, the most being about the lush and well-cared for condition of our plants, as well as the cleanliness and ease of shopping in our store. One comment that really made me feel good this year is when a customer came back to the store to let me know that the flower border I had helped her put together in preparation for her daughter's wedding looked amazing for the big day. Her neighbor loved it too and inquired about who had designed it for her.
From Lyn in online sales and promotion:
I loved the following comment this year because it shows that the work we do really makes a difference. Helping people be successful in their gardens, even small ones, is an amazing feeling. A customer wrote, "Thank you! I learn so much from u and your tours are helping me a lot for my own garden. Your knowledge is great! I only have a small garden but I love it. I have some depression and gardening is the best therapy so thank u!" 
See more of what our customers are saying here.
What is the one plant that stops you in your tracks when you are walking through the greenhouse? 
Both Dawn and Lyn agree, one plant that has been stopping them in their tracks lately is Shadowland® 'Etched Glass' hosta. Its variegation is stunning, but what really makes it so special is its flowers. The large, white blossoms have the most amazing scent. I never knew hosta flowers could smell so good! 
Another plant that gets Dawn to stop in the greenhouse every year is At Last® rose. As they say, you should "stop and smell the roses". You don't even need to stop to smell At Last roses—their perfume fills the greenhouse. They are so beautiful, too. These are the kinds of plants that make it fun to work at a nursery. Lyn also loves Pink Chiffon® rose of Sharon for its perfect powdery pink flowers that bloom for weeks on end. 
Is there a particular plant you are really proud to offer your customers when they come in to the garden center looking for something special?
From Dawn in the garden center:
One lesser known plant I recommend often to my customers is Intensia® phlox, particularly Intensia® White. It is a tough but beautiful annual that blooms non-stop all season right up until the first frost. Its mounded habit makes it great for the front of the border in full, hot sun.
In my garden, one of my favorite perennials is Inca Ice™ Alstroemeria. This plant never stops blooming and is a great long-lasting cut flower. A favorite shrub is Scentara® Double Blue lilac. It's a fast grower with amazingly fragrant, beautiful double flowers. It brings me back to my childhood when we had a large lilac bush in our yard that I just loved. My mom would cut the blooms and bring them inside and they would perfume the whole house.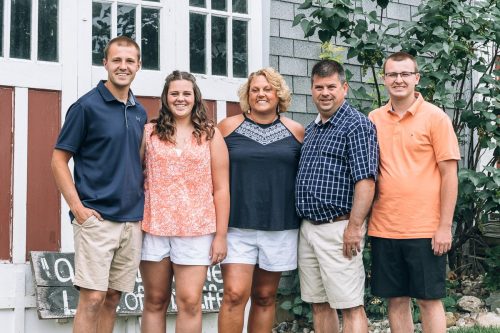 What is it like to work with your family every day to run Garden Crossings?
From Heidi:
Being in a business where all of my family is present is truly a blessing. As a family, we work together, play together and understand the highs and lows of being a family owned business. Some days can be challenging when long hours and lack of sleep get in the way, but we are always able to circle back if we have disagreements.
Rod and I have separate offices and responsibilities. We know to stay out of each other's business, yet are good about coming together when we need to work on something collectively. Garden Crossings is truly a labor of love for us, especially on those 15-16 hour work days, and being together all the time works for our family.
What are the Grasman "kids" up to these days? Do they all work at the nursery?
From Heidi:
It's hard to believe that our kids have grown up and are now young adults. Logan, Carter and Marissa all play a vital role in our family business. If there is something that needs to be done, they can all step into just about any position. All three play a huge role in getting plants shipped out during our busiest spring and summer shipping seasons. They touch every plant that goes out at one point or another.
Our oldest son, Logan, is currently finishing up his last semester at Grand Valley State University where he is earning a degree in Business. He is undecided whether he wants to continue in the family business. Don't ask him in the springtime when we are working round the clock! 
Carter is in his third year at Davenport College, earning a degree in Business with an Accounting specialty. At this time, he is still interested in staying in our family business after he graduates. Carter is our maintenance/handyman. He can fix just about anything in our building, from plumbing to electrical to computers—if it's broken, he will find a way to fix it. 
Marissa is currently in high school and is starting to look at options for college. She is still exploring what she might want to do for a career. We certainly all love having her around Garden Crossings. 
Learn more about the people behind Garden Crossings here
I know you love to garden at home in addition to landscaping around the nursery. What is something that really surprised you in the garden this year?
From Dawn in the garden center:
I have been more intentional this year about keeping up on fertilizing my plants, including my clematis. I was surprised to see how using Espoma's Rose-tone® fertilizer helped it to produce more lush growth and flowers. 
One bad surprise was the discovery of budworms on my Supertunias just last week in early September. Those little pests can decimate all the blooms on a plant in no time flat. I am spraying the plants weekly now with Bt (Bacillus thuringiensis) to get rid of the budworms. I'm also feeding them with every watering using Proven Winners water soluble fertilizer to help the plants regenerate their blooms.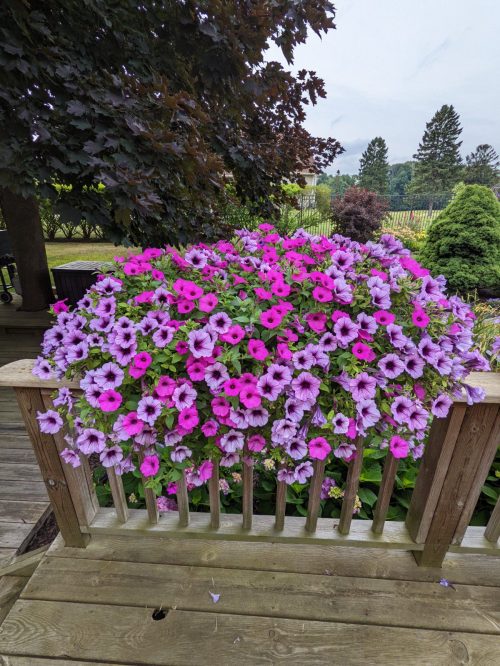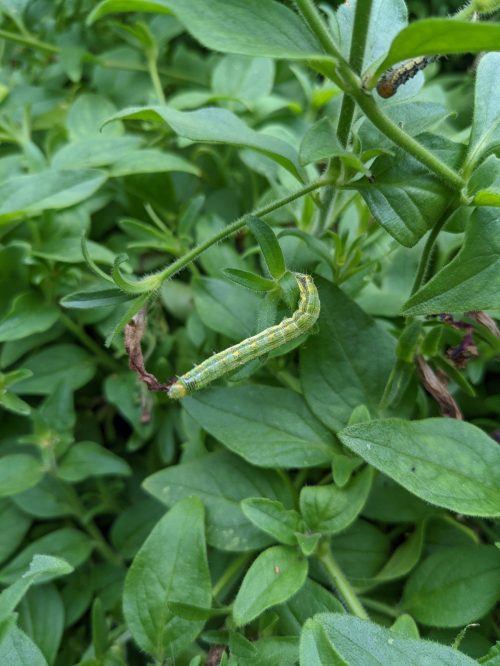 What are you looking forward to accomplishing next?
From Heidi:
Every new season brings new rewards and challenges. I can't wait to see where God leads us in the next year.