Every summer, we look forward to trialing the new plants we'll be offering in our garden center the following year. A few varieties always rise to the top of our must-haves list as they deliver a fantastic garden performance in our own gardens and in other trial gardens nearby. We usually tell you about our top 10 new favorites, but this year, we had to make it a dozen. There were just too many fun plants we wanted to share with you. It's going to be a beautiful year at Garden Crossings!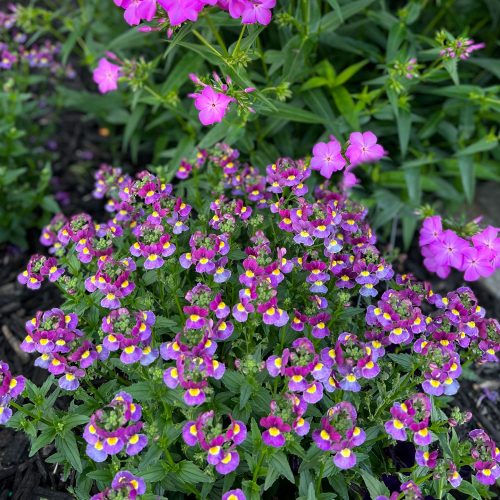 If I had to pick just one new annual to grow this year, it would be Aromance Mulberry nemesia. You might not be too familiar with this flower because for many years, nemesia was grown only in the spring as a cool season annual, often as a companion for pansies. Proven Winners changed all of that when they started offering more heat tolerant Sunsatia and Aromance varieties that bloomed into summer.
We were blown away by how well Aromance Mulberry nemesia bloomed for us all summer last year, even in the summer heat. Its color is super vibrant, and the flowers are also sweetly fragrant. We will definitely be repeating this one in our own gardens this year and think you'll love it, too.
Full sun to part shade, grows 10-18" tall x 12-18" wide, suitable for containers and landscapes.
This new Superbells is the first of its kind in the series, boasting unique color-shifting blooms. When they first open, the flowers are yellow, but they quickly blush pink around the edges and then deepen to hot pink. All three stages of blooms are often seen at once on the plant. It almost looks like you are growing both pink and yellow calibrachoas together in the same container, but you'll get this look all from one plant.
We love how large its flowers are compared to some older calibrachoas, and they bloom non-stop all season without having to pick off any spent blooms. Because they need well-drained soil and don't like a high pH soil, it's best to grow these and all Superbells calibrachoa in hanging baskets or patio pots instead of in the landscape.
Full sun to part shade, grows 6-12" tall x 12-24" wide, best in containers.
Even before this begonia blooms, it's impressive. Its thick, super glossy leaves are nearly jet black and form a substantial clump. We were excited to see how large this begonia grew by the end of the season, forming a large, upright mound in our landscape. Brilliant red flowers kept on coming without having to remove any of the spent blooms, and their contrast with the black foliage was stellar. This plant would be gorgeous planted on its own in a large urn but it can also be used as the thriller in combination containers. Though it is somewhat drought tolerant once established, ours performed well with regular watering and fertilizing.
Full sun to full shade, grows 12-24" tall and wide, suitable for containers and landscapes.
Did you know sweet potato vines can climb? Now they can with the introduction of two new climbing Sweet Caroline Upside varieties—Key Lime and Black Coffee. We are dreaming of all the new ways to use these fun vines in the garden. They'll grow up a trellis or obelisk, through the branches of an airy shrub, cover a chain link fence, or grow up the wires of a hanging basket. Their bright but neutral chartreuse and black-purple colors create a beautiful backdrop for the brilliant red, pink, purple or tangerine colored flowers you could pair with them.
These vines grow quickly once the summer heat and humidity settle in and may be trimmed to keep them in bounds if you'd like. But since they are cold sensitive annuals, there's no need to worry about them spreading around the garden or returning the following year. One very impressive season is what you'll get out of these climbing sweet potato vines.
Full sun to part shade, grows 3-6' tall x 18-30" wide, suitable for landscapes and large containers.
This colorful new anise hyssop has just about everything we look for when we're evaluating new cultivars. It blooms for months without deadheading, attracts all sorts of pollinators and hummingbirds, keeps its nice shape all summer, and the deer avoid it because of its fragrant foliage. Spikes of rosy purple flowers are held by burgundy calyxes on the top two-thirds of the plant from mid to late summer. Even after the flower petals drop, the colorful calyxes stay intact so the plant looks like it is still blooming into the fall. The taller size of this perennial makes it perfect for filling the middle of the border. Once established, it is drought tolerant.
Full sun, 28-32" tall and wide, perennial in zones 5-9, grows best in the landscape, makes a nice cut flower, deer resistant.
This new delphinium truly is a "lark". While delphiniums are known for their stately stalks of true blue blooms, the color of this new cultivar is revolutionary. Would we call it red? No. It's more accurately described as coral with hints of coral red or pink depending on the lighting. But no matter what the exact color, we assure you this is a drop dead gorgeous new delphinium! Can you imagine a mass of these in your garden?
'Red Lark' may stay a little shorter than some delphinums, typically growing about three feet tall, but its flower stalks are full-size. They appear in early summer and again in the fall, thriving in the cooler parts of the season. Deer and rabbits typically leave delphiniums alone, but you'll find butterflies and pollinating bees stopping by when they are in bloom.
Full sun to part shade, 30-36" tall x 18-24" wide, perennial in zones 5-8, grows best in the landscape, makes a nice cut flower, deer and rabbit resistant.
Here's a fun new variegated false sunflower to try this year. This native cultivar combines the best of both worlds—fantastic foliage and showy blooms that attract bees and butterflies. The flowers have a double row of petals, which makes them big and fluffy looking, but the center of the flower remains exposed for pollinators to access. They appear abundantly above the lower growing, dense clump of green and white variegated foliage from midsummer to early fall. Some older variegated false sunflowers were known for reverting to green, but this new cultivar is proving itself to be stable even in the summer heat. We were super impressed with this plant last August in the trial gardens despite the hot, dry summer we had.
Full sun to part shade, 24-28" tall x 26-30" wide, perennial in zones 4-9, grows best in the landscape, makes a nice cut flower.
Tall garden phlox are staples in our garden from midsummer through late summer, and this new color really stands out from a distance. It produces large, full clusters of beautiful coral pink blooms with a tinge of orange to them. They truly glow in the summer sunshine. We love cutting them for bouquets so we can enjoy their sweet fragrance up close. Since each plant produces so many flowers, there are plenty to spare for this use. With each passing year, the clump expands and produces even more blooms.
Pollinating bees, butterflies and hummingbirds all enjoy this native cultivar. Increased disease resistance helps to cut down on the instances of powdery mildew on the foliage. Still, it's always smart to plant tall garden phlox where it has good airflow and plenty of sunshine.
Full sun to part shade, 30-32" tall and wide, perennial in zones 3-8, grows best in the landscape, makes a nice cut flower.
It's always exciting to add a new color to a popular series of plants, but this new introduction is extra special. Double Take Eternal White quince was discovered as a seedling that popped up in the stock fields where Proven Winners® ColorChoice® Shrubs are grown. Its crisp white flower color isn't the only thing that makes it unique. It also blooms continuously from spring into early fall—the first quince ever to do so (most bloom once in spring). The flowers aren't all hidden down in the plant (a common trait of quince) but are displayed nicely along the thornless stems. The shape of this shrub is also a little different, growing wider than it does tall. If you've never tried quince, this is definitely the place to start. This shrub handles heat, drought and clay soil with ease and is deer resistant.
Full sun to part shade, 2-4' tall x 4-5' wide, hardy in zones 5-9, grows best in the landscape, makes a nice cut flower, deer resistant.
Here's a unique new kind of hardy desert orchid that our customers in the Southwest and Southeast will especially love. This heat and drought tolerant native cultivar grows in similar conditions as butterfly bush (Buddleia), thriving in the summer sun. Panicles packed with deliciously fragrant, light lavender purple flowers shaped like orchids appear first in early summer, then rebloom sporadically throughout the summer. This beautiful desert orchid can be grown as a shrub or small tree depending on how you prune it to shape. Compared to others of its kind, this is a much lusher looking plant with a dense canopy of emerald green foliage. We were super impressed with it in the trial gardens and think you will be too.
Full sun to part shade, 5-8' tall x 4-6' wide, hardy in zones 6-9, grows best in the landscape, makes a nice cut flower, deer resistant.
We've replaced Tuff Stuff™ Red mountain hydrangea this year with this new and improved cultivar. It still produces the intense pink or purple lacecap flowers we love, but there are more of them to enjoy due to much improved rebloom, and its habit is perfectly mounded. You'll see two rounds of flowers on Tuff Stuff Top Fun, first in early to midsummer on the previous year's stems and then again from late summer to fall on the new growth. Its leaves can turn deep burgundy purple in the cooler fall weather. This is a beautiful, colorful hydrangea.
Named for their tough, cold hardy stems, we typically see no dieback on our Tuff Stuff mountain hydrangeas over the winter here in Michigan. That's important because those stems are carrying the first round of flowers. If you've had trouble getting your hydrangeas to bloom, we highly recommend the Tuff Stuff series of mountain hydrangeas.
Full sun to part shade, 2-3' tall and wide, hardy in zones 4-9, grows in the landscape and in large containers.
This fun new panicle hydrangea is getting a lot of buzz for its amazingly prolific, lacy white blooms that cover the whole plant in mid to late summer. Think of it like Bobo® hydrangea, but a little bigger and fuller with even more flowers. Another trait that makes this panicle hydrangea different from all the others is its coloring. Instead of turning pink, its blooms transition from creamy white to light green. Just when you think it is finished for the season, a puff of new white flowers emerges from the tips of the plump panicles. The flowers are great for cutting for both fresh and dried bouquets. We suggest ordering this popular variety early before it sells out.
Full sun to part shade, 3-5' tall and wide, hardy in zones 3-8, grows best in the landscape, makes a nice cut flower.
Want to see more? Explore all of our new varieties for the 2023 season here.