Caring for Your Hydrangea
Caring for Your Hydrangea


Common Name(s):
Big Leaf Hydrangea, Hardy Hydrangea
Description: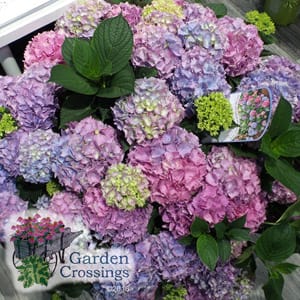 With their big showy flowers, Hydrangeas are one of the most desirable ornamental shrubs for gardeners and landscapers alike. They are well suited for natural landscape settings and will always attract attention to the garden when they are in bloom. They produce masses of eye-catching flowers in the mid-summer which lasts well into autumn. Today's cultivars produce various flower colorations consisting of numerous hues of pink, rose blue, and white. The coloration of the flowers is greatly influenced by the acidic properties of the soil where they are growing. Plants growing in acidic soils tend to produce violet or blue flowers. Conversely, plants growing in alkaline soils tend to produce pink flowers.
Nomenclature:
The genus Hydrangea is derived from the Greek words hydro which means water and angeion which translates to vase or vessel referring to their original classification as marsh or aquatic plants.
USDA Hardiness Zones:
Hydrangeas are generally hardy throughout Zones 5 to 9. However, some of the Hydrangea paniculata cultivars are hardy to Zone 3 and certain of Hydrangea macrophylla cultivars can survive the heat and humidity of Zone 10.
AHS Heat Zones:
9 to 3
Growth Habit:
The plant height of Hydrangea varies with species and by cultivar. Many of the traditional H. macrophylla cultivars reach 3 to 5 feet tall, while the dwarf cultivars of this species range from 12 to 32 inches in height. The Hydrangea paniculata cultivars often reach 6 to 8 foot tall at maturity.
Preferred Conditions:
Hydrangea prefers to be planted in locations with moderately fertile, well-drained soils. They perform well in most soils as long as there is adequate moisture available. Locations with light to medium shade are best for most cultivars, but the H. macrophylla varieties can tolerate more direct sunlight. When they are grown under too much shade, they will not grow as vigorously and fewer flowers will be produced.
Planting & Maintenance:
Hydrangea are easy to grow and require only a few routine maintenance activities. When planting, the top of the root ball should be level with the soil surface. Water them thoroughly after transplanting. Most varieties form their flower buds in the late summer for the following year. They should only be pruned when the flower heads begin to fade, otherwise you'll risk removing next year's flowers. When pruning, remove spent flower heads and prune back other shoots to encourage branching and fullness. Although the coloration of the flowers is influenced by the soil pH, it is actually the presence or absence of aluminum that affects flower coloration. If aluminum is present within the plant, the blooms will be blue and if it is absent, the flowers will appear pink. The pH influences the availability of aluminum for uptake by the plant. When the soil is acidic (pH around 5.5) aluminum is generally more available to the plant and blue flowers result. Conversely, when the soil is alkaline (pH near 7.0), the availability of aluminum is decreased which leads to the formation of pink flowers. If blue flowers are desired, it may be advantageous to apply drenches of aluminum sulfate (one tablespoon per one gallon water) around the plant in the early spring. Avoid getting the solution on the leaves because foliar damage may result. If pink flowers are desired on Hydrangeas planted in acidic soils, it will be necessary to increase the pH by drenching the soil with hydrated lime (one tablespoon per on gallon water) in the early spring. The application of 3 to 5 inches of organic mulches will help retain moisture and decrease the occurrence weeds throughout the growing season. Hydrangeas grow best if they are fertilized regularly. Regular additions of organic matter, such as organic mulches, will often suffice. Otherwise, a slow release, balanced fertilizer applied once or twice per year (in the late spring and mid-summer) will provide adequate nutrition.
Pests and Diseases:
Some of the most common insect pests that may be observed feeding on Hydrangea include aphids, four-lined plant bugs, slugs, snails, spider mites, rose chafers, tarnished plant bugs, thrips and whiteflies. They are also susceptible to numerous diseases including bud rot, gray mold, leaf spots, powdery mildew, rust, and plant viruses.
Uses in the Garden:
Hydrangea are commonly used as specimen plants or in mixed borders, open woodlands, and mass plantings.
Other Uses and Attributes:
They are commonly used as cut flowers or in dried floral arrangements. Hydrangeas are easy to grow in containers and make great patio pots in outdoor living areas. Companion Plants: Hydrangea combine nicely with other perennials and shrubs which thrive in locations with light shade. Some great companion plants include Aconitum, Baptisia, Buddleia, Clematis, Corydalis, Delphinium, Geranium, Heuchera, Hibiscus, Monarda, and Weigela.
Additional Information:
For information about caring for your shrubs once they arrive and other general shrub information, see our Shrub Care Section.
Written by Paul Pilon: Perennial Solutions Consulting