Tall, Narrow Plants for Tight Spaces in the Landscape
Many of us have that one "problem" bed – the one that seems too narrow to plant in but where you desperately need to be able to grow something green. Maybe it's the skinny bed along your fence line or sandwiched between your garage and front door. Maybe you have a shallow lot but really need to block the view of the neighbor's deck. Let's take a look at some examples of perennial vines and shrubs that might be the perfect solution for your landscape.
One thing to keep in mind when choosing what to grow in your narrow space is that you'll achieve a more streamlined look if you use a limited plant palette. Instead of choosing six different kinds of plants for that tight space, choose one or two and repeat them along the length of the bed. It's an easy way to make a big impression in a small space.
PERENNIAL VINES FOR NARROW SPACES
There's a reason why Clematis is one of Heidi's favorite plants here at Garden Crossings. They bloom beautifully every single year, come in a rainbow of colors, and take up a small footprint in the garden. She has amassed one of the most amazing collections of Clematis you'll find available by mail order.
Clematis is a twining vine that needs a trellis, chain link fence or other support on which to climb. Plant it close to the base of the support where it will only need about a foot of ground to grow. Depending on the cultivar, your clematis could grow 4-12' tall and produce single or double blooms for much of the summer.
Perennial in zones 4-9. Full sun to part shade.
This large, fast growing, twining vine makes an ideal screen on a tall trellis, fence, pergola or arbor. Give it a few feet of ground to establish and it will soar to heights of 10-15'. You'll enjoy the heady fragrance of its soft yellow flowers right at nose level every time you walk by from spring to late summer.
Perennial in zones 4-9. Full sun.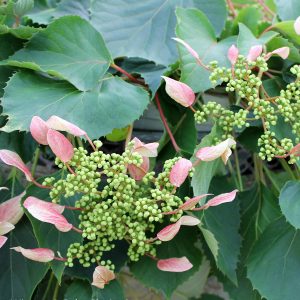 Unlike clematis and honeysuckle, Rose Sensation is a clinging vine like ivy that does not need a trellis to climb. It's a perfect choice for growing up the side of your brick home or garage, on a cement wall or over an old tree stump. Left to grow to maturity, it will reach heights of 40-50', though it can be pruned to stay smaller. Blush pink flowers shaped like lacecap hydrangeas appear in midsummer. This is a shade loving vine that can flower in just 4 hours of sun.
Perennial in zones 5-9. Part shade.
FLOWERING SHRUBS
FOR NARROW SPACES
Unlike almost all other rose of Sharon shrubs, the Pillar varieties have a naturally narrow, tall shape that won't need pruning to keep their tidy habit. Expect them to grow just 2-3' wide and reach heights of 10-16'. That makes them a perfect fit for a narrow bed along the house, driveway or property line. They also make a colorful screen between you and your neighbors, blooming from midsummer into fall.
Hardy in zones 5-9. Full sun.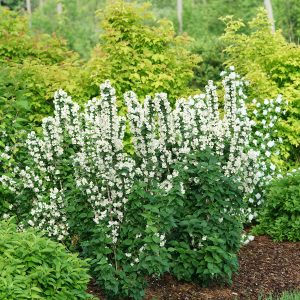 If you like the idea of a flowering hedge but need something shorter, consider this uniquely shaped mockorange. While most varieties have a broad form, Illuminati Tower is columnar, growing 3-4' tall and 18" wide. That makes it just the right size for a narrow bed under a windowsill or planted as a hedge along a short picket fence. You'll love its beautiful snow white, double, notably fragrant blossoms in late spring to early summer.
Hardy in zones 4-7. Full sun to part shade.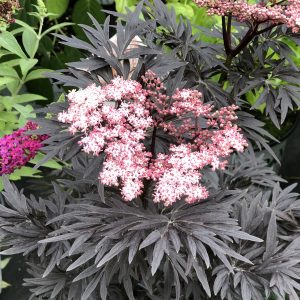 We'll include this unusual form of elderberry here under flowering shrubs because it does produce large clusters of light pink flowers in early summer. But what you will really want to grow Laced Up for is its incredibly unique, narrowly upright shape that makes a strong statement in a fairly narrow footprint. Expect it to grow 6-10' tall and eventually spread about 4' wide at the base. It black, lacy foliage would be striking paired with Purple Pillar rose of Sharon along the side of your house or bordering a fence line.
Hardy in zones 4-7. Full sun to part shade.
EVERGREEN SHRUBS FOR NARROW SPACES
This pillar-shaped, blue foliage, evergreen shrub acts like an exclamation point in the landscape. Plant one on its own as a focal point or line them up along your property line to create a four–season screen. Its small 4-5' base won't take up much space on the ground, but it will soar 15-20' high over time. You'll love how its soft, feathery branches don't scratch when you brush by them like some other evergreens do. An extra bonus: Pinpoint Blue is deer resistant.
Hardy in zones 5-7. Full sun to part shade. Also available: Pinpoint® Gold and Pinpoint® Blue & Gold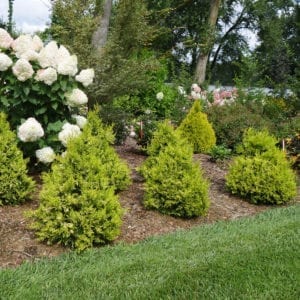 With a shape like a soft serve ice cream cone, this golden evergreen brightens up partly shaded gardens but also tolerates full sun without burning. It could be used as a focal point in a small bed on the corner of your house or planted as a small grouping in a garden bed to add winter interest. Its soft, graceful branches layer beautifully together and are stunning when dusted with freshly fallen snow. Expect it to grow 6-10' tall and 5-6' wide at the base over time. Like Pinpoint Blue, Soft Serve Gold is also deer resistant.
Hardy in zones 4-8. Full sun to part shade. Also available: Soft Serve® (green)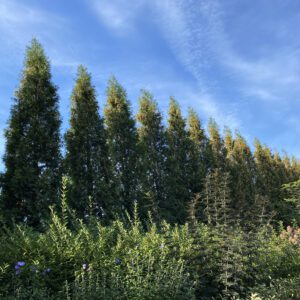 If you need a fast growing, extremely hardy, evergreen hedge, consider this improved western arborvitae. It maintains a relatively small 3-5' footprint while quickly reaching heights of 15-20'. Most evergreens of this height have a much broader base. This space saving selection won't take up much room along a shallow property line but will easily block the view of what's on the other side. It maintains excellent winter color and has been known to survive temperatures as low as -40˚F. This shrub requires well-drained soil. It has better deer resistance than the common 'Emerald Green' form.
Hardy in zones 3-8. Full sun to part shade.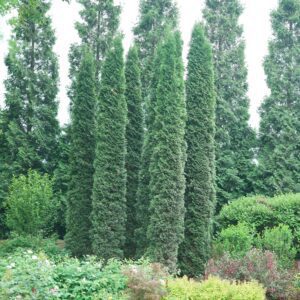 If you like the idea of Full Speed A Hedge® 'American Pillar' arborvitae but it's just too big for your space, try its shorter and skinner cousin named Thin Man. This is the narrowest arborvitae available, growing very dense with short branches that help it shed snow cleanly (an important trait in the snowy North.) At maturity, it will reach 12-15' tall and 3-5' wide. Thin Man arborvitae grows quickly, so it makes a great evergreen hedge that gains more height than width as it matures. That leaves more room for lawn, garden beds and patio space while retaining privacy. Expect it to hold its color well in winter and survive temperatures as cold as zone 3 (-40°F).
Hardy in zones 3-7. Full sun to part shade.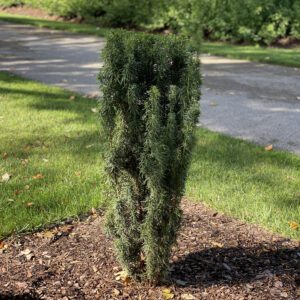 Yews are used extensively in landscapes because they are so versatile. They grow in any amount of sunlight, tolerate most soil types and can be pruned into any shape. You can put away your pruners when you grow Stonehenge Skinny since it naturally forms a tight, bottlebrush shape that is only 1' wide at the base and stands 6-8' tall. Line this dark green, evergreen shrub up along a courtyard wall or fence, plant a single specimen as a pillar in the landscape, or make it the centerpiece of a large shade container. This will be one of the most carefree plants in your landscape. This shrub is not recommended for gardens where there are deer present.
Hardy in zones 5-7. Full sun to full shade.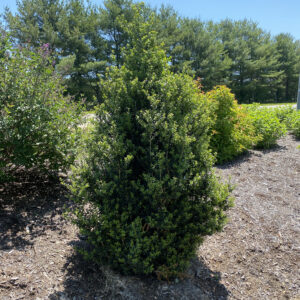 If you like the look of boxwood but need something smaller to fit a tight space, try this Japanese holly which has remarkably similar evergreen foliage but a much narrower, upright form. It requires little shaping to form a 4-5' tall by 1-2' wide column. If you'd like to try your hand at topiary, this shrub can be pruned into a spiral shape. It retains its deep green foliage all year round and occupies a small footprint in the landscape. Japanese holly thrives in acidic, moist soils but will also tolerate drier soils once established.
Hardy in zones 6-8. Full sun to part shade.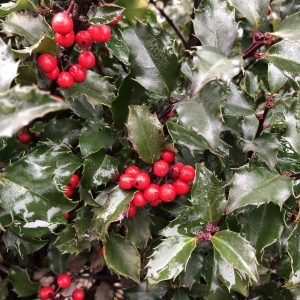 You know this type of holly from its use around the holidays in wreaths and garlands. It is the traditional type of holly with pointy leaves and bright red winter berries that you'll be able to clip for arrangements all winter long. While most cultivars are broadly mounded, Castle Spire is a pyramidal form that grows 8-10' tall and 3-4' wide. It makes a beautiful focal point in the landscape but can also be used as a dense, evergreen screen. To see berries, you'll need to plant a Castle Wall® holly someplace within 50' of Castle Spire for pollination to occur.
Hardy in zones 5-9. Full sun to part shade.