What is the best way to choose plants for hedges?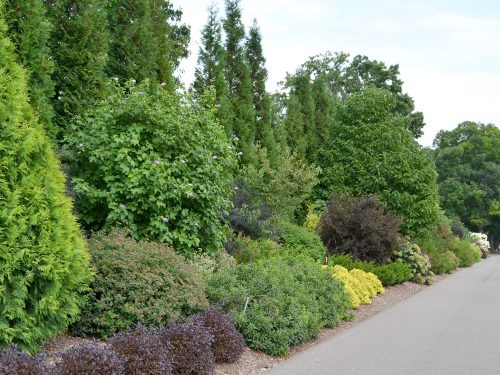 Caption: Rather than creating a single hedge, this homeowner layered this shrub border with a mix of small to medium sized flowering shrubs in front of tall evergreens. This creates a more interesting landscape that has something to offer in every season.
So, you want to grow a hedge! Let's take a look at a few important details you will want to consider before you begin, then we'll look at 15 types of plants that make ideal short, medium and tall hedges.
What is the purpose of your hedge?
First, ask yourself what type of hedge you'd like to have. Are you looking to add a more formal border around your outdoor seating area? Perhaps you are needing to create a backdrop for a perennial border or to plant a line of shrubs up against your fence. Hedges can also be used to create wind screens in more open areas to help diffuse strong North or West winds. And of course, hedges are used for screening to create privacy. Determining the purpose of your hedge is the first step in growing one.
What are your growing conditions?
Take note of how many hours of sun your hedge will receive each day. If it is more than six hours, you'll want to look for plants that prefer full sun. If it is 4 to 6 hours, use plants that grow in part shade. If your hedge will receive fewer than four hours of sun per day, you'll need full shade plants. Also, take note of your soil. Does it stay soggy for several hours after it rains or does the soil drain easily? Have you prepared the area by removing any sod or weeds so you can be ready to plant?
Does your hedge need to be evergreen?
If creating privacy is your goal, an evergreen hedge might be the best fit for your space. Check out this article where we share seven of our best evergreens for making privacy hedges. Smaller evergreens are useful for creating short hedges that help define a space and give it structure, for example along the perimeter of your porch or patio. We'll share some of those ideas below. If your hedge doesn't need to be evergreen, your list of plant options greatly expands to include some gorgeous flowering perennials, shrubs and grasses. We'll share some of them with you below too.
How fast does your hedge need to grow?
If you are looking for a fast-growing hedge, perennials and deciduous shrubs (meaning those that lose their leaves in the winter) will be your best option. They generally grow more quickly than evergreen shrubs and are widely available for a reasonable cost. You can expect most deciduous shrubs to mature in 3 to 5 years. If you need a tall evergreen hedge quickly, you'll need to start with the largest plants you can find and prepare to pay top dollar. Evergreen hedges take quite a bit longer to mature than deciduous ones.
Let's take a look at five options each for short, medium and tall hedges.