With so many amazing flowers to choose from, including dozens of vibrant Supertunias, how do you decide which ones are best for you? Supertunias are all petunias but they vary quite a bit in size and habit. Their names hold a clue as to how they grow. Let's take a closer look at all the different types to help make your decision easier.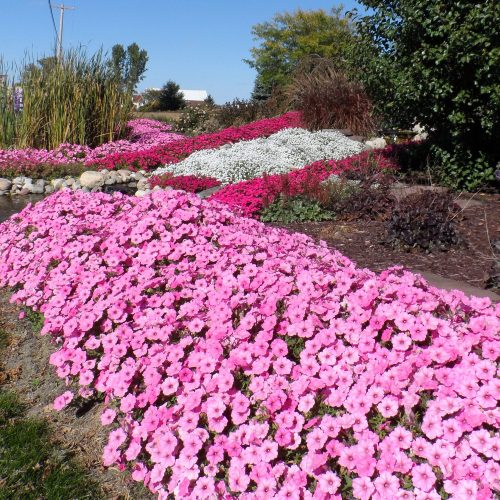 Supertunia Vista®
The word "Vista" in these types of Supertunias lets you know that these petunias cover a lot of ground. Supertunia Vista varieties are the best type for growing in the landscape. They are the some of the largest petunias you'll find, with a single 4" potted plant growing 12-24" tall and spreading up to 4' across in a single season. See how big they can grow in this video. If you are looking to make a big splash of color for a small investment, Supertunia Vista petunias are the way to go.
Supertunia Vista petunias will also grow in large containers and hanging baskets. Because they are so large and vigorous, you'll need to take care not to plant too many in the container and to pair them with other very vigorous plants. Good companions include Proven Winners sweet alyssum varieties, sweet potato vines and Diamond Mountain® euphorbia.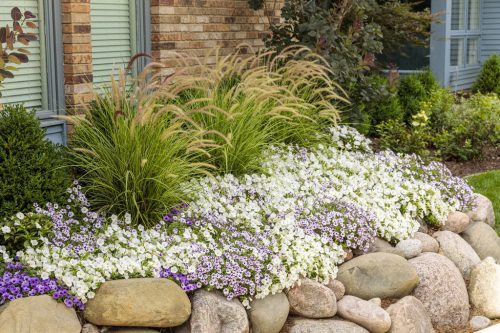 Supertunia Mini Vista®
If you like the look of Supertunia Vista petunias but don't have a very large space to fill, choose Supertunia Mini Vista varieties instead. These mounding to slightly spreading petunias look beautiful as a colorful, tidy edging along the front of border without growing too tall or spreading too wide to impede your walkway. They are also very showy planted on their own in a patio container or hanging basket. Because their growth is so dense, they do not mix as easily with other flowers in container recipes.
Supertunia Mini Vista petunias grow 6-12" tall and spread up to 2' wide. They have smaller flowers than a typical petunia, but their foliage is completely blanketed in bright blooms all season. They look similar to calibrachoa flowers, but with an important difference—petunias grow much better in the ground than calibrachoa. If you love the look of Superbells and want to plant them in the ground, choose Supertunia Mini Vista petunias instead. Here's a look at Supertunia Mini Vista® Violet Star in our landscape.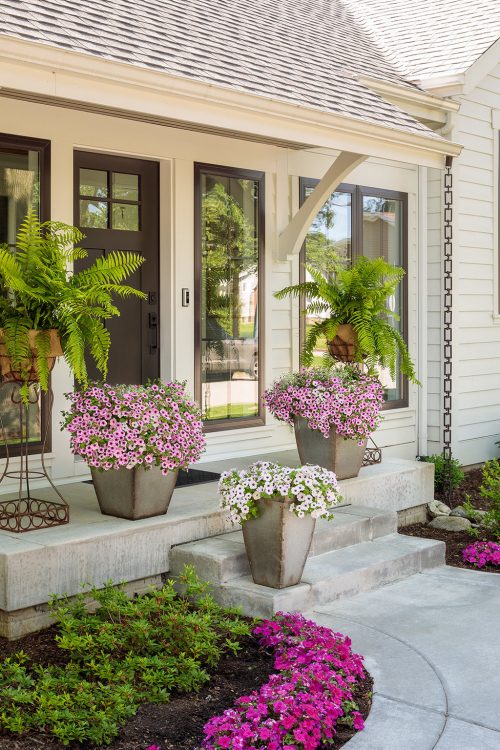 Supertunia® Trailing Varieties
If your goal is to grow a hanging basket, deck or window box with very long, trailing stems, Supertunia Trailing petunias are a good choice. This type of petunia stays short (about 4-8") but has long branches that will grow at least 3' long by season's end. We've even seen some photos of well-grown plants that trail 5-6' long. Feeding them weekly will help to promote this kind of growth. Like Supertunia Mini Vista petunias, their flowers are small, but the stems are completely covered in colorful blooms.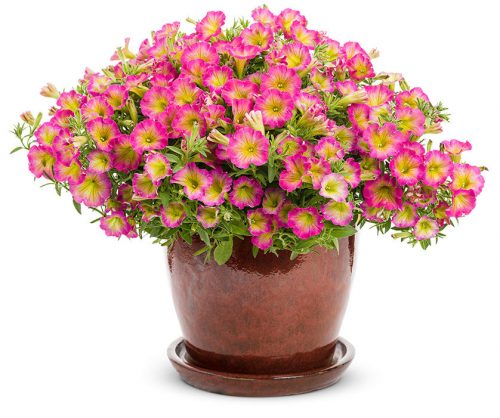 Supertunia® Charm Varieties
You might guess from the name "Charm" that these are petite, super cute petunias. If you are using smaller upright containers or hanging baskets, or just want to add a splash of color here and there in your landscape among other plants, Supertunia Charm varieties will be a great fit.
Each plant forms a dense mound of green foliage that becomes completely enveloped in small, incredibly vibrant blooms. It typically grows 6-12" tall and spreads 18-24" wide. Here's a closer look at Supertunia® Daybreak Charm in our greenhouse. If you've struggled with growing Superbells, try Supertunia Charm petunias. They will give you the same look but can be easier to grow.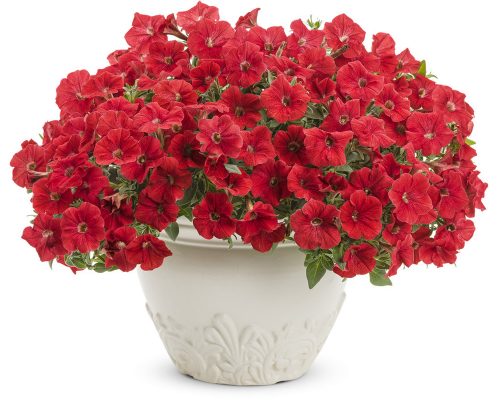 Standard Supertunia® Varieties
You guessed it—this is the catch all category that covers all the rest of the Supertunia petunia varieties. You'll find these plants listed without a secondary descriptive word in their name like "Vista" or "Charm". For instance, Supertunia® BordeauxTM is one of the most popular petunias we offer. Check it out in this video paired with Snow Princess® sweet alyssum growing in our garden.
Standard Supertunia petunias are fluffy, mounded to spreading plants that grow quickly but do not spread as wide as Supertunia Vista petunias. They typically grow 6-12" tall and spread 18-24" wide. Their flowers are similar in size to the Vistas and are the size you would expect a regular petunia flower to be. They come in the broadest range of colors of any type of Supertunia including solid, patterned and veined varieties, and some have double flowers. They grow well in landscapes but really shine in containers. Because they have average vigor, they are easy to pair with most other types of flowers in container recipes.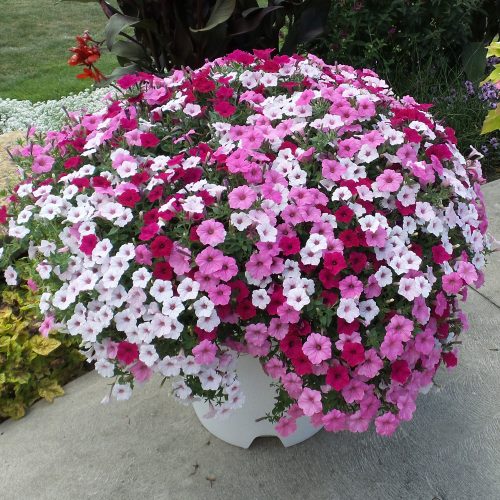 Supertunia Growing Tips
No matter which type of Supertunia petunia you choose, they will all enjoy the same amount of sunlight, water and feeding.
Sun – Petunias grow and flower best in six or more hours of sun per day, preferably afternoon sun. Though they will survive in less sun, they will not flower as prolifically. With petunias, the more sun the better is the general rule.
Water – Petunias thrive with consistent moisture. Do not let them dry out to the point of wilting. Drip irrigation or self-watering containers make growing petunias a snap and you will be rewarded with tremendous growth and flower power.
Feeding – Petunias are heavy feeders. We recommend mixing continuous release plant food into the soil at time of planting, then feeding every third time you water or once per week with water soluble plant food for maximum flower power. If you find that your petunias aren't producing many flowers or are becoming stringy, try feeding them more often. You can also give them a light trim a few times per season to promote fresh growth.
Deadheading – Here's the best news about Supertunia petunias! Unlike many other petunias, Supertunias do NOT need to be deadheaded to keep right on blooming all season. Their flowers are self- cleaning, so they shed cleanly, and the plant won't quit blooming to go to seed. This is one of the biggest advantages of choosing Supertunia petunias over other brands. So much beauty for such little effort!
Want to learn more about Supertunia petunias? Check out these links: