10 New Annuals You Won't Want to Miss This Spring
Color, color, color is what it's all about come springtime! Here are ten new vibrant annual plants that are sure to cure the wintertime blues—all available now for pre-order here. (Are you as excited as we are about Supertunia Vista® Bubblegum's new sister?)
You might mistake them at first for miniature roses, but roses don't come in blue…
These double-flowered calibrachoa are absolutely breathtaking in hanging baskets and mixed containers. Joining the collection this year are three unique new colors—Amber, Blue and Orange.
6-12" tall, 12-24" spread, full sun to part shade
Superbells® Double Amber bears elegant, fully double, golden flowers with amber venation. They line the cascading stems all season, beginning early in spring and continuing strong into fall without deadheading.
Superbells® Double Blue is a cool shade of lilac purple that is somewhat rare in the plant world. It would look amazing paired with Superbells Lemon Slice in hanging baskets and patio pots.
Superbells® Double Orange has the coloring of sweet blood oranges—deep orange with a hint of red shading on the newest flowers. We love it paired with purples and magentas.
We're loving the tropical vibe the new Heart to Heart™ caladiums have added to our collection. We are excited to use these bold foliage plants as thrillers and fillers in our container combinations this year. Since there are varieties that grow in both sun and shade, they can be used in so many different ways in the garden. 20 unique new patterned cultivars are available this year, with even more coming down the road. Which ones are your favorites? (See Heidi's favorites in this blog.)
Sizes vary by cultivar but range from 15-20" tall, sun and shade cultivars available.
When the heat is on, these blanket flowers really crank up the flower power! You'll love how they blanket your landscape and containers in vivid scarlet or yellow color on mounded, wide-spreading plants from planting time into autumn. Their warm flower colors naturally attract pollinating bees and butterflies to the garden, but their fuzzy foliage makes them unpalatable to deer. Unlike perennial Gaillardia, these new cultivars are true annuals, crediting a Texas native annual species to their roots.  
12-24" tall, 18-36" spread, full sun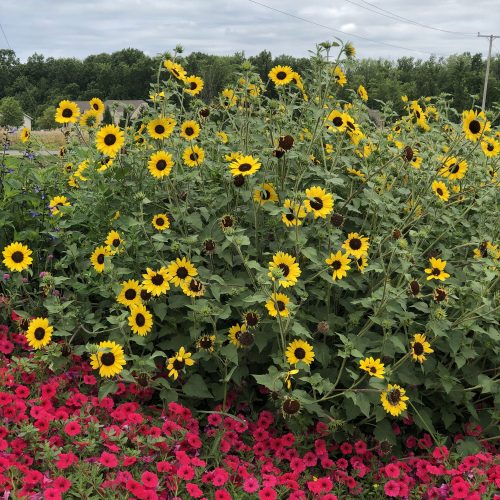 The crisp indigo blue flowers of this unique new salvia are amazing at drawing in pollinators, and those large, hooded blossoms offer them easy access to the nectar. You'll find bumblebees, hummingbirds and even a few butterflies partaking in a mid-day snack on this fun new annual salvia. We love that it is super easy to grow, especially in the garden where it doesn't demand much in the way of extra water or fertilizer. It keeps right on blooming from planting time until frost, flowering heaviest in full sun locations. You won't need more than a few of these large, bushy salvias to create an amazing show. 
30-40" tall, 24-30" spread, full sun to part shade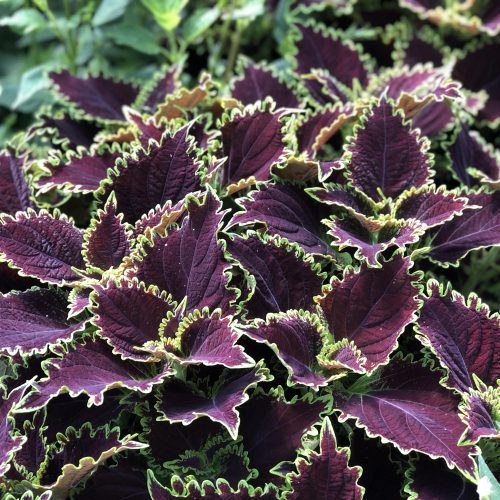 Rod has seen and grown it all when it comes to annuals, so you know a plant must be special when he selects it for his Top 5 New Varieties List. (See which other plants made Rod's list in this blog ) We couldn't agree more—this new coleus is magical. Its deep burgundy leaves have electrifying green, serrated edges, and its full, bushy form is absolutely perfect. Like all ColorBlaze® coleus, it blooms late or not at all, which helps it last until frost. (Flowers are a bad thing with coleus since they signal that the end of the plant's life cycle is near.) Since it grows in both sun and shade, there are endless ways to use this dynamic new foliage plant in containers and landscapes.
24-40" tall, 18-36" spread, sun or shade
Have we whetted your appetite for new plants? See all the new varieties we'll be offering this year here. Stay tuned for our Top 10 New Perennials and Shrubs lists in our upcoming newsletters.