How to Plan a Garden So Something Is Always in Bloom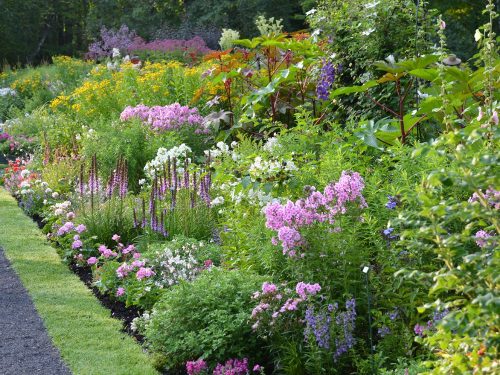 Growing a beautiful garden where something is always in bloom takes some time to master but is incredibly rewarding in the long run. Here are 10 valuable tips here that will help you along in the process. These are things we've learned from our own experience developing our gardens over time. Remember, growing a garden isn't an event, it's a process.
1. Understand that there is a season for everything.
Surely, it is wonderful to have vibrant flowers blooming every day, but seasonality and the changes that come with it play an important role in how we experience our gardens. If everything looked the same every day, there wouldn't be anything to look forward to.
Think about how it feels to walk out into your garden and see the first strawberries of the season turning red. Recall the excitement of seeing those tight little buds forming on your hydrangeas and the anticipation of their huge, blue blooms.
Our gardens grow and change through the seasons, and it's natural for plants to cycle in and out of bloom. Annual flowers like petunias treat us to season-long color, but it's important to set your expectations for hardy plants that won't always be in bloom. To everything there is a season.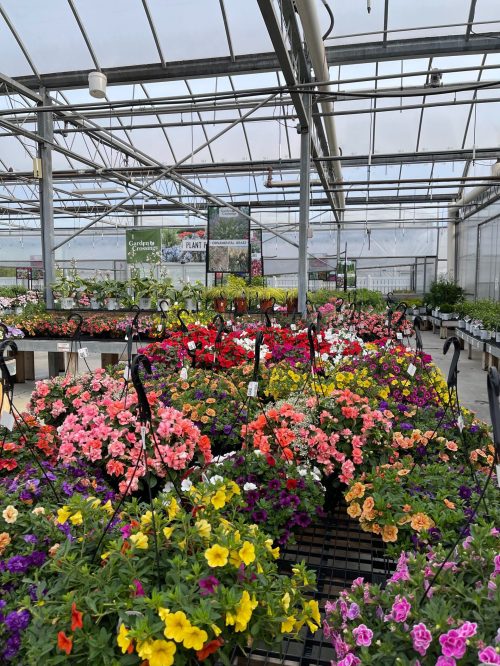 2. Shop for plants in every season.
Of course, we like to see our customers come into our garden center throughout the growing season, but that's not the reason for tip #2. If you want to always have something in bloom in your garden, you'll need to buy plants that bloom at different times of the year. The best way to accomplish that is to shop for plants in spring, early summer, mid to late summer, and fall. Having a lull in your garden? Stop by a garden center to pick up some perennials that are blooming that time of year.
Garden centers offer plants that are in bloom because everyone loves to see plants in their prime. However, just like in your garden, not all plants are ready to make their debut early in the season when most people tend to shop for plants. If you only visit your local garden center in May, you'll miss out on Hibiscus, for example, which is a late riser and isn't put out on store benches until summer.
Lots of midseason and late season bloomers need heat and longer days to jumpstart their growth, so you'll miss out on them if you only shop in the spring. Another advantage to shopping later is that you'll often also find larger, more mature plants to buy that time of year.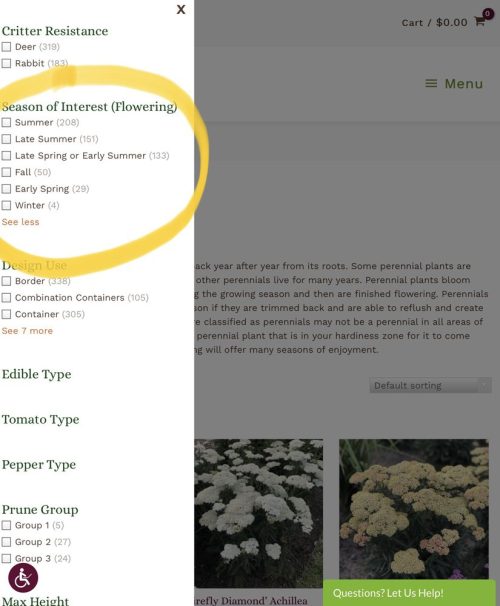 3. Use our website to find plants that bloom in different seasons.
We have a handy search tool on our website that helps you find plants that bloom in specific seasons. From your laptop computer, head to gardencrossings.com and click the shop tab. Choose a plant type such as Perennials-All. You'll see our search menu running down the left column of the page. Scroll down to "Season of Interest-Flowering" and select which time of year you'd like your plants to bloom.
This function works similarly on mobile devices and tablets. Select Shop from the Menu, then choose your plant type. Tap the Filters button to access the search menu to find plants for particular seasons of interest.
4. Pay close attention to a plant's bloom time when you buy, but take it with a grain of salt.
Plant labels and information on websites are helpful in knowing generally when a plant will bloom, but don't be surprised if it blooms at a slightly different time for you. That's because bloom times are influenced by several factors, most notably your climate.
Here's an example. Shasta daisies bloom in Northern Michigan and North Carolina, but not at the same time. You'll find them blooming in June in Michigan and in April or May in more southern climates. That's why we use "seasons of interest" instead of specific months when we are describing when a plant blooms. Daisies begin blooming in early summer, and early summer arrives much earlier in the South than in the North.
When a plant blooms can also be affected by weather patterns, how much sun it receives, whether it is growing in a microclimate, and when it was last pruned.
5. When you shop, buy some plants that aren't blooming yet.
It's everyone's natural tendency to gravitate towards beautiful flowers at the garden center. But to create a garden where plants bloom in succession instead of all at once, you'll want to also pick up a few plants that aren't blooming yet when you shop.
You might buy some bright blue flowering Baptisia when you're shopping in May, but while you're there, throw some summer blooming coneflowers and a fall blooming sedum in your cart too. That way, you'll have something that blooms in each season for your landscape.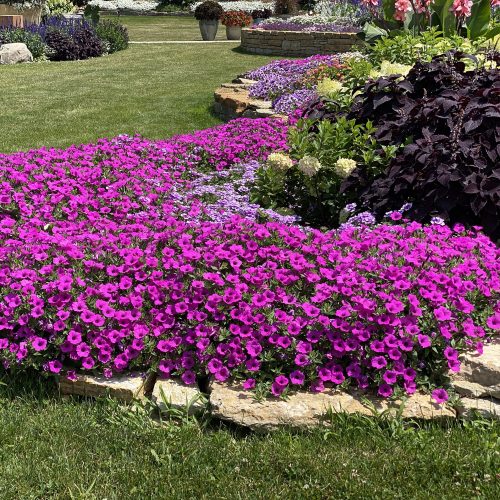 6. Include some annuals in your garden design.
It's true, you'll need to replant annuals every year. But it's also true that hardy plants simply cannot provide the same incredible amount of non-stop color from spring to frost. If your goal is to have something in bloom throughout the entire growing season, it's a good idea to include some annuals in your design.
Annuals also make great filler plants while you are in the process of growing a new garden or overhauling an old bed. They'll keep down the weeds and treat you to colorful blossoms or foliage while you are waiting for your hardy perennials and shrubs to get established and fill in the space. Broad spreading annuals like Supertunia Vista® petunias, Suncredible® sunflowers and sweet potato vines are perfect for this application.
Annuals are also useful for providing the element of repetition in your garden design. For example, you could plant a bright pink flowering annual like Truffula™️ Pink gomphrena here and there throughout your border to provide a more cohesive look. Another idea is to plant a row of SunPatiens® along both sides of your front walk to lead visitors up to your front door. The constant color that flowering annuals provides is tough to achieve with hardy plants.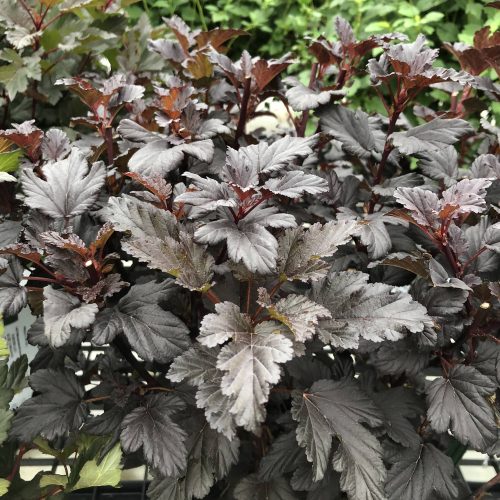 7. Don't discount the foliage.
Flowers aren't the only way to bring color into the landscape. Remember to include a variety of plants with interesting foliage in your design, too. When you rely on a plant's foliage to provide that splash of color you're looking for, the flowers become a bonus—like a garnish that's nice to have but isn't necessary.
Another benefit to using plants with colorful foliage is that they often don't require as much fertilizer as flowering plants. For example, you would need to fertilize bedding impatiens at least every couple of weeks to keep them blooming strong. But you could plant that same bed with coleus instead and only need to fertilize about once per month.
A few of our favorite hardy perennials and shrubs with colorful foliage include: coral bells, foamy bells, Euphorbia, dark leaf forms of hardy hibiscus, fringe flowers, mirror bush, ninebark, smokebush and weigela. Don't forget that plants with colorful berries or bark are great for adding winter color to the landscape, too.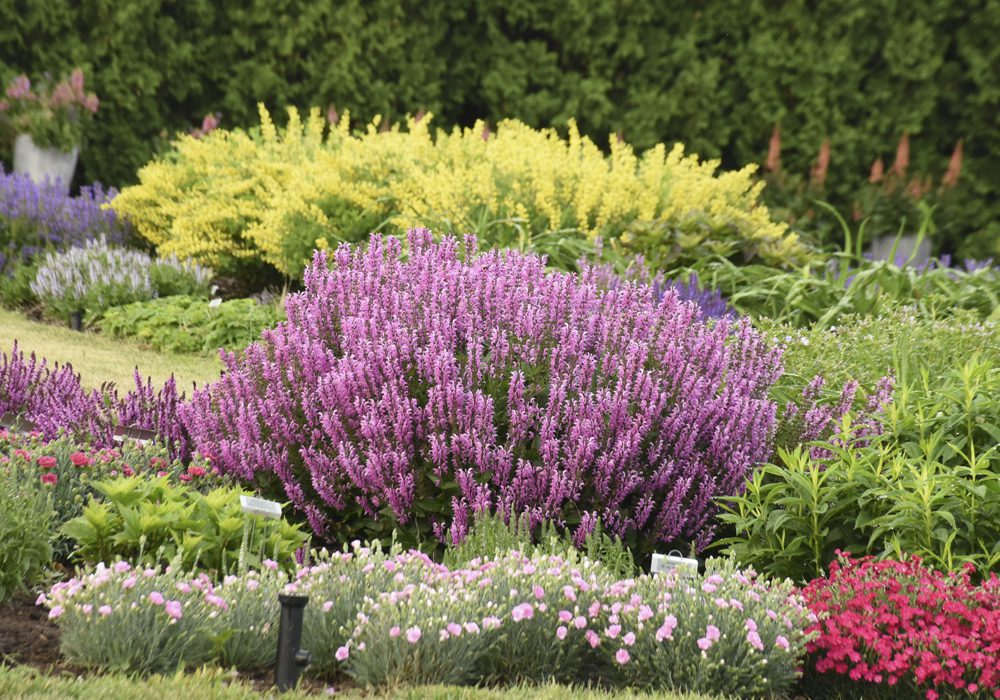 8. Visit other local gardens.
To really gain a good understanding of what can grow in your particular climate and soil conditions, visit local gardens. Spend a Saturday at your local botanical garden. Buy a ticket to your community's summer garden walk. Make friends with other people who like to garden on your block or in your neighborhood so you can exchange ideas and maybe even a few plants. All the internet research and social media accounts in the world cannot substitute for physically getting out and seeing what grows well in your local area.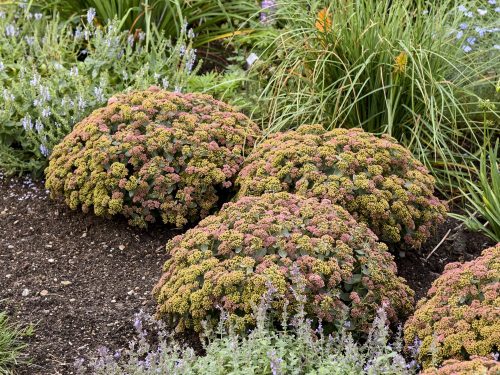 9. Consider season of bloom when you're deciding where to plant.
You've just come home from the garden center with a trunkful of new plants. Great! Now, where will you put them all? Of course, you'll need to consider how much sun each one needs and where you have space to fit them. But it's also important to pay attention to a plant's season of bloom when deciding where to plant it. If it blooms in July, consider planting it next to something that blooms in the springtime so you'll have flowers in that part of the garden in multiple seasons.
In the example pictured here, 'Coraljade' sedum is planted between salvia and catmint, both of which are past their prime once the sedum comes into bloom in the fall. Between the three plants, there are flowers present nearly continuously from early summer through fall.
Stand back and visualize the symphony of color your plants provide throughout the year. This exercise will help you spot the "holes" – the times of year when there is nothing interesting happening in a particular place. That makes it easier to know what you'll need to plant where to achieve continuous color.
Color and texture are two other important design elements to consider in your garden planning. This blog gives some great tips on those topics.
10. Take your time and enjoy the process.
Gorgeous gardens aren't built in a day, a week, or even a year. It takes time to get to know your property with all it has to offer and to overcome the challenges it presents. You can read about my own gardening journey and the evolution of my landscape from blank slate to lush borders in this blog.
Learning when different kinds of plants bloom in your unique setting is something that will happen over several years. You'll notice not every year is the same. Sometimes, your azaleas will bloom in mid-May with your tulips and in late years, they won't bloom until the first week of June. You'll gain valuable experience with each passing season as your garden evolves over time. And like the best conductors, you'll begin to orchestrate a magnificent symphony of color in your landscape. Enjoy the process!