10 Garden Types to Suit Your Style
#1 – The Entertainer's Garden
If you love to entertain outdoors, focus your energy on sprucing up your outdoor living and dining spaces. A little hardscaping, like the pergola you see here, helps to define livable "rooms" in the yard while providing filtered shade above the patio table. Surround the area with vibrant red, yellow, orange and pink flowers to create a fun, energetic feel. You can't help but have fun in a cheerful spot like this!
Suggested plants: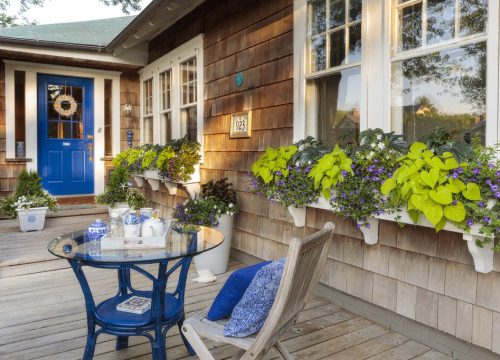 #2 – East Coast Traditional with a Pop of Color
Richly textured, flower-filled window boxes line the front of this cedar shake home and lead guests to the shaded front entrance. Sparks of cobalt blue make all the difference here. Without it, this tan and white structure would be beautiful but lack the personality that reflects the homeowner's energetic spirit. Adding flowers that coordinate with the paint and fabric draws everything together into one cohesive design. If they get tired of the blue, a simple coat of paint can easily update the whole look.
Explore more ways to spruce up a shaded porch or patio.
Suggested plants:
#3 – Preference for Natives
There is an amazing diversity in the world of native plants, so whether you are gardening in the sun or shade, in the city or in the country, you can find natives to fit your garden style. Some people dedicate an entire portion of their landscape to native plants, but many kinds look right at home planted with non-native perennials and shrubs in mixed borders. Planting native species and cultivars is one important thing you can do to support pollinators. Find more ways to help.
In this photo, the nativar 'Little Redhead' spigelia is paired with a dark-leaf cultivar of native rose mallow called Summerific® 'Holy Grail'. When the spigelia is finished blooming by late summer, the rose mallow will continue the show with its own scarlet red flowers. By pairing these two perennials together, there are red flowers present in this part of the garden from late spring into early fall.
Suggested plants: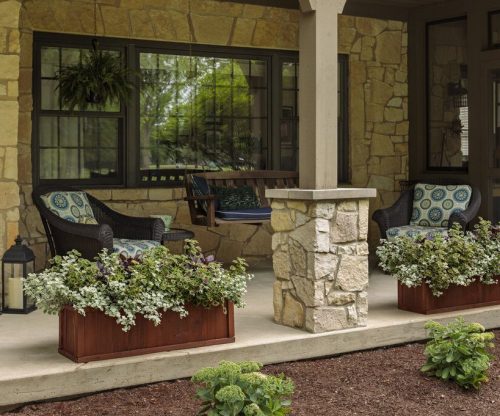 #4 – Calming Retreat
If your goal is to create a calming outdoor space where you can wake up with a cup of coffee in the morning or relax with a glass of wine in the evening, consider these tips. Pick a spot that has a nice view but offers some privacy and is sheltered from direct sun and wind. Choose a muted color palette of deep purples, rich greens, soft blues, silver and white rather than hot red, pink or orange.
Focus on interesting foliage plants for layered textures rather than plants you'll need to feed consistently to keep them in bloom. Use natural materials like cedar, stone, wicker, burlap or cotton. Reserve enough open space to create a cozy but uncrowded feel where you can just relax and enjoy the fresh air.
Suggested plants:
#5 – Private Balcony or Porch Garden
Even if you only have a balcony or porch to work with, you can still grow a garden! You'll simply choose your plants a little differently, focusing on varieties that are happy growing in containers. Annual plants are ideal for this purpose since you can choose a different color palette each year and clean everything up at the end of the growing season.
If you're not into sweeping flower petals off the ground each week, choose annuals with fantastic foliage. Flowers which have very small petals or are light in color won't make a mess either when they drop because they virtually disappear when they dry up.
Get the DIY on how to build the living screen you see here.
Suggested plants:
#6 – Low Water Use Priority
Water has become one of the most important resources to manage wisely in the U.S. Whether you live in an area with watering restrictions or not, you can choose to garden more sustainably by growing plants that need less water to thrive.
Drought tolerant plants can be just as colorful as any others, as shown in the dry riverbed garden here. It is isolated in its own zone on an automatic sprinkler system so the plants receive water less frequently than the other beds in this large landscape. Red hot poker plants, yarrow and sedum provide the bulk of the color while doubling as a hotbed for pollinating bees, butterflies and hummingbirds.
Suggested plants:
#7 – Moon Garden for After Work Enjoyment
If you find that you have the most time to enjoy your garden in the evening, consider a moon garden design around your patio or firepit. Moon gardens can be enjoyed any time of day but are especially nice at night when the white and silver flowers and foliage you've planted there take on an ethereal glow. We walk you through the elements of moon garden design and all the best plants for it in this article.
Suggested plants: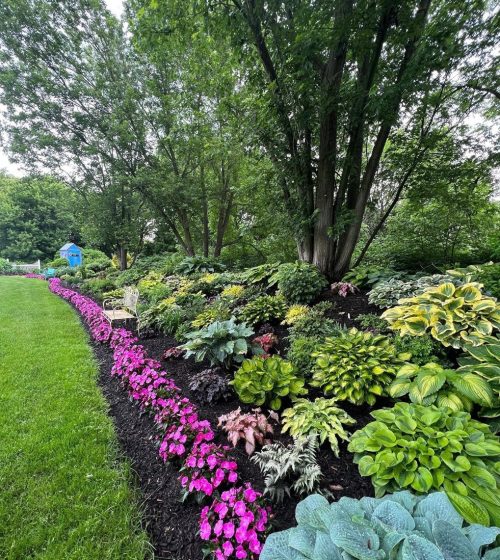 #8 – Collector's Garden
If you're the type who wants one of each kind of plant you love, try growing a collector's garden. In this type of garden design, you won't need to plant in large drifts of single varieties. Instead, each plant is a little treasure of its own. By using color and textural contrast principles in your design, you can bring your collection together in a cohesive, engaging way.
The image you see here is of Heidi and Rod's shade plant collection. Many different cultivars of hostas, ferns, caladiums and coral bells are gathered under a large tree canopy in a sloped bed. By carefully pairing plants with different colors, textures and leaf sizes, they've created a rich tapestry of foliage plants. A single line of vibrant pink SunPatiens® impatiens creates structure and continuity in the design.
Suggested plants: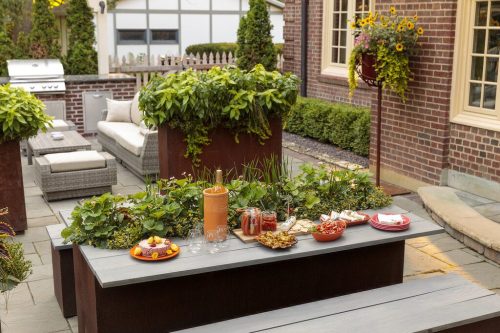 #9 – Garden to Table Entertainment Area
The popular garden to table trend brings fresh produce right up onto the patio, paired in pots with flowering annuals that draw in the pollinators. Wouldn't it be fun to pluck some fresh basil leaves and drop them right onto your salad? You could pick ripe strawberries for your plate and sunflowers for your vase in one quick step. To achieve this look, select dwarf varieties of edible plants that will fit into your patio planters with or alongside your flowers. (Keep them in separate pots if you want to grow your produce without synthetic fertilizers used for flowers.)
Suggested plants: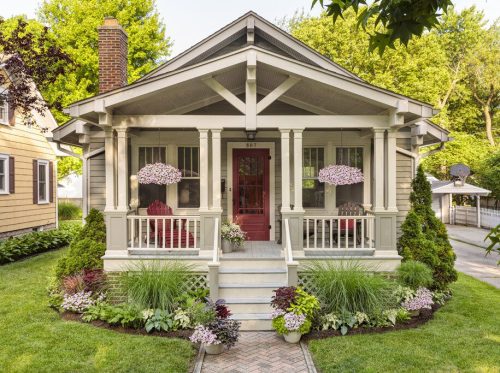 #10 – All About Curb Appeal
Think of your favorite house in your neighborhood—the one you love to ride past and brings joy to the street. It exudes curb appeal in spades with its tidy porch, colorful flowers and unique architectural details. Curb appeal not only makes you feel proud to call your place home but can also increase its value. That's especially important when it comes time to sell.
How could you dress up your front landscaping to make it look more appealing from the street? Hanging a pair of flower baskets from your porch, cutting fresh bed edges and laying new mulch, and replacing overgrown shrubs with ones that are more in scale with your home are all things you can do this season to increase your home's curb appeal.
Suggested plants: