Our 10 Favorite Perennials and Shrubs for Containers
Are you tired of replanting all of your patio and porch pots every year? What if some of them contained plants that returned for several years? Though non-hardy annuals are traditionally used in patio and porch containers, the palette of available plant material increases exponentially when you add hardy perennials and shrubs into the mix. There are some that blend perfectly into a collection of containers that house petunias, begonias and other annuals. We'll show you ten of our favorites below.
Advantages of Growing Perennials and Shrubs in Containers
There are a number of advantages of growing hardy plants in containers. Here are just a few:
You'll get more mileage out of them than annuals. Many hardy perennials and shrubs will live for several years in a container if cared for properly.
If your soil or climate isn't hospitable to growing specific types of plants in the ground, they might work for you in containers instead.
It allows you to keep plants that are often bothered by deer, rabbits or voles in a more protected location.
You can move them around to different places in the garden through the seasons and through the years.
You'll be able to easily bring tender plants indoors for winter, if desired.
It's a great way to get to know a plant before you commit garden space to it.
Your garden can have a unique look when you use non-traditional plants in containers.
 

Things to Keep in Mind When Growing Perennials and Shrubs in Containers

Why don't more people grow perennials and shrubs in containers? Perhaps they've never even considered doing so. There are some important things to keep in mind if you'd like to try. 

Cold hardiness. If you expect your perennial or shrub to survive the winter in the container, you'll need to choose one that is extra cold hardy or plan to bring it under cover or indoors for the winter. Generally, we say that it's safest to choose plants that are two zones hardier than your growing zone for it to overwinter well outdoors. For example, if you live in zone 6, try to choose plants that are hardy to zone 4 if you want to overwinter them in the container. Check out this blog for more information about overwintering hardy plants in containers. Some tender shrubs can be brought indoors for winter and enjoyed as a houseplant. We'll show you a few of those in the list below. 

Plant size. Some perennials and shrubs will grow too large to stay in a container for multiple years. Smaller plants like coral bells, violas, small to medium sized hostas and smaller varieties of roses can live a number of years in containers. But plants with large root systems, a tap root, or those that grow quite sizable won't be able to live long in a container. If in doubt, choose dwarf varieties for your containers.

Soil temperature and seasonality. The soil in containers is warmer than the soil in the ground. Plants that need their roots to stay cool to grow well aren't the best choice for growing in containers. Likewise, those that have a limited season of interest aren't very showy in containers. Clematis, rhododendrons, columbine and lupines are just a few plants that would fall into those categories. 

So, which kinds of perennials and shrubs make the best candidates for growing in containers? Let us show you ten of our favorites.
1. Miniature, Small and Medium-Sized Hostas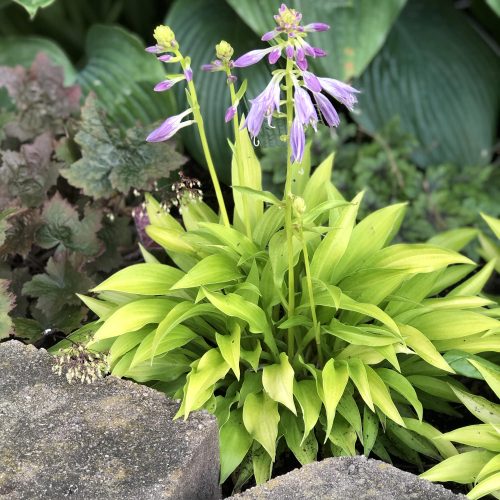 Smaller varieties of hostas can get visually lost in a shade garden. When grown in a container, they become interesting specimen plants that beg for a closer look. Since they are zone 3 hardy, it's easy for people in most climates to overwinter them in containers. Growing them in pots also makes it easier to keep them up out of the reach of browsing deer and rabbits. To keep voles out, be sure to screen the drainage hole in the bottom of the container. Rated to zone 3 in-ground. 
Pictured: 'Munchkin Fire' small hosta.
2. Heuchera, Heucherella and Tiarella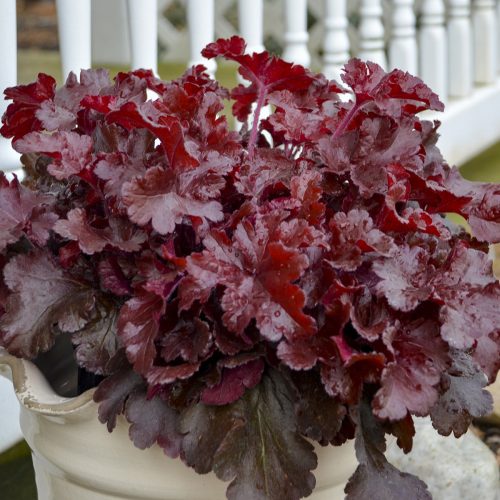 Heavy, wet soil is often the downfall of Heuchera (coral bells), Heucherella (foamy bells) and Tiarella (foamflower). Avoid the issue by growing these plants in containers filled with good quality potting soil and be sure there is a drainage hole in the bottom of the pot. You'll find that the plants will grow better and perhaps live longer in such an environment. All three plants look right at home paired with annuals in pots of their own or in mixed containers where you can enjoy their foliage interest all season. Rated to zone 4 in-ground.
Pictured: Dolce® 'Cherry Truffles' Heuchera
Shop all Heuchera, Heucherella and Tiarella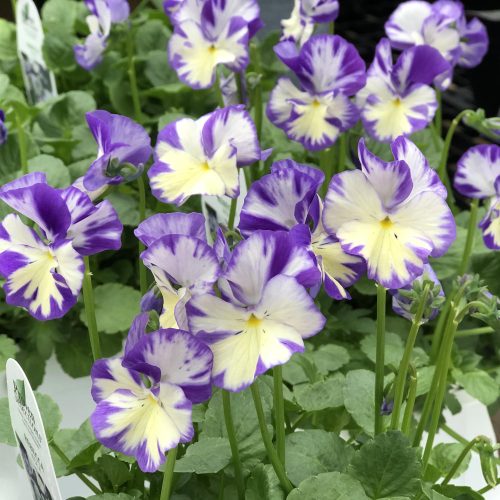 Did you know that violas and pansies are edible? You could make them part of your edible garden but if rabbits are frequent visitors, then it's best to grow them up out of their reach in a container. They find these pretty blooms delicious, too. Some violas like 'Rebecca' pictured here and 'Etain' are long blooming perennials in cooler parts of the country (rated to zone 5 in-ground), so they can provide color all summer long. Pansies are typically grown as annuals. They all look great matched with Aromance® Mulberry nemesia and Heucherella in containers. 
Pictured: 'Rebecca' Viola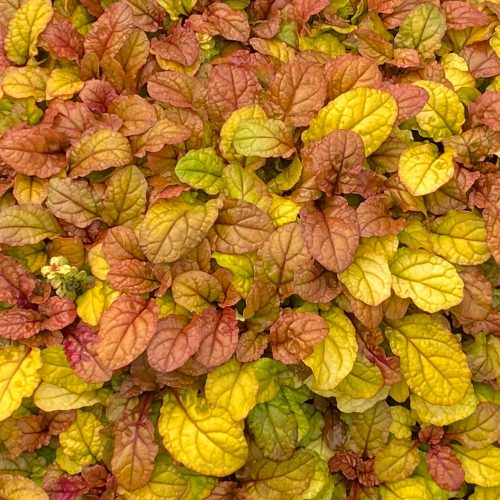 With the addition of the colorful Feathered Friends™ Ajuga collection (commonly called bugleweed) to our lineup, there are all kinds of reasons to try these new cultivars of a classic groundcover. Their foliage color is mesmerizing as it changes through the seasons, topped with vivid blue blooms in the spring. Give them all a test run in containers to see which one you like best before committing to growing it as a groundcover. If you don't have a good spot for groundcover, you can use them as trailing perennial plants in your containers. Rated to zone 4 in-ground.
Pictured: Feathered Friends™ 'Pleasant Pheasant' Ajuga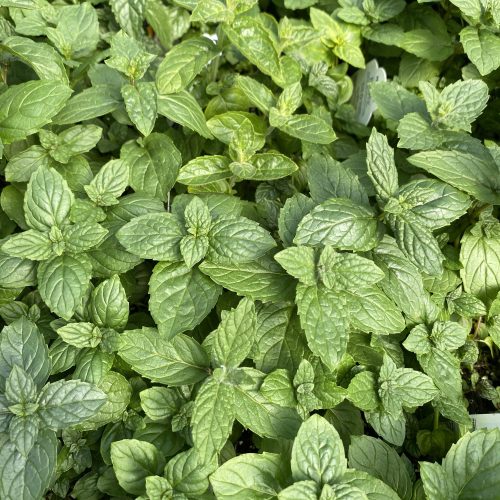 Speaking of groundcovers, let's talk about mint. Many people don't realize until it is too late that mint is an aggressively spreading perennial groundcover if planted in the garden. It's tough to control once it takes hold. Avoid that issue and still grow all the mint you need for your mojitos by putting it in a container. If you have a raised bed that is firmly enclosed on all four sides, that would also be a good place to grow mint. Rated to zone 3 in-ground.
Shop our Peppermint and Spearmint plants.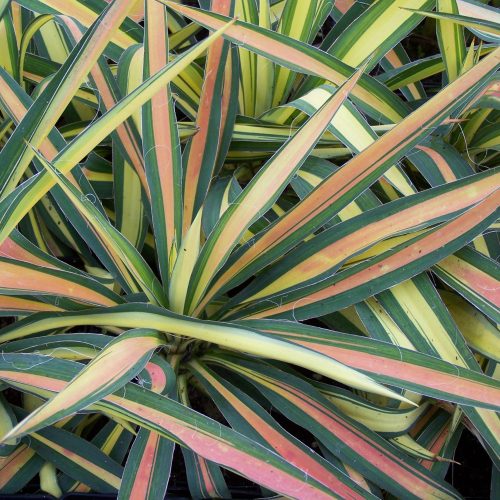 Drought tolerant yucca plants work great in large terra cotta planters and can be set out into a sunny spot in the garden for at least a few years before they outgrow their pot. If you garden in rocky or heavy clay soil that is hard (literally) to dig in, your yucca would be happier in a large pot above ground. They make striking statement pieces in the garden with their spiky foliage that remains standing year-round. Though rated to zone 4 in-ground, terra cotta pots will crack in the winter if you live where it freezes. Try using a lightweight fiberglass pot in such climates. 
Pictured: 'Color Guard' Yucca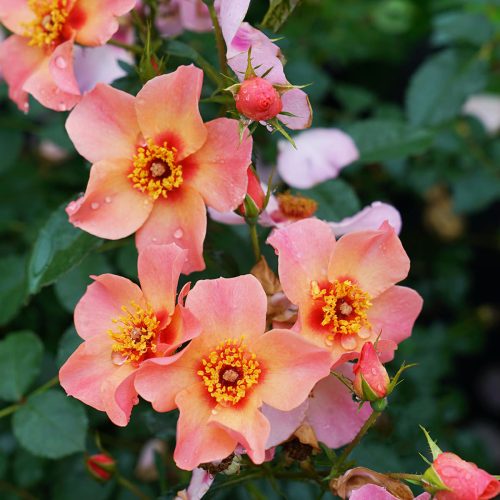 There are a number of smaller landscape roses such as Oso Easy® Double Pink, Italian Ice® and Mango Salsa that will grow beautifully in large containers on your sunny patio. Ringo All-Star™ and Ringo® Double Pink are also good choices. If deer tend to browse roses in your landscape, growing them in containers up on your deck or patio might keep them out of harm's way. These plants tend to respond well to being pruned back after each flush of blooms, a practice that will also help to keep them sized down to fit in the container longer. Rated to zone 4 in-ground.
Pictured: Ringo All-Star™ rose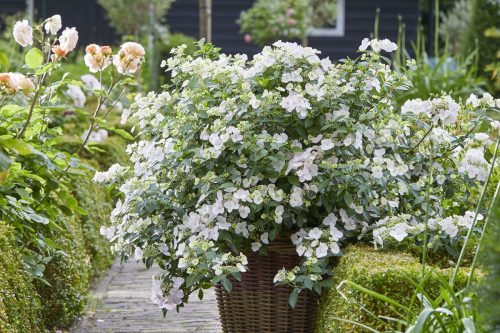 Fairytrail Bride® cascade hydrangea is a one of a kind plant due to its cascading branches that grow long and sweeping over time. Once mature, it becomes a four foot tall and wide, draping ball of bridal white blooms every year in late spring. By growing it in a large, tall container, you can allow its trailing stems to show off their full potential. Learn more about how to grow hydrangeas in containers here. This hydrangea is root hardy in the ground to zone 6, so if you plan to grow it in a container, you'll need to live in zone 8 or 9 or plan to bring the container into a minimally heated space over the winter. 
Pictured: Fairytrail Bride® cascade hydrangea
Other dwarf hydrangeas suitable for containers include: Invincibelle Wee White®, Invincibelle Mini Mauvette®, Let's Dance ¡Arriba!®, Let's Dance® Blue Jangles®, Wee Bit Giddy®, Fire Light Tidbit® and Tiny Quick Fire®. 
9. Tender shrubs like Bouvardia, Tecoma and Coprosma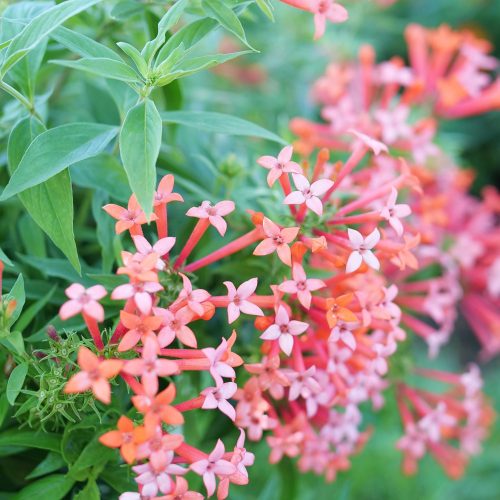 What grows as a hardy shrub in zones 8 or 9 might make the perfect summer patio plant and winter houseplant for people in colder climates. Tender shrubs like Bouvardia (firecracker bush), Tecoma (trumpet bush) and Coprosma (mirror bush) are great examples. The trumpet-shaped blooms of Bouvardia and Tecoma will draw hummingbirds up onto your patio all summer while the colorful, mirrorlike leaves of Coprosma will add color and texture to mixed containers. If you live outside of their hardiness zone, you will have a tough time finding these plants locally, but we will be happy to ship them to you for your containers.
Pictured: Estrellita Little Star® Bouvardia 
See also Chicklet® Orange Tecoma and the Waxwing™ series of Coprosma.
10. Boxwood and Boxwood Lookalikes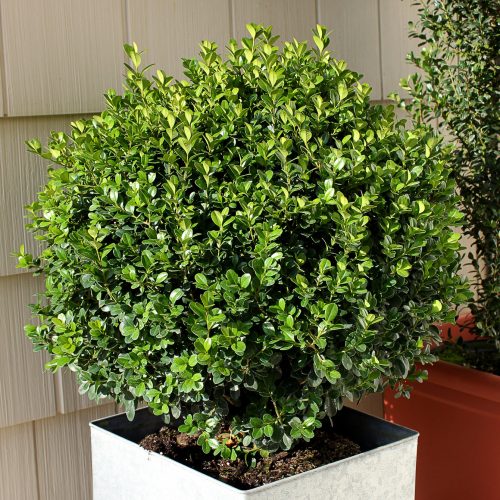 A common element of formal English gardens is tightly clipped boxwood hedges and balls, the latter of which is often grown in large containers. The look crosses over into modern garden design as well. You may have noticed containerized boxwoods on the steps leading to a front entrance or down into the garden in places you've visited. Since boxwood is rated to zone 5, be sure to use a thick walled pot, such as one made of cement, to protect its roots during winter. 
If boxwood blight or boxwood pests are an issue where you live, you can get the same look with a boxwood lookalike. We've linked three of them for you below. When pruned to shape, they look very much like boxwood but are more pest and disease resistant. Be sure to check hardiness zones before you buy.
Pictured: Sprinter® boxwood. See also North Star® boxwood.
Boxwood Lookalikes: Strongbox® inkberry holly, Gem Box® inkberry holly, Juke Box® pyracomeles