Top 10 Plants with Four Season Interest
If you are like many people, you are looking for plants that do it all—provide year-round beauty, color and interest in the landscape. Here are ten of our very best that will help you accomplish that goal in your garden design.
#1 – Pyramidal Evergreens
Pyramidal evergreen trees and shrubs are plants that you will probably appreciate your most in the winter when the rest of the garden is fast asleep. Birds and other wildlife appreciate them that time of year, too. But these evergreens are essential elements of an effective garden design in every season.
They provide a consistent backdrop against which flowering shrubs and perennials, as well as plants with colorful foliage, shine. They offer contrast to deciduous plants which peak at different times throughout the growing season. They help block or diffuse the wind. And in the winter, they lend privacy to your space once all the other plants have dropped their leaves.
Pyramidal evergreens we offer:
#2 – Evergreens That Can Be Pruned into Short Hedges
Evergreen hedges that border your patio, skirt your home's foundation or otherwise define a space provide visual interest and structure in all four seasons. If you enjoy pruning your shrubs into tidy rows, boxes and globes or want a more formal look to your garden, you'll like having some evergreen hedges. 
Traditionally, the go-to shrub for creating this look is boxwood. Unfortunately, this shrub is facing a number of challenges from pests and diseases, though the boxwood varieties we offer have good resistance to boxwood blight. You can achieve a similar look and function with numerous other types of evergreens that respond well to pruning and shaping.
Evergreens for short hedges we offer include: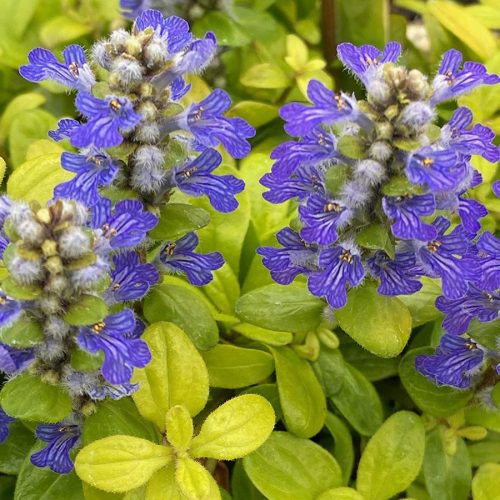 #3 – Evergreen Groundcovers
Though some groundcovers lose their leaves in winter, we offer a number that are evergreen and provide year-round interest. Some, like ivy and vinca spread quickly to fill vast spaces, so you'll need to be careful how you use them in the landscape. Others, like creeping phlox and Sempervivum work better as groundcovers for smaller nooks and crannies. Woody shrubs such as low, wide spreading junipers and Siberian cypress work well as groundcovers for slopes where erosion control is needed.
 Evergreen groundcovers we offer:
#4 – Azaleas and Rhododendrons
In contrast to the pyramidal and hedging evergreens described above, azaleas and rhododendrons are broadleaf evergreens. Their leaves aren't needle-shaped or lacy but instead are dark green and oval-shaped. This gives them a different texture to enhance your four-season landscape design.
Perfecto Mundo® reblooming evergreen azaleas grow in zones 6b through 9 and prefer climates where winters are relatively mild. They produce a fanfare of showy blooms each spring in shades of pink, red, purple and white. Then, after a short break, they bloom again in summer and fall. Handsome evergreen foliage continues their interest through winter. 
The evergreen rhododendrons we offer have larger leaves than reblooming azaleas. Because of this, they grow best in locations that are sheltered from winter winds and have filtered sun, such as under a tall canopy of trees. Dandy Man® rhododendrons have broad leaves and bear large clusters of flowers in the springtime. Black Hat® rhododendron is a 'PJM' type, which means it blooms earlier in the spring and has smaller leaves that turn deep purple in the wintertime.  
#5 – Red and Yellow Twig Dogwood Shrubs (Cornus)
Late fall through early spring is when you will enjoy the colorful bark of dogwood shrubs since cool weather draws out their brightest tones. By removing the oldest branches every two to three years, their bark will remain vibrant as the shrubs mature. If left unpruned, their coloring will become duller through the years. 
In addition to colorful bark, these types of dogwood shrubs offer white blooms that are attractive to pollinators in late spring to early summer and attractive emerald green foliage. If you have a low spot that tends to collect water after it rains, they will happily soak it right up. 
Red and yellow twig dogwoods we offer:
#6 – Steady as She Goes® Gardenia
There are so many reasons and seasons to love this gardenia! Thriving in mild zones 7-10, this broadleaf evergreen shrub combines glossy, deep green foliage and sumptuously fragrant, fully double, white flowers. 
The show starts in the springtime with the first flush of blooms, but that's not all. Steady as She Goes was named for her continual reblooming ability through the heat of summer and into the fall. This is a key improvement over other gardenias which quit blooming when the mercury rises. Like rhododendrons, gardenias prefer a location sheltered from winter winds and rich, well-drained but moist soil. Grows 3-5' tall x 4-7' wide in full sun to part shade.
#7 – Evergreen Holly and Deciduous Winterberry Holly (Ilex)
You'll welcome robins and cedar waxwings into your garden when you plant holly bushes. Bright red berries are a delight from fall through winter, and once ripe, the birds will snatch them right up. The berried branches are fun to use in winter arrangements as cut stems along with needle evergreens and birch logs. 
Some hollies like blue holly, inkberry holly and Japanese holly stay green year-round. Winterberry hollies are deciduous. They drop their leaves in the fall so the colorful berries are even showier. Once you see what a bright ray of hope they are in the wintertime, you'll want to plant even more. 
Evergreen hollies can grow in full sun in cooler climates but prefer some afternoon shade in warmer zones. Deciduous hollies can grow in full sun or part shade no matter where you live. They all prefer consistently moist soil. You'll need one male holly to pollinate up to five female hollies in order for berries to be produced.
Types of holly we offer:
#8 – Lily of the Valley Shrub (Pieris)
Though this broadleaf evergreen shrub is named for its long chains of pink or white flowers that bear a resemblance to the flowering groundcover, lily of the valley, it is actually closely related to rhododendrons and azaleas. They all prefer similar growing conditions—acidic, moist, well-drained soil, part shade and protection from winter winds. 
Two features make Interstella® Pieris unique: bright pink-red blooms and rich red new growth in the springtime. Hummingbirds and pollinating bees enjoy these flowers as an early season food source, but deer typically pass this shrub on by. Once it is finished blooming, you'll enjoy its evergreen foliage for the rest of the season as it provides a deep green backdrop for shorter flowering perennials and annuals. Grows 3-4' tall and wide in zones 5-8 in sun or shade (more shade in warmer climates).
#9 – Waxwing™ Mirror Bush (Coprosma)
Especially for our southern friends in zones 9-11, these tender yet incredibly colorful evergreen shrubs provide four seasons of beauty in the landscape where they can act as specimens, groundcover or be pruned into hedges. In colder climates, Waxwing mirror bush makes a pretty container plant and can easily be brought indoors to spend the winter in a heated sunroom.
Depending on which variety you choose, your mirror bush will bear shiny, variegated, gold, orange or lime green foliage that blushes warmer tones in the coolest months of the year. Who needs flowers when the foliage is so showy? Thankfully, deer don't appreciate this shrub as much as we do. Grows 1-2½' tall and 3' wide in full sun to part shade. 
#10 – Wintercreeper (Euonymus)
If you like the idea of a colorful broadleaf evergreen like mirror bush but live in a colder climate, try Gold Splash® or White Album® wintercreeper instead. They are similar in that they are both relatively low, broad shrubs that can be used as a groundcover or pruned into a short hedge in full sun to part shade conditions. However, wintercreeper is far more cold hardy, easily surviving zone 5 winters. The cheerful variegated foliage maintains its color all year long, and is accented by showy, persistent fruit in the fall. Grows 1½-2' tall and wide in full sun to part shade in zones 5-8.
Want to explore more shrub options? Tap here for our full collection.