Tough plants for Challenging Garden Conditions
As with most things in life, gardening is more fun when you are faced with fewer challenges like clay soil, hungry deer or full shade—that is, until you know how to meet and defeat those challenges. It takes some practice, but in time, you will learn which kinds of plants you can grow without any trouble at all and those that are best avoided.
We're giving you a head start by summarizing seven of the most common garden challenges and their solutions here. Start with your biggest issue first, then tackle more throughout the gardening season. By the end of the list, when you have tackled all of the major challenges, gardening will be a lot more fun!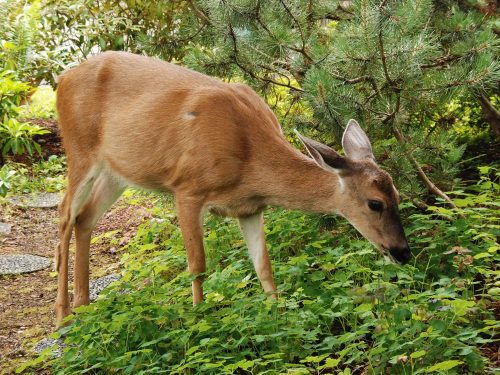 #1 – Dealing with Deer and Rabbits
This issue is such a prevalent one that we've devoted a whole section of our website to it. Find it here. We'll show you how you can identify who's eating your favorite plants and what you can do about it. Plus, you will find links to all of our deer and rabbit resistant plants there. If Bambi and Thumper are frequent diners at your garden table, don't miss this information.
#2 – Drought Tolerant Plants
If you are like many people across the country, your area may be experiencing drought. While extreme drought tends to end the gardening season due to severe watering restrictions, it's possible to keep your garden going in areas that are experiencing mild drought by growing plants that can adapt to drier soils.
Even if your garden receives ample rainfall or irrigation, it's still a good idea to plant at least a few things that won't need consistent watering to thrive. They will help to lessen the pressure on your city or well water system, plus they are far less worry if you don't have a lot of time to dedicate to garden maintenance. You can leave for vacation and know that your plants will survive in your absence. Find 30 of our best drought tolerant perennials and shrubs in this article.
#3 – Plants That Can Take It Wet
Some of you are dealing with the exact opposite of drought. If you live in an area that sees frequent heavy rains, or if your soil is heavy and stays wet for a long time afterwards, you need to grow plants that can take it wet. Grass isn't always the best solution. Why not turn that spot into a garden filled with moisture-loving plants instead? We show you ten plants that will be happy to soak up all that excess rainfall for you in this article.
#4 – Best Plants for Clay Soil
Clay soil can be both a blessing and a curse. It is excellent at binding together nutritious minerals that many plants need to thrive. It's also good at holding in moisture as it percolates slowly down to the roots.
The issue comes when it holds too much moisture in. Some plants detest having wet roots for an extended period, especially when they are not actively growing in winter. Winter wetness tends to kill more plants than cold temperatures, though we are often quick to blame the cold. But many types of plants tolerate or even prefer growing in clay soil. We'll show you ten of our favorites in this article.
#5 – Best Plants for Sandy Soil
Sandy soil has a key advantage of being very well-drained—a trait that many perennials and shrubs thrive on. In fact, some of them demand it or their roots will rot. You will find that many plants which enjoy growing in sandy soil are also naturally well-adapted to it drying out a bit between rainstorms or irrigations. Here are some of our top recommended perennials and shrubs for sandy soil.
Perennials for Sandy Soil
#6 Heat Tolerant Annuals for Containers
Do the plants in your containers tend to get scorched by midsummer? If so, you'll want to choose more heat tolerant varieties that will last longer next year. Some of these annuals might not be as familiar to you as petunias or geraniums, but they are worth seeking out as alternatives if your summers are incredibly hot and humid.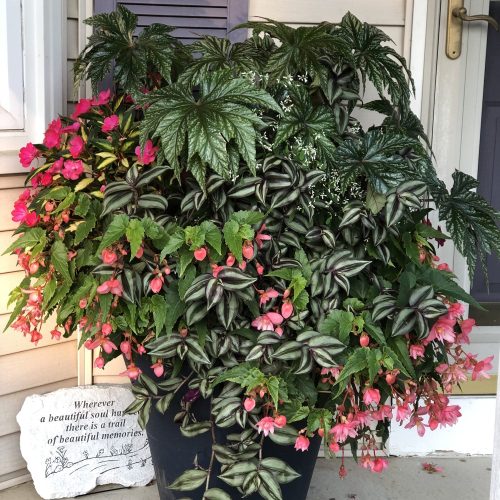 #7 Full Shade Tolerant Plants for Containers
We've noticed that many of the modern farmhouse style homes being built in our area have covered porches—great for sitting but potentially challenging for growing plants in containers. The roof overhang blocks sun and rain from reaching the plants.
If you have a similar issue at your home but still want to decorate the space with container plants, you'll need to choose those that are tolerant of mostly shaded conditions. Also consider how they will be watered—either by hand or by a drip watering system. Our i3 lit and irrigated hanging baskets are also perfect for this use.
Using a combination of shade tolerant annuals, perennials and shrubs in your large upright patio containers will give you an abundant mix of colors, textures and shapes—all factors that are critical in shade garden design. Here are some to consider.