8 Hardy Plant Pairings for Landscapes
Some plants are just better together—a concept that has given rise to the idea of companion planting. If you grow vegetables, you may be familiar with this term. There, companion planting is more about one plant attracting or deterring insects from the other or about plants creating physical support for one another. When it comes to pairing perennials and shrubs, companion planting is more about design—the way their physical traits play off of one another to create something more beautiful together.
Below, you'll find eight dynamic perennial-shrub duos, each with a specific theme like "pollinator buffet" and "dynamic color in shade". If space is limited, try just one this season. If you're working on a new landscape or renovating a part of your garden that's in desperate need of a makeover, try all eight. Already have some of the plants you see below? Add the recommended companions to create a well-designed garden.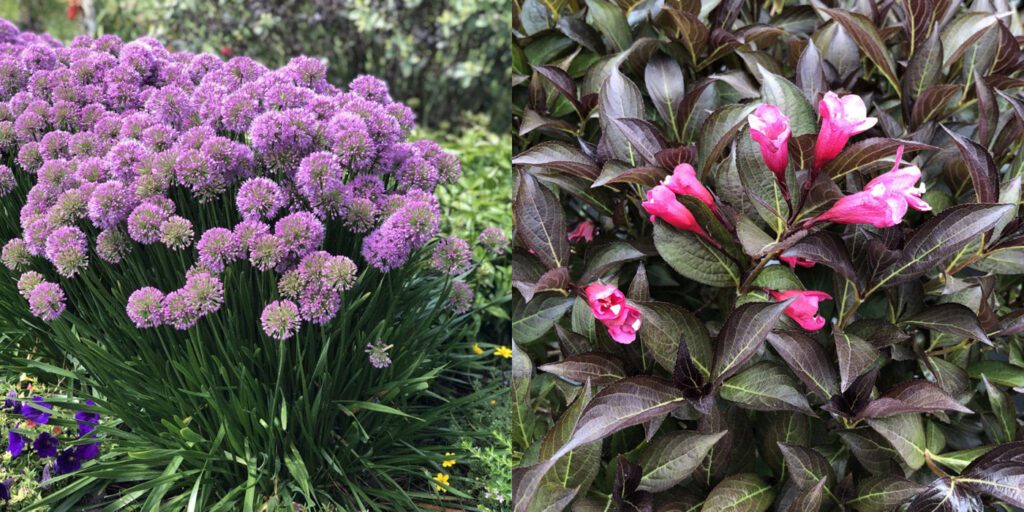 Deer Resistant Pairing for Full Sun
Allium + Weigela
Let's start by addressing the elephant…or deer…in the room. Many of us would love to grow lush gardens, but the ravenous deer that browse our gardens put a damper on all the fun. It's good to employ a variety of methods to deter them including using liquid and granular repellents, physical barriers and other creative methods. Learn more about that in this article. But planting the types of perennials and shrubs they aren't as interested in is also a necessary step.
Allium and weigela are rarely browsed by deer. Perennial varieties of allium like 'Serendipity' (shown here) and 'Millenium' bloom in midsummer to late summer atop a low growing mound of strappy foliage. Plant them with a purple-leaf weigela like Wine & Roses® and watch these two purple beauties shine together. While you are waiting for the allium to bloom, the colorful foliage of the weigela will bring interest to that part of the landscape.
Deer Resistant Pairing for Part Shade to Full Shade
Brunnera + Boxwood
Deer like to hang out in the shadier parts of the landscape where they can hide in the shadows while they eat. That's where your plants are most vulnerable to browsing, so it's important to choose deer resistant varieties to grow there. It may take some experimenting to see what the deer in your area aren't interested in. Unfortunately, they don't read the labels to know which plants they aren't supposed to eat!
Brunnera and boxwood are both highly deer resistant and can handle the shade. In the picture on the right, imagine how that North Star® boxwood hedge would be enhanced by planting a row of brunnera in front of it for some contrasting color and texture. You'll also enjoy Brunnera's airy panicles of true-blue flowers which attract pollinating bees in the springtime.
'Jack of Diamonds' Brunnera – Zone 3-8, part shade to full shade, 14-16" tall
North Star® boxwood – Zone 5-9, full sun to full shade, 2-3' tall
Pollinator Buffet
Echinacea + Butterfly Bush
Ready to bring in the pollinators? Bees and butterflies are more likely to visit a plant they like if there is a large grouping of it or if there are multiple kinds of flowers planted together. It saves their energy from having to travel greater distances to find sustenance.
Try planting a grouping of Echinacea (coneflowers) and butterfly bush together in a sunny spot to encourage passing pollinators to stop at your all-you-can-eat buffet. Both bloom from midsummer to fall and provide several months of flowers from which to feed and enjoy.
Eye-Catcher® 'Canary Feathers' Echinacea – Zone 4-8, full sun to part shade, 18-20" tall
Pugster® Amethyst butterfly bush – Zone 5-9, full sun, 2' tall
Native Plant
Pairing
Milkweed + Ninebark
One of the easiest species of native milkweed to grow in dry, nutrient-poor soils is Asclepias tuberosa, pictured here with its neon orange blooms in midsummer. You'll also notice that monarch butterflies prefer this plant and use it as a host. Aren't monarch caterpillars beautiful?
The bright orange flowers of this milkweed pair beautifully with the rich burgundy and coppery orange foliage of Ginger Wine® ninebark which is a cultivar of our native Physocarpus opulifolius. This ninebark attracts pollinating bees and butterflies with its white springtime blooms. It also provides shelter and a place for butterflies and birds to perch from summer through fall. Both plants are deer resistant and enjoy plentiful sunshine and well-drained soil with dry to average moisture.
Butterfly Milkweed (Asclepias tuberosa) – Zone 3-9, full sun to part shade, 24" tall
Ginger Wine® ninebark (Physocarpus) – Zone 3-7, full sun, 5-6' tall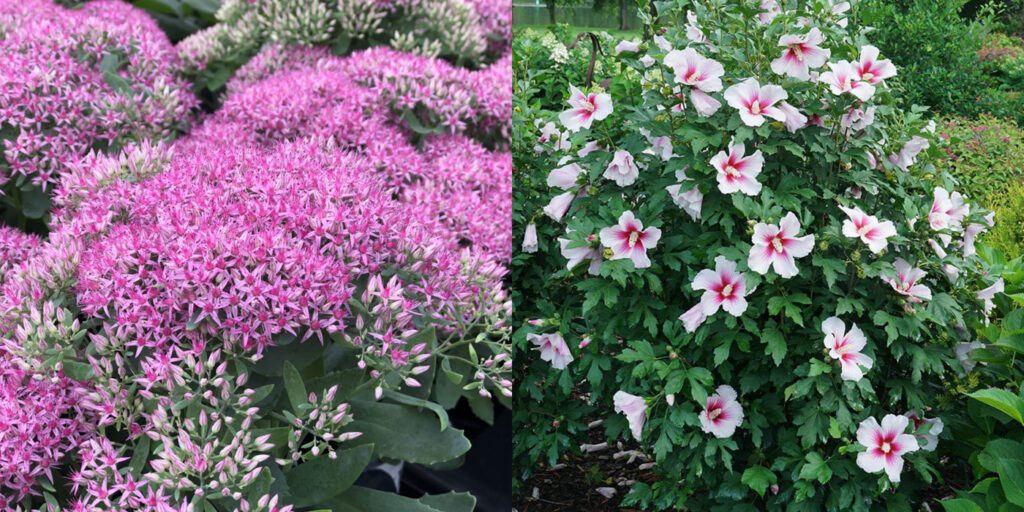 Drought Tolerant Pairing
Sedum + Rose of Sharon
You don't have to sacrifice flower power when you need to grow drought tolerant plants! Look at the gorgeous flowers of these two hardy plants that won't mind if the soil stays dry between rainstorms. The fleshy leaves of sedum store plenty of water to keep it happy in drier soils. You wouldn't know by looking but rose of Sharon is also quite drought tolerant.
Rose of Sharon is a tall shrub that looks best with perennials planted at its feet. With the pairing you see here, you'll enjoy blooms on both plants from mid to late summer into the fall. To bring more color to the space earlier in the season, try adding Echinacea and Agastache to the mix.
Rock 'n Grow® 'Pride and Joy' Sedum – Zone 3-9, full sun, 10-12" tall
Paraplu Pink Ink® rose of Sharon – Zone 5-8, full sun, 5-8' tall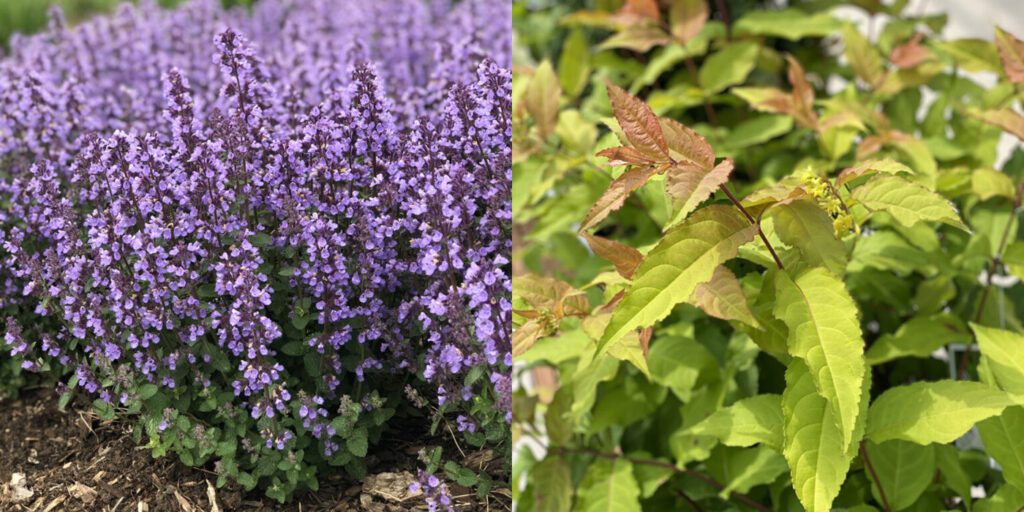 Super Cold Hardy Plant Pairing
Catmint +
Diervilla
Purple and chartreuse are opposites on the color wheel—what's known as complementary colors—which is one way to know they'll make a pretty pairing in your landscape. The habit of both plants is complementary too. Position a few densely mounded 'Cat's Pajamas' catmint around the base of the loosely mounded, arching shrub Kodiak Fresh® diervilla and let their textures play off one another beautifully. As an added bonus, both plants will be a draw for pollinators but not for deer.
Even if you live someplace as cold as zone 3, you can grow this complementary duo of hardy plants. Find a spot that receives a minimum of six hours of sun (preferably afternoon sun) and has well-drained soil.
Both grow well in average to slightly dry soil and won't need to be fertilized to keep their good looks all season. Shear back the catmint after the first blooms have passed to enjoy a second flush that lasts into fall, during which time Kodiak Fresh's foliage will turn bright orange and persist until the leaves drop.
'Cat's Pajamas' catmint – Zone 3-8, full sun, 12-14" tall
Kodiak Fresh® Diervilla – Zone 3-8, full sun to part shade, 2-3' tall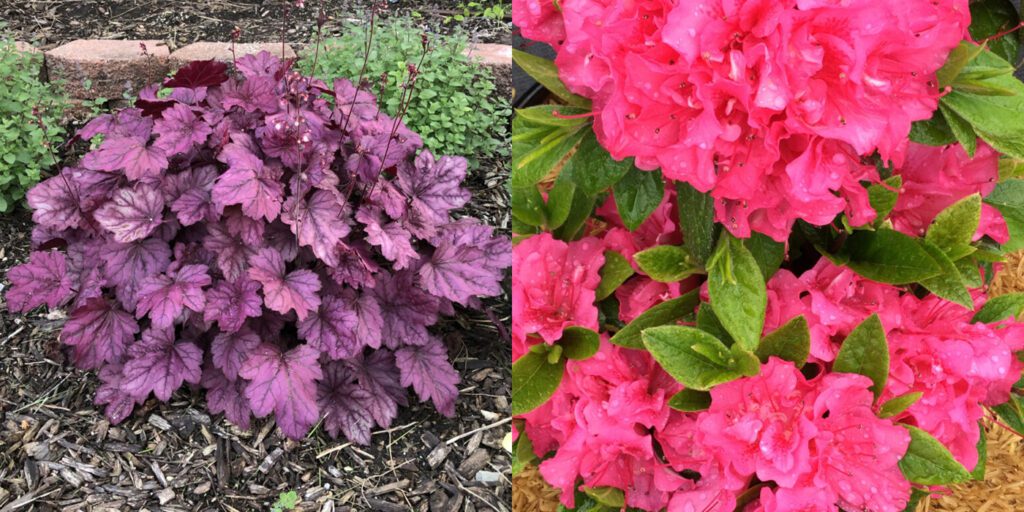 Dynamic
Color
in
Part
Shade
Coral Bells + Azalea
Shade-loving annuals are one way to add all-season color to the shadier parts of your landscape. But there are also plenty of hardy plants like coral bells and azaleas that you can plant along with them. The dynamic duo you see here would be perfect for a part shade (4-6 hours of sun) location in well-drained, slightly acidic soil. An east or southeast facing border could provide the perfect amount of sun to draw out their foliage and flower colors without burning in the midday sun.
Coral bells and foamy bells come in many different colors and blend beautifully with other shade-loving plants. Perfecto Mundo® reblooming azaleas are especially prolific, blooming up to three times per season in spring, summer and fall. However, they are more cold sensitive and are only hardy through zone 6b. If you live someplace colder, try substituting Dandy Man® rhododendrons which are hardy through zone 4 or 5 depending on the cultivar.
Dolce® 'Wildberry' coral bells – Zone 4-9, full sun to full shade, 10-14" tall
Perfecto Mundo® Double Dark Pink reblooming azalea – Zone 6b-9, full sun to part shade, 2-3' tall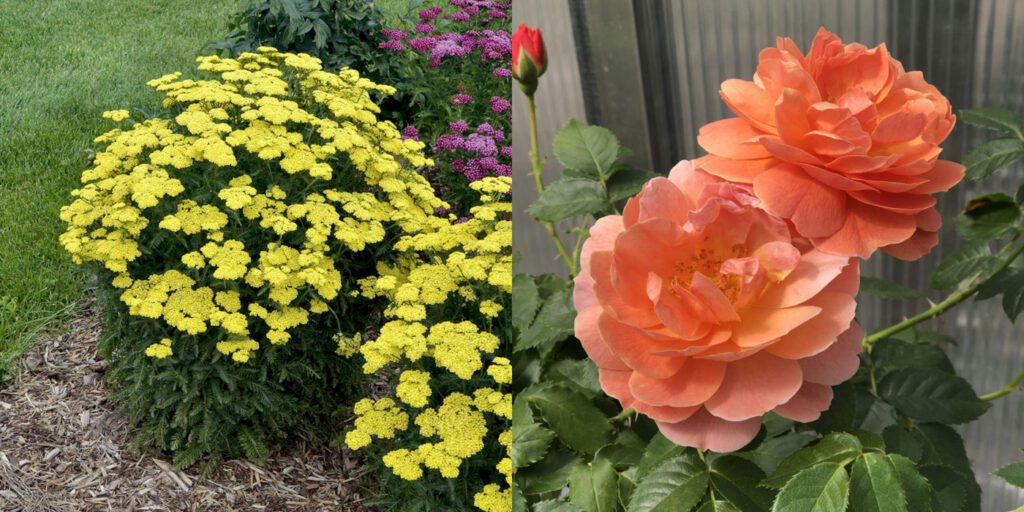 Cut Flower Garden Pairing
Yarrow + Roses
Blooming in fruity shades of lemon yellow and peachy orange, this dynamic duo will be one of the prettiest in your landscape all summer long. Since they are similar in height, it's best to plant them side by side. Beginning in early summer, both plants will bud up and start to draw in the pollinators. They are such prolific bloomers that you won't miss the stems you cut for fresh bouquets since new flowers will fill right back in.
Both plants can also be enjoyed when cut and dried. Yarrow keeps some of its color as the flowers dry and it has strong stems which are easy to work with in arrangements. The highly fragrant petals of At Last® rose can be used in potpourri or added to baked goods.
Full sun (greater than six hours) is important for keeping both of these hardy plants in bloom all summer in your cut flower garden. Though yarrow doesn't need much fertilizer, it's a good idea to feed your roses monthly with Espoma Rose-tone®.
'Firefly Sunshine' yarrow – Zone 3-8, full sun, 28-30" tall
At Last® rose – Zone 5-9, full sun, 30-36" tall
Want more ideas? Explore our entire collection of perennials and shrubs.